Meyers Hill

Beez Neez
Skipper and First Mate Millard (Big Bear and Pepe)
Fri 1 Apr 2016 22:17
Meyers Hill in Alice Springs Botanic Garden
The track up to Meyers Hill.
The view at the top of the track – looking toward the left of the gap in the MacDonnell Ranges.
Tharrarietneme (Meyer Hill), we were standing on the head of Ntyarlke, the caterpillar, facing west across the river as he travels about feeding. The sacred objects associated with this ancestor's law were once stored in a small cave nearby. In Aboriginal tradition, there was a creation period at the dawn of time when spirit beings inhabited a formless Earth. These beings often looked like plants and left a record of their activities in the hills, trees, rivers and so forth that they made along the way as they travelled. Aboriginal people regard these spirits as the ancestors of all forms of life, and believe that their power still exists in the landscape they created. As a result, Aboriginal people's relationship with their land is a strong spiritual one, with deep religious meaning given to the places associated with the deeds of their spirit ancestors.
All landforms in and around Alice Springs were created by spirit ancestors, with most being the work of three groups of caterpillars. One group, the Utnerrengatye, travelled in from Mount Zell and met up with two local groups, the Ntyarlke and Yeperenye, in the present township area. The features created during their adventures here are of great significance to the local Arrernte people, who consider themselves direct descendants of these caterpillar ancestors.
Annie Meyers (second from right), Atalanta Bradshaw (far right) and Annie's sister Bessie (third from the left) in 1903. Also present are Ern Allchurch and policeman's wife Nellie French holding her baby Eugene. The other children are Doris Bradshaw (standing), Mort Bradshaw, Dorothy Meyers, Jack Bradshaw and Consie Bradshaw (all seated), Jack Meyers and Don Bradshaw (standing next to their mothers) and baby Edna Bradshaw.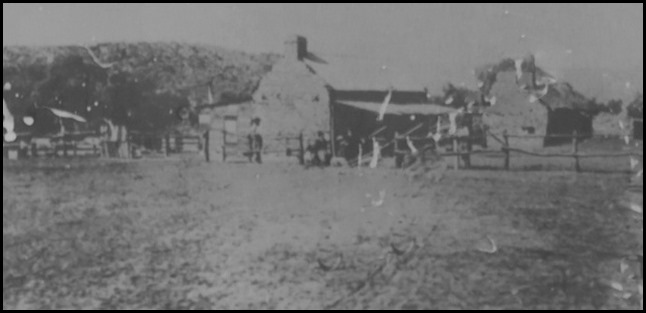 The Meyers house at the turn of the century. It was located at the southern end of today's Todd Street Mall.
Meyers Hill: This hill honours local pioneer, Annie Meyers (1873-1942). The short walk to the top and return can be completed in thirty five minutes. From its summit you can look across the river to the spot where her house stood. Annie came to town in the 1890's. In those days this was an epic journey; a three day train trip to Oodnadatta and two weeks in a buggy the rest of the way.
She married Charlie Meyers, a colourful figure who was a blacksmith and saddler. They had three children – Dorothy (1898), Jack (1899) and Gwen (1903). It took a special kind of woman to live in and raise a family in Central Australia in those days. Facilities were primitive and there were few other white women.
Annie's closest friend was Atalanta Bradshaw, who lived at the nearby telegraph station from 1899 to 1908. They must have been delighted when Annie's younger sister Bessie came to town in 1902. She married Mrs Bradshaw's brother Ern Allchurch in 1905. After the Bradshaws left Alice Springs in 1908, Annie took her children to Adelaide to be educated. She did not return until 1924 when she opened a guesthouse near the Todd River. She and Charlie did not get on and were separated.
In 1930 Olive Pink moved to Alice Springs and stayed at the guesthouse. She and Annie became close friends. In 1962 this hill was gazetted Meyers Hill. Miss Pink was unhappy with the name and tried unsuccessfully to have it changed to Annie Meyers Hill. She didn't want any honour to go to Charlie. Despite what Miss Pink thought, Charlie was a popular figure, He also deserves recognition for his contribution to the town in its early days.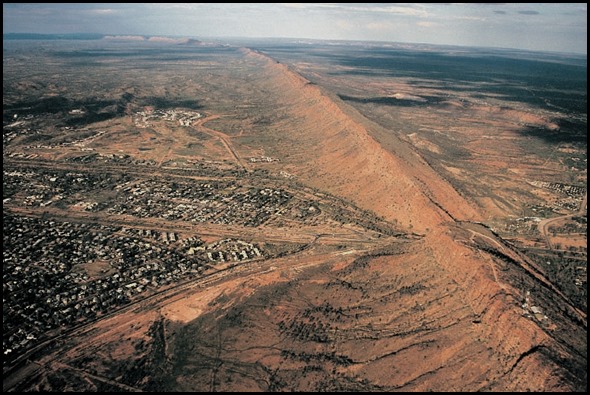 The Gap seen along Alice Springs Ridge, was named by William Mills, the Overland Telegraph line surveyor who discovered the location for Alice Springs. It was named after his former school in Heavitree, Devon. Just up the M5 from our home town, Plymouth. "One of the larger settlements on the road that crosses Australia from north to south is Alice Springs. This view shows the transport links passing through a convenient gap in the ridge beside which the town has been built. The hostile, desert environment of the area can be seen clearly; for this town the most valuable resource is water." Stephen Codrington. Planet Geography 3rd Edition (2005)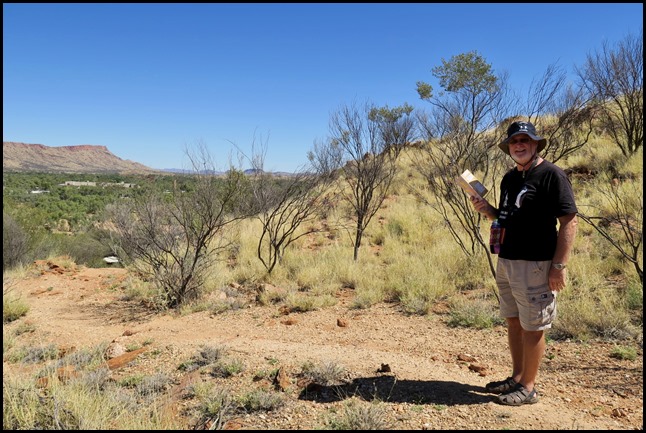 Mount Gillen is the highest point in the Heavitree Range. Its Arrernte name is Alhekulyele.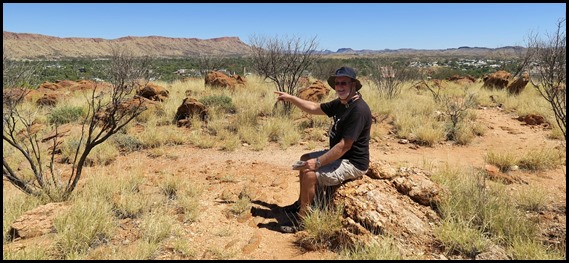 The distinctive profile is the nose of Akngwelye, a dingo ancestor. My beautiful assistant was too disorderly to actually point at the profile and it was far too hot to sort him out. So from said assistants finger – up a bit and left a bit.
Charles Winnecke wrote in his Journal of the Horn Expedition, 1894; "Mr Gillen in the evening photographed the members of the expedition, one of whom today ascended the high range near the camp, which I had named 'Mount Gillen' during my expedition of 1877 – 1881".
Frank Gillen, Baldwin Spencer, Erlikiliakirra (Jim Kite), Chance, and Purunda (Warwick), members of the 1901-1902 Expedition, Alice Springs, Central Australia, 18th of May 1901. What a wonderful picture.
Francis James (Frank) Gillen, was born in 1855, near Adelaide and began working for the Post Office at age 11 as a postal messenger. He became a telegraph operator, and in 1875 became the Stationmaster at Charlotte Waters (near the NT/SA border) and moved to Alice in 1892.
By that time he was the senior and most experienced officer on the Overland Telegraph Line and soon became the Post and Telegraph Stationmaster, Stipendiary Magistrate and sub-protector of Aborigines. He teamed up with Professor Baldwin Spencer when the Horn Scientific Expedition came to Central Australia in 1894. The expedition travelled over 2000 miles in Central Australia and collected 170 species new to science. Later, Spencer and Gillen worked together for fifteen years studying Aboriginal culture in the region.
Frank Gillen's interest in the native plants of the region is acknowledged in the naming of Eucalyptus gillenii (Mallee Red Gum), a Mallee common in the MacDonnell ranges.
We did the tourist shots overlooking the township of Alice Springs.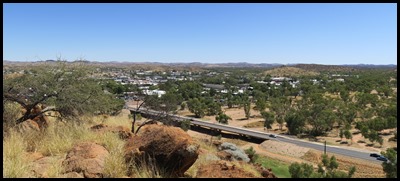 Looking left to right.
Right and far right.
Looking once again toward the gap we spotted a dozing wallaby.
This chap was soundo and barely moved as we stepped closer.
In the trees we saw several insect nests.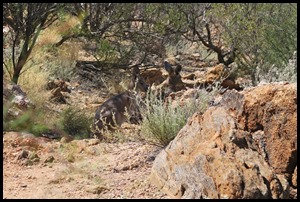 Native Fig (Ficus platypoda) and Witchetty Bush (Acacia kempeana), and friends.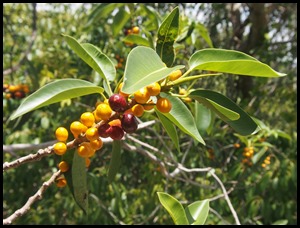 The native fig found growing on or around rock outcrops, and on stony hilltops, such as here on Meyers Hill, forms a sprawling bush which can yield huge quantities of fruit – in good seasons. The fruits, which are rather smaller and drier than those of domestic fig varieties, are yellow when immature turning either red or brown when ripe. The fresh fruit is eaten raw. In hard times, the dried fruits are collected from under the bush, then pounded up and made into an edible paste.
The witchetty bush, a common species, grows on a variety of soil types and is a very good source of food and medicine. Its seeds are ground and baked as bread, while the leaves are chewed as a remedy for bad colds when the bush is in flower. Fat, white witchetty grubs (the larvae of moths) found in the surface roots are considered a great delicacy. Different types of witchetty grubs bore their way into various Australian plants, with the witchetty bush being a favourite with one Central Australian species. The women easily locate grub-holding roots and lever them out with their digging sticks. The grubs grow up to a hundred centimetres and twenty millimetres thick, and are eaten raw or baked.
If a grub is not eaten it will grow up to be a fine looking, large moth (as featured on the informative fact sheet at the Queensland Museum, picture taken by Gary Cranitch). It goes rather tonally with a bush we found with tiny grey leaves.
You could fry an egg on any of the rocks in the tremendous heat, but they did make for some interesting shapes.
Back to check on our sleeping chap who was now leaning with his front paws on the rock, once again he managed to crack open one eye, promptly closed it and sagged his paws to the ground.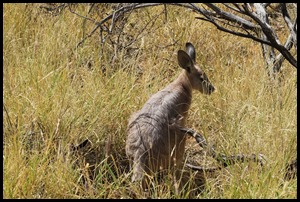 Younger ones were a bit more energetic and skittish. One had a particularly fluffy coat. We'll end with our dozing chap.
ALL IN ALL A WONDERFUL WAY TO SEE AND LEARN A BIT ABOUT ALICE SPRINGS
FABULOUS VIEWS AND A VERY SLEEPY CHAP
---