Chagos - Second Week

Beez Neez
Skipper and First Mate Millard (Big Bear and Pepe)
Thu 27 Jun 2019 23:37
Chagos - Second Week
Friday the 21st of June. We woke this morning to a bright, sunny and gorgeous day. Yay. After chores, loaded, games and lunch we headed over to park Baby Beez using the float marking the submerged wreck. A much bigger monohull than we expected. We now know that there is a reef line near the shore that is mostly dead with a few bits and bobs of hard coral patrolled by a few small fish. Then there is a line of sand and further out a reef that extends for about ten metres. At the shallowest (beach side), we can swim over with a couple of feet to spare. At the deepest, we have five or six feet between us and the reef, swimming to the edge we reach the drop off, a wall that goes down to a hundred feet. Beyond is the sand of the atoll scattered with many bommies.
We thoroughly enjoyed our snorkel. A turtle, angels by the dozen and our favourite – Mr Fish.
At nine o'clock, we had just begun to watch an episode when suddenly a bad squall hit. Winds to twenty five knots with heavy, big dollops of rain. We sat in the cockpit, engine on just in case. Bear had his IPad in hand with Anchor Watch showing that, whilst Beez bottom was shoreward, we were holding. I put the chartplotter on and Beez looked as if she is spinning on the spot. A long two hours. Thankfully the wind settled to 'within normal limits' and we were left to hard rain for another couple of hours.
Saturday the 22nd of June. We spent the dull day doing chores. Bear investigated the electrickery cupboard leak and used Creep Seal on the bolts showing on the ceiling in the cupboard. I did my housework, we played games and very quickly four thirty whisked around. We went over to Adiejewah for chatter and supper. They left Holland in 2012 and after the usual route through France and Spain headed across to Brazil, Argentina and all the way to Patagonia and through the Beagle Channel to Chile. They visited Easter Island and such interesting stories of shocking winds, weather, sea conditions and they described a little of the beauty they have seen. The word "Freezing", not for me.
Sunday the 23rd of June. More rain, more games but at least we get time to chat and plan. After all the work we have had to do on Beez in the last eighteen months and the rotten passages of hand steering from Malaysia to India, we feel it is useful time together. Rain all night long.
Monday the 24th of June. We jumped up and tidied around ready to welcome Harry and Maril (Adiejewah) to lunch. They arrived soaking wet in the – yes – solid rain. A very enjoyable time that went far too quickly. Our guests left early evening as they still have a few chores to do, they leave in the morning for Mayotte. Rain overnight and quite rolly.
Tuesday the 25th of June. At nine we saw Grampian Frontier, the BIOT Patrol Vessel anchor outside the pass and launch their rib. Meanwhile, we wished Adiejewah a safe journey and watched them leave and once outside put their sails up and out. The rib dropped people on Ile Passage and later Ile Mapoa, later we would find out that they were doing research snorkels. Our frigate bird came to patrol the atoll.
At a quarter to two the rib came racing toward us.
The rib passed by to drop some of the team off to snorkel between us and the shore, then Donald (coxwain) dropped Yolanda (Officer) to the back of Beez. We had a wonderful time learning about the work done here to protect the environment. Yolanda and the team couldn't visit last week as they had detained a baddy fishing boat from Sri Lanka. Donald pulled alongside and chatted happily with Bear. We so hope to see our visitors again before we leave.
We are now the proud holders of BIOT Stamps in our Passports, perhaps our rarest entries. At five we headed over to Bear's Island, bigger than Pepe's Island. After circumpedding around, we enjoyed a short snorkel and as we headed home we were sorry to see Grampian Frontier leaving. Bobby, our guardian booby tried hard to land at the top of the mast......... Baby squid swam up to watch the chaos of wings and feet. Rain overnight.
Wednesday the 26th of June. Late morning we headed the three miles across the atoll to Boddam Island. Ile Anglaise (to the right) is the longest of the Salomon Islands at 1.8 miles but Boddam (1.1 miles in length) is wider at a third of a mile, big enough to have been used as a settlement, including some livestock and a well, before the residents were asked to resettle in Mauritius.
We parked Baby Beez on the beach not trusting the jagged edges of the 'pier', used to land visitors who wish to pay their respects to long gone loved ones resting in the graveyard at the far northern end (own blog) of the island. Once ashore we paid our respects at the memorial cross just behind the beach than went in search of the now battered Yacht Club.
Very excited to meet our first coconut crab, not a huge chap but good enough. These hard core of the crustacean world brook no chances as the claws are up in defence mode as soon as look at them. We found the old church, a few dwellings in poor shape and so much overgrowth it is hard to imagine anyone wanting to come back.
I was in my element chatting to thousands of hermit crabs but so very pleased Maril had forewarned me about the mosquitoes. Thank heavens for Deet.......
After visiting the graveyard we returned to the beach and looked across at our island (left) – Ile Fouquet, Pepe's and Bear's Islands visible and looking pretty. No sooner the threat of rain and these simply disappear in minutes covered in grey haze, at least we have a reliable weather forecast. Time for a much needed snorkel.
We enjoyed our cooling snorkel and headed back to The Girl for a very late lunch. Deciding to take advantage of the good, dry weather we went out again, this time to explore the wreck on the beach at the northern, atoll side of Ile Fouquet. The Black Rose was a sobering visit.
Thursday the 27th of June. It has become our 'norm' now to wake, look out at the weather, breakfast in bed watching an episode, do some boat jobs or chores, play backgammon over a loaded hot drink, Mex Train, lunch and then explore. It is is bit too hot to spend all day in the sun, not that I'm complaining as we have enough dull and rainy days between the hot ones. Today we chose the southern end of Ile Fouquet complete with sand spit. The water here is a glorious blue and we spent a couple of hours snorkeling the reefs here and toward Pepe's Island. Nothing amazing or different but massive parrotfish, a giant clam or two and millions of little fish all enjoying life on pristine hard coral.
As we approached Beez we could see our guardian bird had been more ambitious today. Not sure if he would fly off at the noise of Baby Beez engine I began to snap the scene. He had settled himself on the DuoGen towing generator.
Bobby was not only utterly unfazed by our approach, he simply looked pleased to see us. I climbed from Baby Beez and standing on the stern platform was now no more than a few feet from his face. There he stayed quite happy.
He was mystified but interested in the whole human showering thing.........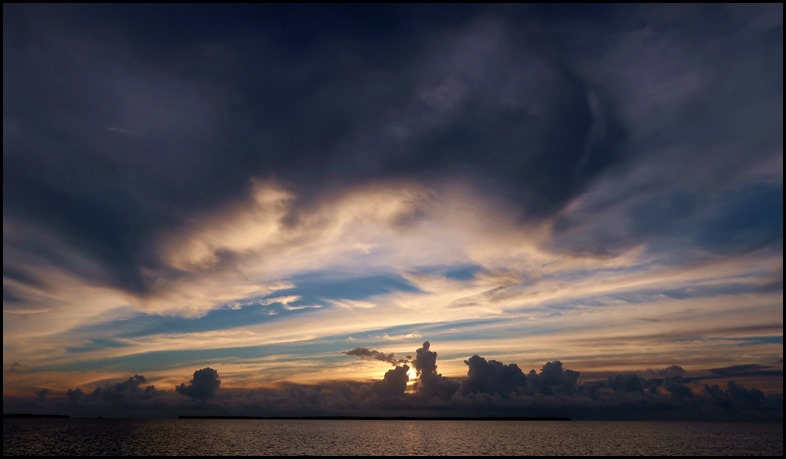 Sunset under a heavy-looking sky.
Looking back to where we had enjoyed the southern end of Fouquet, a huge rain cloud. Almost a perfect square hole toward the bottom of said cloud showed rain - a new and unique sight for us.
ALL IN ALL A VERY ENJOYABLE WEEK
JUST AS I IMAGINED IT AND MORE
---