To KL

Beez Neez
Skipper and First Mate Millard (Big Bear and Pepe)
Thu 29 Dec 2016 23:27
To Kuala Lumpur
Shoes and socks packed, Christmas decorations stowed, on the eleven o'clock shuttle ferry and a four pound taxi ride to the airport, we settled to brunch – an excited Bear. Soon our A380-800 was backing out of her parking spot.
In the air for the fifty five minute journey, we leave Langkawi behind.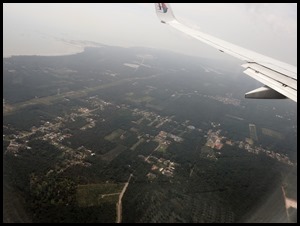 Down the coast of Malaysia.
Something interesting.
Thousands of acres of palm oil fields and we land at a quarter past two.
We find a metred taxi, motorway, tall warehouses and.........Oooo holiday parked trucks.
A unique sight.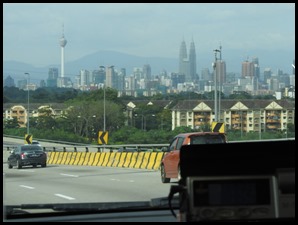 New builds, the CBD and our first look at KL Tower and the Petronas Towers.
Chinese gate, passing the Towers and a festive lobby.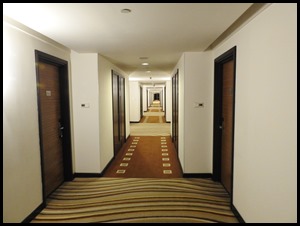 Eighth floor corridor, Bear settles and Beds gets comfortable.
We head out, turn left at an original shoeshine stall, take the lift to 3a to find the covered walkway to the massive shopping centre that stretches through seemingly endless corridors below the Petronas Towers, Aquaria and huge Conference Facility – all modern and brightly lit.
We see our target on a poster...........
...........ask a few security guards, yet another long corridor..............
.............pass the home of the Filarmonik Pertronas
......to find the Concourse where we check in for our 18:15 Petronas Towers tour.
A happy Bear, now clutching tickets is ready to follow in Sean's steps – just wish I could move like Catherine did under all those bits of strung wool.......
ALL IN ALL A LITTLE HOP – OFF TO EXPLORE
AN EASY JOURNEY TO AN EXCITING CITY
---