Back to Yangon

Beez Neez
Skipper and First Mate Millard (Big Bear and Pepe)
Thu 14 Dec 2017 23:57
Back to Yangon
Six fifteen and six thirty watching the sunrise and competing for the toilet. We both had a very rough night. I had asked for no herbs and at the end of my supper found a load of local ones in my vegetable rice......... Bear thinks his sweet and sour pork was a baddy. Ever-so-slightly worried about the journey today, says they in unison, reaching for the Imodium and double-dosing.
We were strangely ignored by the hawkers as we walked to the bus stop. Seeing a full bus, we led the filling of the next one in line and within a few minutes we were off, six to a row and feeling confident our case was being used as a seat, as it was on the way up. We had allowed an hour for this process, knowing a bus won't move until it's chocker block, but here we on the move within ten minutes of leaving our digs. Passing the bus stop that is used to discharge 'the up' passengers. A truck car park.
We lost count of the hairpin bends but somehow the journey down was less gruelling than the one going up. We didn't seem to hurtle as much and there was much pumping of breaks.
Great excitement, the bare wires we saw the other day now have cars, clearly the system was being tested as the cars began to move. The next pilgrim / tourist attraction will soon be open.
Our final look at the Golden Rock, now way up above us.
We left the one pound each ride, that fulfilled any need for a fun fair visit, at Kin Pun, walked to the bus stop and colour us happy. We were booked on the twelve o'clock bus to Yangon but the eleven o'clock was still standing, with a few seats, "would you like this one". Yes please. On we got and found our seats right at the back. This ordinary coach still had the requisite fancy curtains and trim. Our one hundred and eighty eight kilometre journey pulled in at half three and set us back just five pounds and eleven pence each.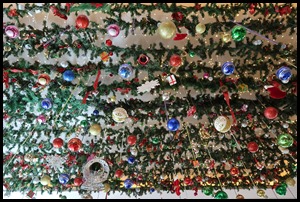 An hour in a taxi and our final digs in Myanmar welcomed us with a cold flannel and a mocktail. Very festive with several Christmas trees and numerous baubles on the ceiling.
Beds very comfortable. We are quite relieved to be here.
.
ALL IN ALL GLAD TO SETTLE
IT FELT LIKE A BIT OF A SLOG
---