Packard

Beez Neez now Chy Whella
Big Bear and Pepe Millard
Sun 24 Aug 2014 22:37
The Packard Ladies at Wheels and Warbirds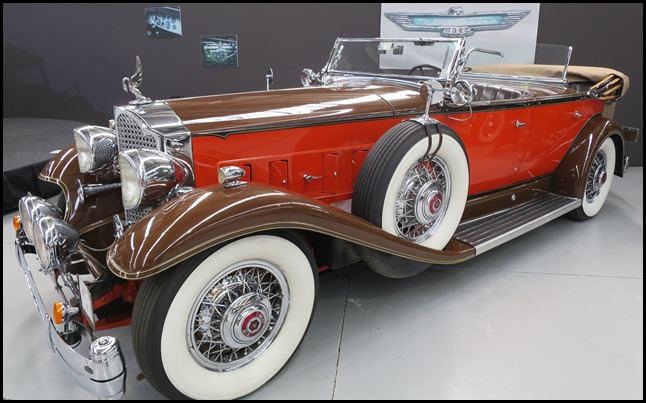 1932 Twin Six Sports Phaeton Dual Cowl. V12 engine, one hundred and sixty horsepower, sixty seven inch V block. Three speed gearbox. Wheelbase one hundred and forty three inches. Purchase price when new – five thousand eight hundred and fifty dollars. In this 1932 lady, Packard introduced their new generation V12 - all four hundred and forty five cubic inches worth. This was one of the first motor cars in the world to have hydraulic tapper/cam followers equipped with vacuum assisted brakes and clutch. She is also equipped with adjustable ride control and Bijur lubrication system. She is one of eight V12 Sports Phaeton produced in 1932 and is painted in factory colours – not our favourite.... She came to New Zealand in 2004 from Wichita, Kansas and holds Senior Status No.1360 within the Classic Car Club of America.
Packard was started in 1899 by the brothers James and William Packard, the business was originally named the Ohio Automotive Company, and in 1902 was renamed the Packard Motor Company when the brothers received new investors. Packard was a luxury car manufacturer in the 1910's, 20's and 30's, targeting the higher-end market. When Fords cost between three and four hundred dollars, Packards were in the range of four to seven thousand dollars. They were very much the favoured brand for film stars and Heads of State.
Packard managed its way through the Great Depression, when most luxury automobile companies such as Duesenberg and Pierce-Arrow failed. During the beginning of the Depression, Packard lifted their models to even higher status then previously held, since their competition was dwindling. Soon, management realised they needed to target a lower priced market, so they released junior models of their high priced senior models, and built a new manufacturing facility for these. While the senior line was still mostly hand built, the junior line was built using an assembly line, and outsold the senior line ten to one.
In 1937, Packard released its first six cylinder engine model, the Packard 110. This seemed like the perfect time with the depression but it actually hurt the reputation of Packard. The six cylinder model along with the Junior line of automobiles, was eroding the 'elite' status of the company.
After WWII, Packard, Packard suffered from models that did not go well with the public, and could not capitalise on the booming market after the war. Nash Motors approached Packard with talks of merging, but Packard held out. Nash eventually merged with Hudson in 1954 to create AMC – American Motors Corporation. Soon after the Nash / Hudson merger, Packard realised they needed to do the same and purchased Studebaker, creating the Studebaker-Packard Corporation.
Packard was hoping that the increased number of dealers would help sell Packards, but they soon found out that Studebaker was having some rough financial issues. Packard sales would be up again in 1955 thanks to the V8 engine, but their engineering was disastrous that year. Hundreds of autos had to be repaired at dealerships before they could be sold, making 1956 one of the worst sales year ever for Packard. Sales continued to go downhill, as Packard dealers were closing around the country. The writing was on the wall for the end of Packard, and the last year of production was 1958.
All the Packards were in a line up but this lady had her own showroom and because of the sheen from the glass we couldn't get a picture of all of her, but a very special lady. She was built in 1918. Semi Collapsible Laudaulet Fleetwood, V12, 424 cubic inch, ninety eight horsepower, sixty degree block, three speed gear box. Wheelbase one hundred and thirty six inches. Purchase price new was seven thousand one hundred American dollars – three thousand six hundred for the running chassis and three thousand five hundred for the Fleetwood body, believed to be one of two made in this body style that year. This car would have been chauffeur driven. A full ground up restoration was completed over a four year period here at Wanaka and was completed in 2010.
Her restoration was a mammoth task, now she gleams as the day she was released.
1936 Roadster Coupe. Standing nest to her is a double of her three speed, V12, four hundred and seventy four cubic inch, one hundred and seventy five horsepower engine, held on her one hundred and thirty nine inch wheelbase. Price new four thousand five hundred and eighty dollars. This lady is one of twenty five of this body style manufactured in 1936. She has a Bijur automatic lubrication system which constantly lubricates twenty six points throughout the chassis of the car. She has a ride control system which gives a hard or soft ride, controlled by the driver. The motor has a twin a twin point and twin coil ignition system and a twin throat Stromberg carburettor. She was sold new to a Texas oil baron, and in 2000 she was imported into New Zealand from Santa Barbara, California with nineteen thousand original miles on her clock.
1937 Super 8 Convertible Victoria. This Straight 8, three hundred and twenty cubic inch, one hundred and thirty five horsepower, three speed sat on a wheelbase of one hundred and thirty four inches. Purchase price new was three four hundred and fifty dollars. This was the first year Packard had introduced hydraulic brakes across the full range of cars, and this car is also equipped with independent front suspension. Being right hand drive, this lady was ordered for a US Officer based in England. She was damaged during a London air raid during WWII and sent back to the Packard factory in Detroit for a rebuild, then returned to England until the 1990's. She stayed in the same family from new until 1998 when she was sold and sent to the USA where she was restored. This lovely lady came here to New Zealand in 2006.
1941 Rollson 180 Limousine. Cost new four thousand eight hundred and twenty dollars. She has a one hundred and sixty horsepower, three hundred and fifty six cubic inch in-line Eight engine. Three speed gearbox and a wheelbase of one hundred and thirty eight inches. The exact number produced is unknown. Rollson designed and built bodies almost exclusively on Packard chassis, producing fifty custom Packards between September 1938 and December 1941. This car was a definite part of the smart, urban scene as top hats and sequins, and was seen as the formal transportation of a discerning society.
This 1941 Packard is the only example of this motor car known to exist. The car's serial number is 2001 and she was the only one built that year. The story goes that Ezra Parmalee Prentice, a lawyer took on John D. Rockefeller, oil tycoon and the richest man in the world at the time. Prentice won, and John D said "any lawyer who can beat all my lawyers has to work for me". So he did. Parmalee eventually married Rockefeller's third daughter Alta and he bought this limousine for her. The car was recently purchased from Frank Childs of Jupiter, Florida and came to New Zealand in 2011.
ALL IN ALL A VERY GLITZY LADIES
---