Church of St. Gabriel

Beez Neez
Skipper and First Mate Millard (Big Bear and Pepe)
Sun 23 Jun 2013 22:37
Our Visit to the Church of Saint Gabriel, Taravai Island
The church we saw as we entered the fairway when we sailed in to the Gambiers.
On our way to visit the church on the island.
An impressive gateway.
We were struck by the immaculately kept gardens.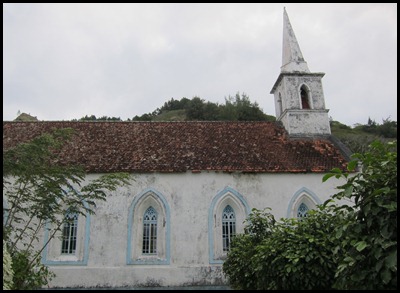 Next to the church was the presbytery. Up close showing signs of age and neglect.
Always a treat to find the door unlocked to a place of worship. Especially to such a gem.
Bear didn't know what the Sacred Hearts were, I'll keep to myself what he suggested they looked like............
The altar looked resplendent.
The prayer books looked incredible in Tahitian. Mangarevan has loads of K's (Valerie told us later).
Sadly the carpet and flooring was worn and a pile of sand by the altar.
The sanctuary lamp in the corner, broken windows and a Station of the Cross dead in the sacristy.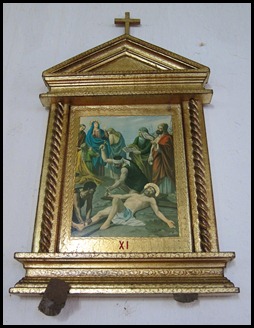 Station XI had a nest.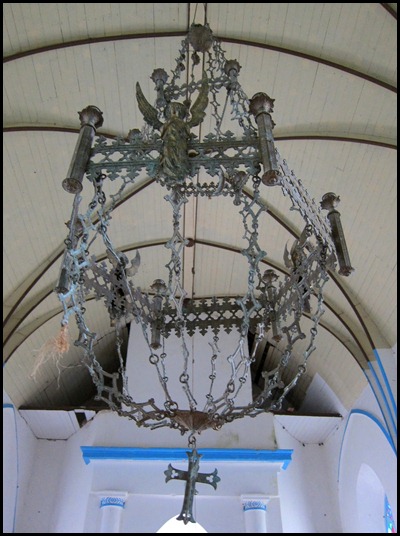 Shades of class remain, in this welcoming atmosphere, but, no services have been held here for two years. We hope the building is renovated before it gets too late.
ALL IN ALL HANGING ON TO DIGNITY
BEAUTIFUL BUT SLIGHTLY SAD
---