Little Harbour

Beez Neez
Skipper and First Mate Millard (Big Bear and Pepe)
Mon 18 Jan 2010 23:05
Little Harbour - Jost Van Dyke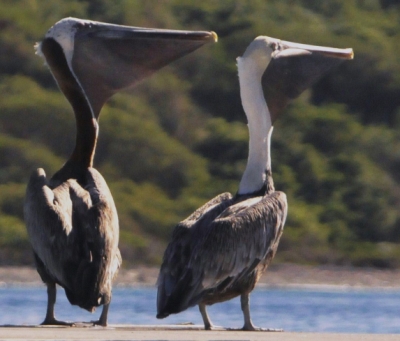 "I'll join you on that bench, sweet cheeks". Eyes right.
We finally managed to escape the terrible weather that kept us put in Trellis Bay for nearly a week. So the massive eleven mile journey that brought us to Little Harbour on Jost Van Dyke seemed like a little piece of heaven. We swam, ate lunch, watched a dolphin play, saw a couple of turtles and spent the afternoon watching the pelicans who are incredibly entertaining.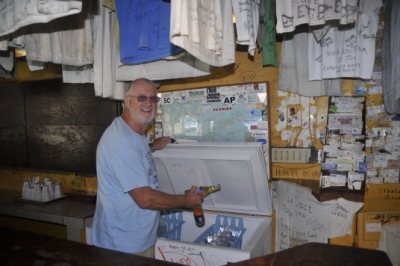 This morning we got up and dinghied in to look at Harris' Place and next door Sidney's Peace and Love Place where Bear had to act as our barman.
Sidney's has a wall covered with business cards, we added ours. From the ceiling are hundreds of tee-shirts donated by yachties from all over the world.
It's a tough life watching the world go by with a beer in the sun. A local watching the big fish.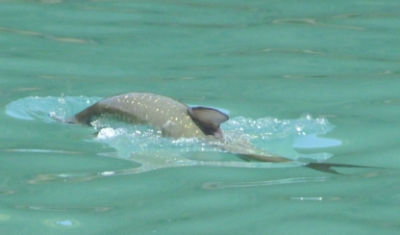 These Tarpon are about three feet long, our local friend says they fight well, are very bony to eat but make good bait for big game fish
This one was about four feet in length - food is plentiful in this bay
In the shallow water we saw a regional meeting in progress. We watched Mr. Pecalin circle in.
Plunge
Sort his cheek flood out, swallow his catch.
and off he goes again
Enough entertaining, we'll just pose in a picture with Beez Neez.
ALL IN ALL A SPECIAL LITTLE PLACE
---