To Erromango

Beez Neez
Skipper and First Mate Millard (Big Bear and Pepe)
Mon 2 Nov 2015 23:57
To Erromango Island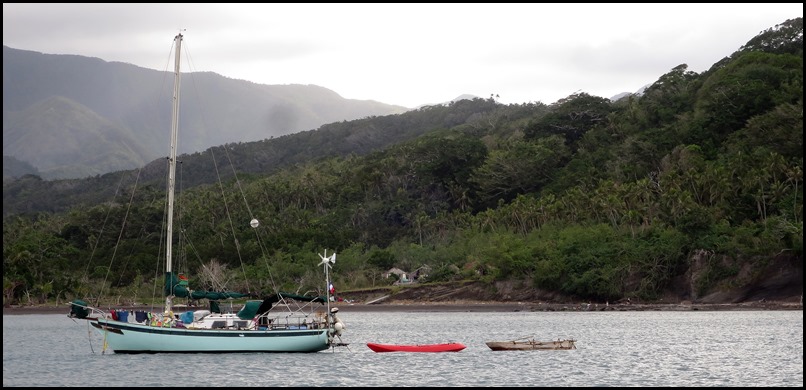 What a lovely sight to remember Port Resolution by – our last photograph of the bay was of the yacht next door, they had their paddle board out and behind that, a local canoe. We left at 16:45 for the overnight journey of fifty miles to Erromango.
Half an hour later we were enjoying the puffs of Mount Yasur at days end. Fancy, Captain Cook called the volcano "the lighthouse of the Pacific".
Sunset came and went.
Our last picture of Mount Yasur as light faded. Then for a very rolly night.
Daybreak.
The skipper enjoyed a dreamless sleep in the cockpit next to me as my 22:00 to 02:00 sleep had been a bit of an airborne experience with little emphasis on the word sleep. I had left Bear's beard long to look more of a difference in his pictures with Chief Jack, but, first on my job list was a lawn mowing session before we venture ashore to meet the chief at our next port of call.
My two till six duty had the rare sight of a white light flicking to mark the corner of the island. At sunrise we could see we had left it far behind.
Just six miles left there was no point me going to bed, I'd wait until after anchoring and breakfast.
We turned right past Unatue Point.
Ahead, we could just make out the village to the left but couldn't see William's River. The deep water began to shelve gradually and we settled to anchor in twenty feet of water at seven thirty.
We could now see the village and the river.
Nearby was a little lady, laughter and happy chatter accompanied much toing and froing as things were unloaded and loaded. Tired, we ate breakfast, drank a nice cup of tea and settled for a few hours sleep.
We had finished our late lunch and Bear had just launched Baby Beez when Donald and his nephew appeared at the back of Beez. We invited them on board and spent the rest of the afternoon chatting. Donald adopted us there and then, booked us for supper the next evening and promised to be our guide around the village. What smashing people. Very much looking forward to tomorrow as we waved them off, slowly these gentle men paddled back ashore.
At Sunset we were both very tired, just one episode of Harry's Law and night, night.
ALL IN ALL INCREDIBLE TO SEE MOUNT YASUR GLOWING HIS 'FAREWELL'
A REALLY ROLLY JOURNEY
---