To Kushiro

Beez Neez
Skipper and First Mate Millard (Big Bear and Pepe)
Sat 21 Oct 2017 22:57
To Kushiro, Our Final Stop on Hokkaido
Today was a journey of about 140 miles – however, we had to make a short train journey, a bus to fill in where the landslide had happened and a train to finish. Looks like we follow the road then. We left our digs at 11:15 and landed at 16:00.
The scenery began with natural beauty.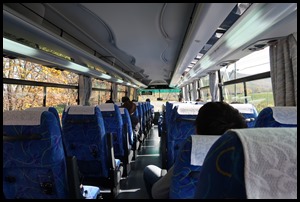 We transferred to a very swish bus, good roads to first stop.
"I'm on a bridge to nowhere, come on inside....."
A couple of years ago a landslide caused havoc and the repairs are still underway.
A bit of countryside before a once carefully owned, sad station.
Wow to the colours of autumn.
Pines along the way.
Wind displacement fences and snow holders – so alien to us.
We left our bus in Shintoku.
A good lookin' gal looks after the town.
We waited quietly at Shintoku Station.
Definitely got the hang of the vending machines.
Not sure in spaghetti, but, thoughtfully things appear in English.
Enjoying Beez coloured hoppers as a funny looking gal comes to take us on our journey.
We alternate between coast and main road – a very grey looking business.
A church called Grace and a bonny welcome.
Bear likes this picture as he thinks it makes our cases look small.
We follow technology to our new digs.
As we walked into our room the television sprang to life, I left Bear trying for English, then giving up and trying for the internet code. While he was attempting to saddle the beast, I went to check out the en suite.
Like our last digs it is a big step up into what felt like the Lion, the Witch and the Wardrobe. Snug came to mind with the tap in the sink doubling up as the bath filler – yet another first for me. Yes, I called, the toilet is a gadget one, I'll set the seat to hot, this has become a new pink job on my list.......Later, I found the bath to be incredibly deep, nearly to my shoulders but knees up under my chin. Getting out was a real laugh.
ALL IN ALL MOUNTAINS TO A GREY TOWN
ANOTHER FUN-PACKED JOURNEY
---