Waterfalls

Beez Neez
Skipper and First Mate Millard (Big Bear and Pepe)
Fri 22 Jun 2012 21:32
Waterfalls
We tipped out of the bus and bimbled up the path to the café, here we paid out entrance fee of 15 Q, shared amongst the villagers who act as rangers for the falls.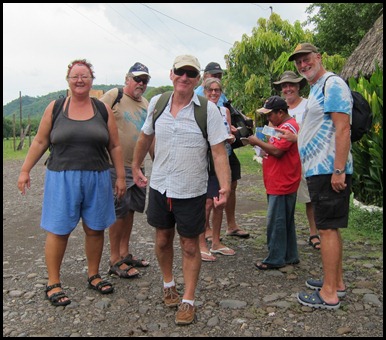 Take every picture twice to get everyone in. From left to right. Marlo, Larry, Duncan, Dorothy hiding Brian, villager collecting fees, Bruce our unofficial guide, we met on the bus and Bear.
A little way from the entrance we were following a path that ran next to the river, complete with ladies doing the washing
Which gave the children chance to come and say hello to us
Ten minutes later we could see steam coming off the river. The intense heat has bleached the rocks on the riverbank. Not expecting anything to be able to live in the hot water we were surprised to see white anemone-type creatures. Interesting plants and trees in the surrounding area.
Our first look at the falls, several steep steps and we were there
Trees clung at impossible angles beside the falls. Great to see families enjoying a day out. Bruce told us to change, a local would watch our stuff. If we climbed behind the far bank we could take a mud bath and rinse in the upper hot pool.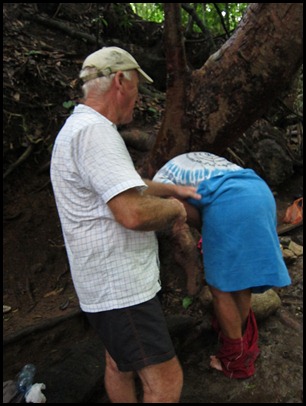 Much giggling as we all changed into bathers. Duncan nominated to be 'towel supervisor' and in we went
The cool water and the really hot falls made for some interesting sensations
Dorothy took a picture of us – thank you D
Whilst we tucked into sandwiches the locals enjoyed their food. I shuddered at the dried 'U-bend' fish sagging as it got moist.
The sulphur "did" for Larry's new river shoes, sadly binned there and then - on their very first outing.
One final look at the steaming falls before heading down to the bus stop to visit the canyon.
ALL IN ALL SUCH HOT WATER
---