Don't get the Squits

Beez Neez
Skipper and First Mate Millard (Big Bear and Pepe)
Sat 26 Sep 2009 22:31
A Story of Three Shelves, Two Screws, One Dose of the Squits and a Dunking.
The story begins when we got back from the UK to find Roy the metal man had done ZERO work, on or in the Beez.
His job list was as follows:
Weld, clean and polish table legs.
Fabrication of cupboard shelves. (To be set behind hanging clothes for better use of space in the wardrobe).
Extension of solar panel bracket. (To take bigger solar panel).
Extension so self steering by fabricating new bracket out of 11/2" & 11/4" stainless.
Installation of wind generator pole (10 ft) from bottom. (For new wind generator D400).
Fabrication and installation of stainless steel davits. (To hoist Baby Beez).
Unbolt and rebolt platform with back up plate. (To strengthen stern platform).
Widen pushpit by 4" top and bottom with front support bracket. Realign as per instructions from owner. (This is to stop Yankee Sail chafe and to let Jump Jet have a wider berth getting on and off).
When we got back to Beez, Franz of KNJ had told us that Roy had 'disappeared' with the excuse of "family troubles". As far as I was concerned he had two hands and a face intact.......... SO.
New contract for works to be completed in two weeks. Woe betide, it was now on Bear's head if anything went wrong.
Shelves made and by Saturday (seven weeks after they should have been put in) ready to put in place. I / we did not stand next to him (tight space). Our mistake. He clearly is OK at metalwork but fixing NO. He used no tape measure and no spirit level. Broke two drill bits and spent two hours on 24 screws. Roy left. I put a DVD case in one shelf, two inch gap, the next shelf up four inch gap. Worse to come. I rubbed the bedroom wall the other side of the shelving and to my horror found two holes. BURST INTO TEARS. Sobbed uncontrollably. Wanted testicles in a jam jar. Mervyn told me later I could also say "Stones in a jar" - sounds like a good line for a Reggae song.
Must go back a few hours at this point. Because Bear had felt unable to leave Roy, I had gone to a meeting of the Angles over at Crews Inn by myself. Got the bus to the gates and walked the last bit. Lift home in dinghy with Fred of Tashtego (Connie away in the States visiting family). Fred was going straight out, so went to drop me at yacht side of landing stage. Just as I went to climb out up a four foot height difference, big swell. See Pepe slide gracefully into the balmy waters of the Caribbean, giggling as I went, between said dock and dinghy. Two men tried to hoike me out, one of them was ROY ???? Rather than lose my shoulder sockets, re-grouped on dinghy and re-try disembarkation. Ended up laying on dockside, Fred saying "sorry I should have put you out at the dinghy dock". Walked soggily back to Beez for a fully dressed al fresco shower via hose pipe. Thank heavens it's hot here. On with the story.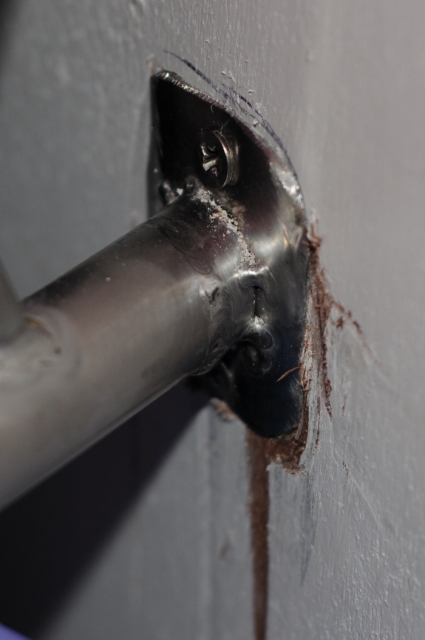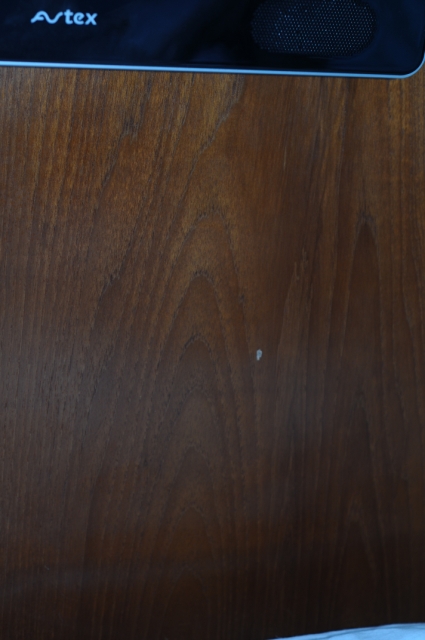 One shoddy fixing, showing scarring from drill slipping. One of the offending holes half way between bed and DVD player - remember this is no close up but a shot for depth of field.
I was so 'out of sorts' I didn't want to do anything. Knowing Bear had worked hard all day it was only fair for me to rally. Couldn't be bothered to cook so I suggested taking him to Joe's Italian. I put a frock on and some lippy and off we went on the short walk to Joe's authentic Italian. Knowing what my stomach is like when I'm already emotionally upset, thought classic lasagne would be safe with no alcohol at all. Diet coke and lasagne arrived. HUGE amounts of Garlic.
UH OH.
Pepe Sees Warning Signs.
Only eats half and hands it over to slim boy to finish.
Later that night "bellullowloolloowah" said the gut. "Oh" said Pepe. Uh OH, I see trouble ahead.
Time for Pepe to move at speed.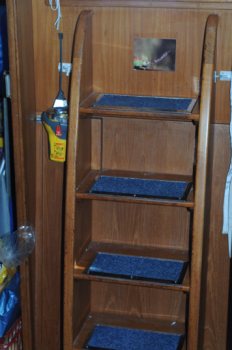 I felt the need to "Run Pepe Run". This means rappelling off the bed, "so we all do that" I hear you say. Trot along through the kitchen - "not far" I hear you say. In this photo space taken up by Glen the Electrician doing his thing on fitting the watermaker ( "Yes - I know I gave in to the 'chipping-away' with a offer of taking me to see The Angel Falls - I know call me an easy touch" ). This is where it changes from the domestic situation. Up four stairs, cock leg over into cockpit.
Climb out of cockpit. Climb down twelve rungs of a steep ladder and trot one hundred and fifty nine strides to the edge of the shower/toilet block behind Peakes Chandlery - praying as you go.
Round the corner, final two steps and pick a door. Not just any door. Must know which is a toilet or shower, man or woman.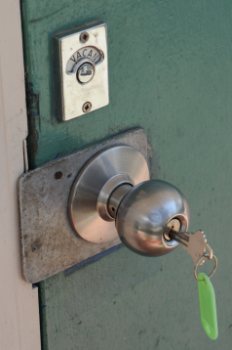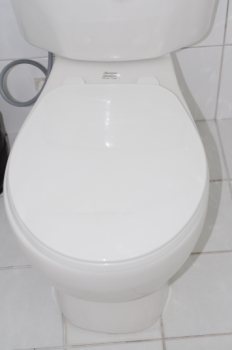 My door is number fifteen by choice. I have done door number one but it is for men and a bloke smokes a cigar in there most days, leaving baccy all over the place and an unpleasant aroma of a variety of sources. Key in lock. Our keys are freshly cut on a deposit of TT$100, about £10, therefore a bit to a lot of waggling has to occur to get said door open - precious seconds ticking by, finally I see my target.
Lid up. Pray for toilet paper in the holder and get some to dangle so it is in reach.
Hope all is over. Return back to Beez Neez via chandlery car park. Said Roy's car parked in front of the girl.
Watch a couple of arguing Grackles and say "hello" to Toothie, one of our guard dogs who permanently live here at Peakes. Terrible protrubing underjaw but nice dog all whilst en route.
See what skipper is up to
Climb ladder again.
Now this may not seem on the face of it to be such a big deal or indeed ordeal. But when you are squeezing your cheeks as tightly as possible, racing to said target in the dark and praying to get there. I guess the only people who can and will truly sympathise with me are those with a bit of Colitis, IBS, D+V or generally jippy tummies, not forgetting those on poo juice (no names mentioned) and anyone who has had an accident not realising "it was a wet fart".
On MY return. I'm sorry you have had to go through all this but I have said it before, there is a packet of Pamper's in the engine compartment.
My closest choice of weapon, a tin of Baygon Spray or the DVD remote control. DVD remote won, good shape for gripping, wielding or throwing - this was promptly dispatched as a BLUDGEON
See Pepe look threatening, paint Pepe's face red.
Engage DVD remote in a forceful fashion to side of Bear's head.
See Bear look shocked. Shout OUCH
Rub Bear Rub.
"If you so much as mention the Pamper's again you will not walk normally EVER again"
Bear taking threat seriously.
Sober faced Bear. Like a judge Bear, like a judge.
ALL IN ALL MAKE OF IT WHAT YOU WILL. No more lasagne, no more Roy ???.
---