Vampire

Beez Neez
Skipper and First Mate Millard (Big Bear and Pepe)
Sun 28 Feb 2016 23:57
HMAS Vampire – The Last of the Big Guns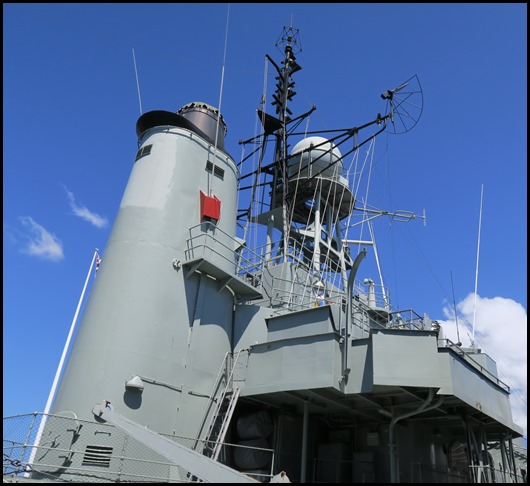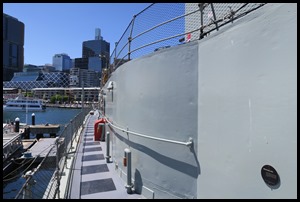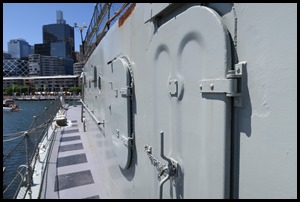 After our visit to the submarine Onslow, we bimbled around Vampire. We dedicate this blog to all our BARB's who are in the Royal Navy, Navy, Royal Marines, Marines or are retired from the Senior Service. You will know better than us where the pictures were taken. Enjoy, we did.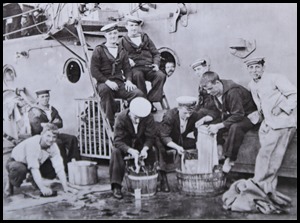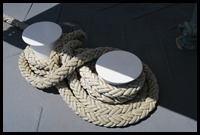 Vampire is a ship from another era. The last of the big destroyers built in Australia and the last Australian example of a gun ship. HMAS Vampire served in the Royal Australian Navy from 1959 to 1986 and contributed to Australia's defence during the often tense Cold War years. This ship took part in many exercises and joint operations with other navies, but had an essentially peaceful career. Vampire is a modified Daring class destroyer, one of the last to carry conventional guns as main armament and precedes today's guided missile frigates and destroyers.
Vampire was one of three Darings built in Australia, with sisters ships Voyager and Vendetta. Their strong, light construction combined high speed with maximum armament. They provided aircraft carrier escort and gunfire support to the Fleet.
In the 1960's Vampire served in Fleet tours and naval exercises as part of the Commonwealth Strategic Reserve with SEATO (South-East Asia Treaty Organisation). She took part in exercises held off Singapore during the Indonesian Confrontation with Malaysia in 1965 and made troop escort runs to Vietnam in 1965-1967 and 1969, but was not directly involved in action.
Vampire had extensive mid-life refit in 1970-1971 to modernise surveillance and gunfire control systems. Part of the superstructure was rebuilt in lightweight aluminium alloy. Over 2,000 repairs and modifications – major and minor – were undertaken at this time. I just asked Bear was it my time for a major refit. He just laughed and asked about contact glue......
Vampire was refitted again in 1980 for her final role as a training ship when about 40% of the entire ship's company were undergoing training at any one time. A large proportion of past and present naval personnel have served at some time or other in 'the Bat'.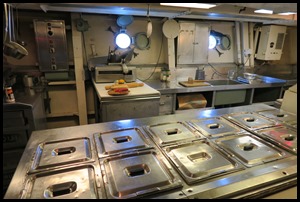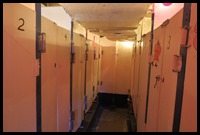 Vital Statistics: Built on Cockatoo Island here in Sydney Harbour. Keel laid in 1952, launched in 1956. Commissioned in 1959 decommissioned in 1986. Lent by the Department of Defence 1990-1997. Transferred to the National Maritime Museum in 1997. Length 118.65 metres. Breadth 13.11 metres. Draught 5.49 metres. Speed 30.5 knots maximum. Displacement 3,888 tonnes (full load). Range 5.612 kilometres at 20 knots. Original compliment 245 sailors and 29 officers. Call sign VKMC. Pendant D11; reduced to 11 in 1969.
Armament:
Vampire
's main armament consisted of six

4.5-inch (110 mm) Mark V guns

mounted in three Mark 6 twin turrets, two forward and one aft. Her anti-aircraft outfit consisted of six

40 mm Bofors

; two single mountings on the forward superstructure, and two twin mountings on the aft superstructure. Four

0.5-inch (13 mm) Browning machine guns

were carried for point defence. Five 21-inch torpedo tubes were fitted to a single Mark IV pentad mount on the deck between the forward and aft superstructures. For anti-submarine warfare, a

Limbo

anti-submarine mortar was carried on the aft deck, offset to port. The twin Bofors, torpedo launcher, and Limbo mortar were all removed during various refits. A

Sea Cat missile

system was installed at some point during her career.
Vampire was fitted with a Type 170 attack sonar, a Type 174 search sonar, and a Type 185 submarine detection sonar. The original fire control directors were a Flyplane 3 and an MRS 8. These were replaced during the 1970–71 refit with two M22 units. The air warning radar was replaced with an LW-02 air search radar during the same refit, and an 8gr-301A surface search and navigation radar was installed.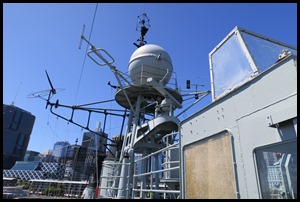 ALL IN ALL A HAPPILY RETIRED LADY
NICELY LAID OUT
---