Port Maurelle 2

Beez Neez
Skipper and First Mate Millard (Big Bear and Pepe)
Sun 17 Nov 2013 23:57
Return to Port Maurelle
We left Neiafu for the return journey to Port Maurelle, hopefully to see Kingfishers and fruit bats. As we left the bay it was surprising how dull a day it was.
Once again Bear was amused to plough over dry land.
After lunch we went for a spuddle, Beez all by herself in the bay.
The water so clear, the landscape so rugged.
Ashore, Bear poses with Beez.
Five minutes later the light changed, we couldn't see the islands and it began to rain, back for a game then.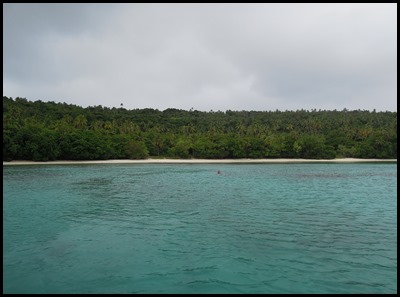 As exercise I swam back. The water was so warm.

If someone hangs their glasses up in the way of my anti-chafe procedure, expect results. Mmmmmmm.
ALL IN ALL FUNNY OLD WEATHER
IT SNOWED ON MY GLASSES......
---