Portwrinkle

Beez Neez now Chy Whella
Big Bear and Pepe Millard
Tue 20 Jun 2017 22:57
Finnygook Beach, Portwrinkle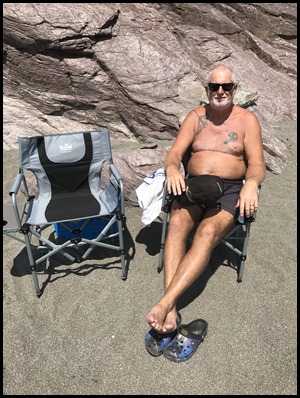 We put in a really busy morning from seven o'clock – washing, tidying, finding homes for Eva purchases, packing a case to go back to Beez Neez, so by half past noon it was definitely time for lunch. The sun was really blazing and it seemed a shame to stay indoors a moment longer. So, we packed a picnic and set off to the nearest beach at Portwrinkle some fifteen minutes away, sadly we are not in the habit of parking fees and no coins to feed the metre we had to set off to Torpoint. A good excuse to get fuel for the car and some cough mixture for Bear to whine about...... That done, metre fed, we settled on the beach and put our new chairs up in sand for the first time. How hot was the sand........ but although my brave boy went in the sea I could barely manage a paddle, way too cold for me. (this is the first blog I have put on where I haven't shaded out Bear's tattoos in respect for his mum – feels so odd. Miss you mum).
The Cornwall Beach Guide says: The little fishing village of Portwrinkle is tucked away in Cornwall's forgotten corner. Once the scene of a thriving pilchard industry the old fish cellars are now holiday cottages and the quaint little harbour is now a place of calm.
There are two beaches immediately accessible from Portwrinkle; to the west of the harbour is the sandy crescent of Hoodny Cove and to the east the quirkily named Finnygook Beach. There is actually a reasonable patch of sand within the little harbour at Portwrinkle too.
Finnygook is the most popular of the two beaches and comprises of a stretch of fine golden sand which runs down to the mid tide mark. At this point there is a rocky ledge which runs most of the length of the beach. This is home to a host of rockpools which are great for the kids to explore. As the tide comes in it becomes a good spot to snorkel.
Hoodny Cove is a little more sheltered than Finnygook, tucked away under high green cliffs. The beach here has the same sand and rocky foreshore as at Finnygook, but a very different feel overall. Whereas Finnygook backs onto the road and car park, Hoodny has a tucked away somewhat secluded feel to it.
We enjoyed the sun, read the Sunday papers – not bad as it's only Tuesday and took in the sights......
ALL IN ALL A REAL TREAT AFTER A BUSY MORNING
A BEAUTIFUL SUNNY DAY
---