Coastal Stomp

Beez Neez
Skipper and First Mate Millard (Big Bear and Pepe)
Tue 24 Jul 2018 22:57
Coastal Stomp Toward Swanpool
The others came back from their trip up the Helford Passage, I felt better but needed to do my eight thousand stomps. The other three settled in the garden for a cup of tea so I took myself off toward the beach. I remembered at the end of a track on the way down to Maenporth the other day, we had seen the biggest thistle heads I had ever seen.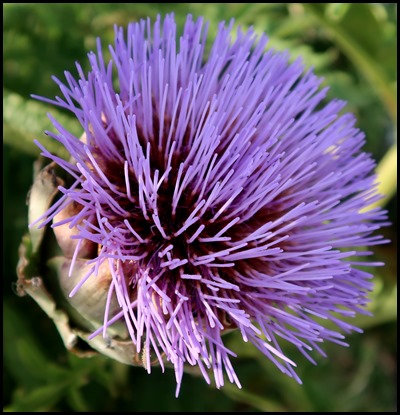 Pictures do not do justice to these amazing behemoths.
From up here a better view than from the posy bar we were in on Friday.
Once more taking in the bay view, down past Bill's Hill, a little memorial marker a relative or friend had placed on the left of the track down. Walking across the beach car park a rather splendid ol' gal.
Maenporth Beach.
I saw a sign for the coastal path to Swanpool and took it enjoying the views as I stomped.
Every few hundred stomps, more pictures.
Half way through at four thousand I turned back. Just one more picture looking toward Swanpool.
ALL IN ALL CORNWALL AT IT'S MOST BEAUTIFUL
---