To Little Island

Beez Neez
Skipper and First Mate Millard (Big Bear and Pepe)
Thu 6 Dec 2018 23:57
To Little Island aka Pulau Talang
After breakfast we did our very, very final bits of tidying, I cantered around on the hoover and once stowed we bimbled to the office. We sat with the lovely ladies whilst they readied our final, final bill and once settled it was really hard to say 'Goodbye' not 'Farewell' this time. Quite choked, as we remembered all their many kindnesses over the time we have been here at Pangkor Marina – the longest Beez Neez has been anywhere. We went to say 'farewell' to Richard and Val (Kereru) and wish them all the best with their new mast and hope to meet up with them in Chagos in the middle of next year. That done, we had an hour until our time of departure – on a rising tide. What would a 'normal' woman do, I don't know but I hard boiled ten eggs and cooked a cauliflower.......... Bear took my final rubbish to the bin and I noticed his IPad in its place above the wheel. Knowing the sun was blazing on it, I went to fetch it indoors (too hot and it closes down for a rest). Where is your sun shade for it ??? No idea said the returning skipper. So we set to making a new one. I found a piece of heat-reflective sponge, added gaffer tape to reinforce the corners and Bear whacked in four rings. He found some string and up the shade went. Nothing for it now but to saddle up the new chartplotter.
Much gnashing of teeth and complaining about socks on in the bath, I finally laid waypoints, formed a course and named it. Growling, I so miss my old machine. New instruments at the ready. Engine on at 12:25. Standing ready at the wheel, one final look forward, it was time for the skipper to tell me the order of rope removal. He stepped ashore and did just that, climbed aboard and I reversed out of our slip. We remembered our custom of Bear popping into the cockpit, quick peck on the lips, then we both turn to wave at our slip (or anchorage or marina etc) and then he scoots off to stow ropes and fenders. In the case of an anchorage he comes back to the cockpit after the anchor is safely stowed.
One look back to Pangkor.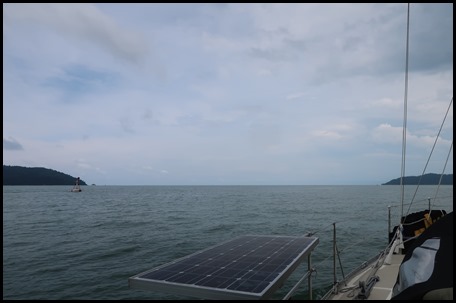 Chartplotter and eye-ball view.
Sensing all was well, instruments functioning properly and feeling settled, I suddenly yipped and yeehaa'd.
Half an hour later the rain cloud caught up with us, rolling thunder and lightning over the hillside to our right. Despite diminished visibility and pouring rain the skipper stayed firmly upbeat. I stood under our watertight pram hood and spotted for him. The weirdest thing. I have, for many years worn glasses for distance clarity and only a couple of years ago had to don reading glasses but for most stuff like cooking and shopping not bothered. Lately, my need to wear glasses for near work has risen dramatically but today when I put my distance glasses on things went blurry. It will take a while to realise I can see perfectly well and pick out fishermen and net markers. Bear tested me a few times by asking questions such as: can you see the squid man at ten o'clock. Yes and the one at eleven too. Crickey, he's six miles away. Yep. Strange indeed.
The rainstorm was with us for an hour and a half. I poked my nose out the side, not much to see out the back.
Eventually the rain stopped and we were treated to lovely swirling mist.
The like/hate relationship with the chartplotter – hate it but had to like the two deciduous trees, just two ??? no, we were looking at a forest. But I did love the whole swarm of chums further up the coast.
Heading to our Little Island.
A couple of fishermen, the odd net marker and heading in to find a couple of metres below to anchor.
A happy skipper signals that we are set, pied hornbills chatter and an iguana strolls across the little beach. Wonderful to sit in the cockpit and play games with a sherbet or two, too.
ALL IN ALL A HUGE RELIEF IN MANY WAYS
ON A ROLL ONCE MORE
---