Home and Bottom

Beez Neez
Skipper and First Mate Millard (Big Bear and Pepe)
Tue 25 Nov 2014 23:57
Home and to Beez Bottom
After our wow at the Stones concert and unplanned tramp we had a slack day on Sunday, going out in the evening to eat at the Indian Express – last there in March. We sat at the same table with the same lady serving us, she welcomed us as old friends and our meal, like the last time was delicious. Monday was home day. Up and packed for the final time this trip we caught the motel shuttle to the airport, the transfer bus was loading so on we got. Half an hour later we were only just able to make out the Sky Tower. A short walk to the bus station and time for a sandwich before our bus left at one.
Soon out of the city and into the lush countryside.
Lovely to see so many different trees.
We had a leg stretch half way back to Opua and actually pulled in to Kawakawa for fuel – neither of us have ever been on a public transport bus that has pulled into a petrol station. Still it gave us a nice view over the steam train station. Ten minutes later we were met by Rod, great to see him. The short drive down the hill in Mrs Puki, and there we were at the girl. Wonderful to be home. Beds raced in to see Bernie, Bobby and Claude, we poured a long one and settled to some long overdue games.
Up with the sparrows this morning Bear went off to hire a machine. I set my bar low and did the unpacking. The Black and White Minstrel came up for a cold drink, not welcome indoors, he sat out in the conservatory.
Trusty machine.
The worker.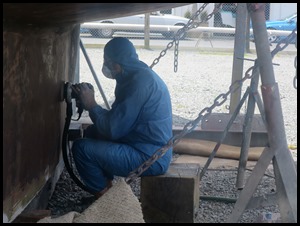 Nearly done.
Beez all ready for the undercoat on the morrow.
Methinks this tired and dirty Bear will need more than the allotted four minute shower.........best take several two bob bits.
ALL IN ALL SO PLEASED WE HAVE PINK AND BLUE JOBS
IT ALL WENT BETTER THAN EXPECTED
---