Back in the Wet Stuff

Beez Neez
Skipper and First Mate Millard (Big Bear and Pepe)
Mon 29 Sep 2008 08:46
Back in the Wet Stuff
Our first day back was Sunday 21st September, sun hot, so after a few jobs we went to the beach for a couple of hours. Waste water disposal was a wheelie bin strategically placed under Beez Neez. Showers were right next to us. I had only ever showered at night with skipper directing me, I decided to be big and go later the next day after domestic chores, washing done etc. However when I came out of the shower cubicle I couldn't work out why there was urinal in the corner !!!. Oops.
Monday saw us doing all the outside jobs in readiness for the girl to get wet.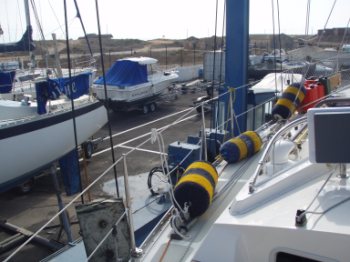 Tuesday 23rd. Crane in place, strops in place, lift and trundle. Skipper had gone off to pay our bill and once again I was being hoisted into the air. Very un-nerving as I pidgeon-Portuguese-ing that Beez and me were leaning well over to starboard. I wasn't too worried but I didn't want to spill my glass of wine. A strange way to travel.
Safely back in the wet, next boat in the hoist, back round to Lagos Marina to book in and fuel up.
Whilst skipper was booking us in I waited quietly, when these fellas pulled up I thought I had died, gone to heaven and adopted the frisk position, sadly these Maritime Police were being trained by the fella on the right. I couldn't think of anything quick enough to cause suspicion and get my dream to become reality. Oh well I had to make do with admiring their engines.
Next few days saw us sorting out the boat, going shopping, dodgers re-fitted, rope checks, winch service, cupboards washed and aired. Box of books and bits ready to go back to UK - all very cathartic.
First outing for the brand new Genoa. Original one awaiting service and machine repair "when I get the space to lay it out somewhere"
Saturday late afternoon thunder started to rumble. By late evening full on thunder and lightening. Watched The Shooter, a really well written script with plenty of special effects. Storm continued all night. Sunday 28th, rain continues, torrential in the afternoon, so indoor jobs. Could be worse, we could be at sea. "I now regret not filling the water tanks before the rain, guess who's job it is".
The ceaseless rain on the window meant you couldn't see out at all. Middle of the afternoon it looked like Armageddon. Early evening was lighter than the afternoon. The late evening brought the worst squalls of all, with winds over 40 knots. Something suddenly didn't feel right as Beez lurched over with an alarming and unrecognisable noise. Bear went to investigate and found a large canvas ( about 20 feet long ), at a guess a boat cover. It had hit our rigging and then wrapped itself around the spreaders of the boat facing us. As there was no-one aboard Bear fought the wild beast alone as an elderly bystander watched, supervised and made the odd comment, he eventually got it down safely. There were several worried looking Dutch crew wandering around, trying to get in touch with the emergency boat yard staff as their friend had been dismasted in the marina. The colour of the water coming through our pump flush is a foul brown, we guess from a burst river bank somewhere inland. The restaurants are desrted and between each squall there is an eerie silence. Then the lightening begins once again like a mad firework show and within seconds its like a fire hydrant explodes. We feel for anyone out at sea.
With all this rain we now we know why Portugal is so green and grows such big melons.
Skipper fitting a new pump sensor for the grey waste tank, that is to electronically pump water from the showers and hand basins. Glue smell MARVELLOUS.
During this time I got out the 2009 calendar I had bought for Bear in Plymouth, needless to say "a traveller's calender - 1000 places to see before you die". July happens to feature Imperial Cities of Morocco. A plan began to form, I put GPS on and plotted a course to Rabat. 205 miles, silly not to wander that way, then on to Madeira, well skipper did tell me there are a series of lows out at sea, causing storms, "relatively speaking then, coast hugging to Morocco ???. "OK" he said, "just a quick once round the Casbah". "Right, hair cut time". Are you really going to do a grade one all over, don't you think its getting wintry. "NO. No more Captain Birds Eye impressions from you".
Soon as we can slip away from Lagos, its to Rabat to take in Casablanca, Sahara, Fez and Agadir. All in all a good plan. Pity she had so much thinking time during the storm.
---