PS Maritime Rescue

Beez Neez now Chy Whella
Big Bear and Pepe Millard
Sun 10 Apr 2016 22:47
Port Stephens Maritime Rescue
When we visited Port Stephens Maritime Rescue eighteen months ago, we made a promise to ourselves and the good people who look after us yachties, that we would be back.
Map: Today we bimbled from Beez Neez anchored in Nelson Bay, along Victoria Parade, up through Fly Point Park, along Beach Road and up the hill to Nelson Bay Lighthouse and the Maritime Rescue Office.
We had a warm welcome and chatted between calls. The view every bit as lovely as we remembered. We asked about all the boats informing their local office about every journey they made, estimated time of arrival and did that create too much work. "No, it helps us no end in a call, even a crackled radio message will give us a fix and know where the vessel is and we can monitor any situation that may arise. If someone forgets to log out we call until we get a response or hand it over to the Police". So it would be for the best if we log our details with you. "Absolutely" Well, a first for us. Other than having to email our intended movements to Immigration and radioing in the USA, we have never started a passage by calling anyone. We were handed a log in sheet to radio before we leave our details in the order given. Right, will do. We thanked the three good men on duty and then met Lee.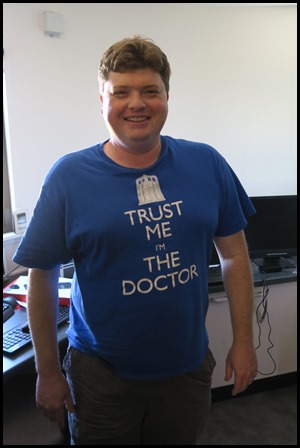 Lee took us into 'the back room', the nerve centre of all things electrickery. This lovely young man – in a fantastic tee shirt, works full time in Newcastle, does shifts for Maritime Rescue and here is on a Sunday afternoon checking the comms. We went back to the main room and he told us of recent rescues - some nail-biting, the two rescue craft and some of the characters he comes into contact with.
Rodger Rescue was a handsome chap, pity the sun played havoc on the plastic.
The Service.
Lifeboats in Service:
The Unit has two primary rescue craft, both purpose-built, specialised vessels, crewed by highly-motivated and well-trained volunteers who can be called upon at anytime, day or night, to head to the assistance of those who call. They are both Accredited Rescue Craft, and are available on a 24-hour call-out basis, subject to Police tasking. A response time of twenty minutes or less is estimated from alert to heading to sea. Both vessels boast a comprehensive inventory of the latest navigation, communication, safety and rescue technologies on board.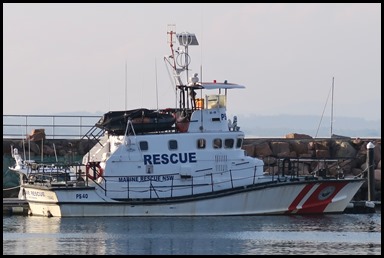 Port Stephens Lifeboat PS-40 - "Danial Thain"
Specifications: Length:- 17.1 metres (52 feet), Beam:- 5.6 metres (17 feet), Displacement:- 32 tons, Draft: - Aft 1.8 metres; Forward 1.1 metres. Fuel:- Diesel, 2200 litres (500 gallons) + 590 litres (131 gallons) reserve.
Engines:- 2 x D343 Caterpillar 460hp. Range:– Approximately 250 nautical miles at 10 knots - 20 hours. Top Speed:- 14 knots. Crew:- Operational - normally 6/7.
Lifeboat PS-40 (Danial Thain) was designed in 1971 by A. McLachlan of Glasgow for the Royal National Lifeboat Institute (RNLI) in the United Kingdom. She was built as 52-09 in 1978 with a glass reinforced plastic hull and fibreglass house (ARUN Class). Originally named the 'Spirit of Tayside' she spent most of her operational career with the RNLI base at Broughty Ferry in Scotland. She was purchased in 1999 by the Royal Volunteer Coastal Patrol, as a result of a very generous anonymous donation, to be permanently stationed in Port Stephens. All ARUNs are self-righting and are considered one of the safest ocean going rescue vessels available.
The new girl, expected any day now, she will replace Daniel Thain, who we do hope will be bought and used as a cruiser, and loved.
Port Stephens Lifeboat PS-30 - 'Codi-K II'
Specifications: Make / Model:- Gemini WR-850, Type: Rigid-Hull Inflatable (RHIB). Length:- 8.5 metres, Beam:- 2.8 metres, Engines:- 2 x Mercury Verado four-stroke Outboards 200hp each (150kW).
Fuel Capacity: - 2 x 200 litre tanks, Fuel Consumption:- Cruising speed - 50 litres / hour, Displacement:- 3.2 tonnes. Survey:- 2C. Crew:- 4 operational. Speed:- Top speed around 40 knots. Cruising speed 25 to 30 knots.
Lifeboat PS-30 (Codi-K II) was manufactured in South Africa, prepared by Britton Marine of Taren Point NSW, and completed in February 2012. Her single hull is made of glass-reinforced plastic with alloy longitudinal keel reinforcement and her cabin is glass-reinforced plastic. She boasts among her electronic equipment a Raymarine Radar/Plotter, Furuno AIS Class-A and FLIR Thermal Night Vision System.
Codi-K II has been prepared to Port Stephens Unit specifications in consultation with Marine Rescue NSW, and is capable of covering all of the areas of Port Stephens; ie, the Myall River system, Karuah River, and the other shallow areas of our waterways, as well as outside waters as required.
We bade our thanks and headed to the room dedicated to the Service, in the building where the cafe and museum are housed.
Nail-biting doesn't cover the first picture. Relief at the second. The catamaran crew were rescued and there were only minor injuries to the crew of Daniel Thain. What heroic things these and the likes of the RNLI and so many others do in the selfless acts for others. Very humbling.
The crew so richly deserved their award..........
.......and their mentions in the newspapers.
Out in the garden, we read all the tributes and plaques. Next, lunch in the cafe and then the museum.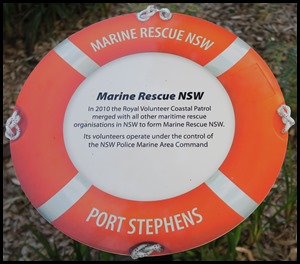 ALL IN ALL THANK YOU TO ALL THE RESCUERS – ANGELS
NICE TO MEET SOME OF OUR SAFETY NET
---