The Wilderness

Beez Neez now Chy Whella
Big Bear and Pepe Millard
Fri 8 Oct 2010 21:51
The Wilderness
The Wilderness is a historic home located near Catonsville, Baltimore County, Maryland. It is a large stone and frame house located in a wooded setting west of Catonsville. The original home was built about 1800, and it attained its current appearance following a major expansion in 1899-1900, when it was a summer residence of Francis Cumberland Dugan II (1830-1914). It features multiple roof and dormer shapes and a wraparound porch reminiscent of the Queen Anne style. The third story is located within a tall mansard roof. Also on the property are a stone springhouse / smokehouse, a summer kitchen, log tenant house, and a large frame barn. The house was listed on the National Register of Historic Places in 1985.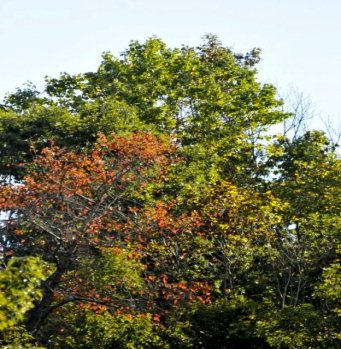 Typical main entrance. The Landlady told us the fall colours are a little late this year but still very pretty.
The Dining and Living Room
Our Room
Freyans Room
The hummingbirds had just left to go south but there were one or two visitors to the garden feeders
We had a nice time at the Wilderness, in hindsight though Bear would have preferred to be closer to Annapolis rather than thirty miles out. The brochure said "European breakfast". We have eaten all over Europe and never had anything quite like it. The first morning the Landlady had to work and we helped ourselves to home made fruit loaf, tea and fruit, next morning we thought we would be in for a full fry-up, sadly 'nose-bag' - that is a type of bread pudding food, not a weener or bacon and eggs in sight.
ALL IN ALL A GET - AWAY - FROM - IT - ALL KIND OF PLACE
.
---