To Hamner Springs

Beez Neez now Chy Whella
Big Bear and Pepe Millard
Tue 15 Jul 2014 22:47
To Hamner Springs Via the TransAlpine Triangle Route
We got up to a beautiful morning in Kaikoura. Bear had to shoehorn me away.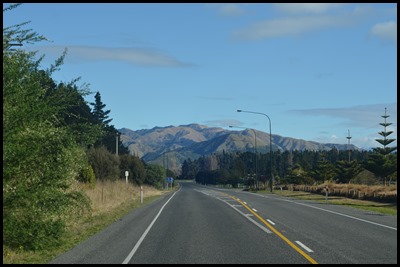 We bade 'farewell' to the lovely people at the camp, crossed the road, filled up the empty gas cylinder, put diesel in Mabel and off we went. Passing the bay, then out towards the mountains on State Highway 7.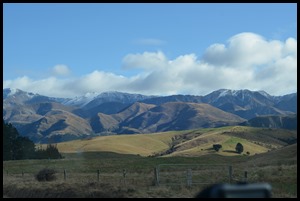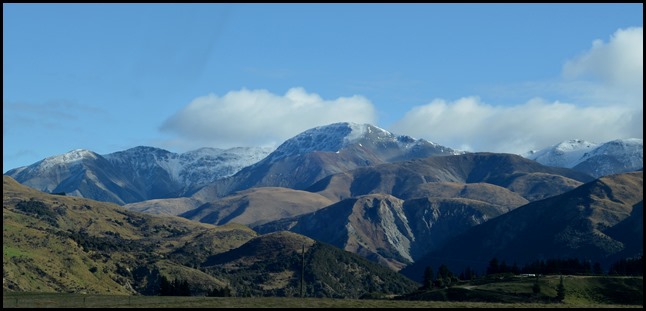 Along the hundred mile journey.
Bear stopped Mabel. They look like rugby posts. You've got to be made of stern stuff to be playing up field. Yes dear.
Out came the big lens. I see what he means. Tough, these locals. Well 'ard.
We stopped on this skinny bridge to say 'hello' to a family looking amongst the stones. Looking left and looking downriver.
We could tell when we had joined the TransAlpine Triangle Route, these signs were all within fifty feet of each other and not in mph.
Many tight bends and a hairpin at the bottom.
Another amazing bridge, long enough to have passing bays.
Left view.
Right view.
Toward the mountains, over the last bridge and there was Mount Isabel overlooking Hamner Springs. There are no free campsites anywhere near Hamner Springs, so we pulled into the cheapest Top 10 in New Zealand – fifteen pounds, free electricity, wi-fi and unlimited time in the showers. All settled, time for an afternoon bimble to check out the world famous Hot Spa.
A pretty Lodge, frosted plants and a diddy St. Rochs Church. Time to get warm and supper.
.
ALL IN ALL A VERY WINDING BUT PRETTY ROUTE
---