Final MRA&E

Beez Neez
Skipper and First Mate Millard (Big Bear and Pepe)
Thu 13 Sep 2018 22:57
Final Miff, Rachel, Andrew and Edward, for a while........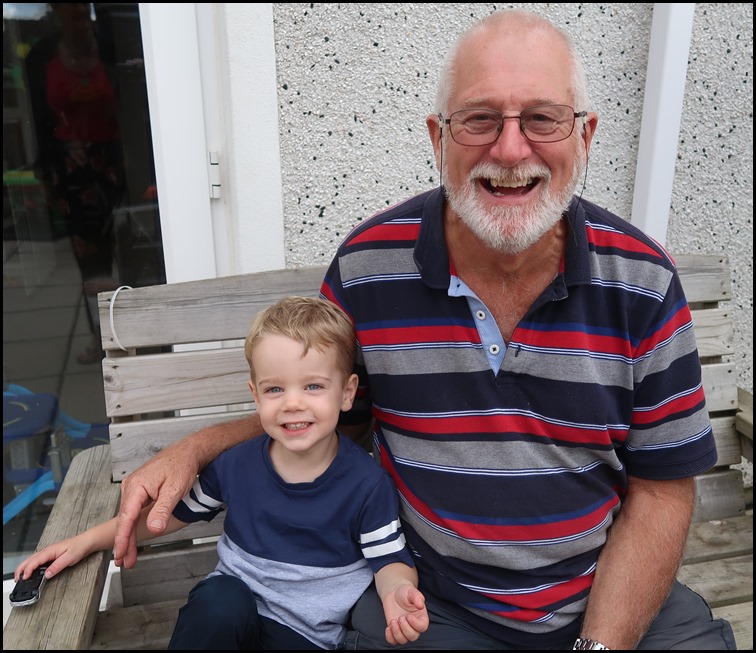 We arrived post Eva settling, quick storage drop off and even quicker late picnic, well two sarnies for Bear and yoghurt for me to the most gorgeous welcome from Edward. "Oh Grandma" as he raced across the kitchen. Huge hug done, "Oh Grandpa" as he shoved past me to get to the chap standing behind me. Similar actions from Andrew before we were whisked outside to watch some trampoline action. Quick kiss from Miff and Rachel and the promise of a cup of tea, we were once again hustled outside. Andrew climbed in and zipped up but Edward took the opportunity to pose with "Grandpa Bear".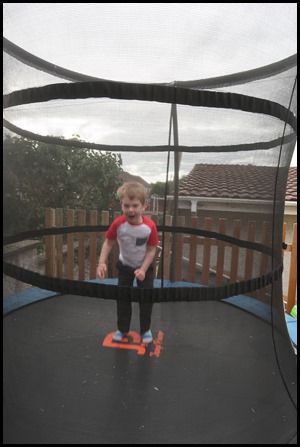 As Andrew went through his moves he suddenly did a mid-air splits, ""try again I said and I'll try with the camera up the other way.
Got the position, pity it looks as if his feet are on support bars not simply the seam on the netting. Still, very pleased to get the picture.
Time for a very quick chat over our cuppa and garden bound for a family picture. Miff gathered up Andrew as Rachel scooped up Edward. A few shots to try for four people all with eyes open, thumbs not being sucked, all looking forward with grandpa doing his best to attract.........
.................a fun selection but there has to be a favourite.
I had said when we arrived that I wouldn't be able to dither at leaving time as not to go all unnecessary. Final hugs and kisses we exited stage left a bit quick, me with the biggest lump in my throat. The family stood and waved us all the way down the road, just as well I had chosen to drive for the very reason that tears blurred my vision too much, the toughest bit of what our circumnavigation takes – the emotional toll of the 'farewells'.
ALL IN ALL PAINFUL
WRENCHING
---