Cristobal Arrival

Beez Neez now Chy Whella
Big Bear and Pepe Millard
Wed 3 Apr 2013 07:30
Final Day at Sea
Daybreak on our final day at sea
As Bear got up, I pointed to our first look at the archipelago
Land Ho (well just visible in the morning mist)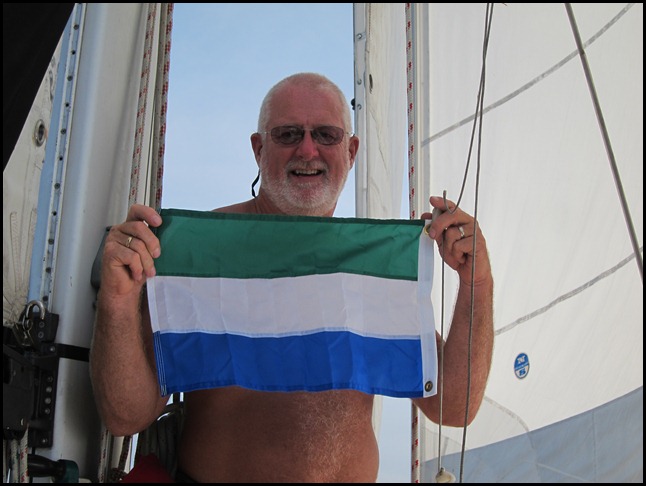 The first Order of the Day was a very special flag ceremony
Not one, but three. The flag of the Galapagos went up first, then the flag of Ecuador and lastly our quarantine flag (up until we check in).
Such a peaceful sea.
The teeny ripples off Beez are all we can hear.
Dalrimpole Rock, our cue to head left.
San Cristobal comes into sharper view with the Galapagos Explorer
Wreck Bay in sight. We're Here – YeeeeeHaaaaaaa
We knew as soon as we passed the big girls we could anchor. The Galapagos was as close in as she could park, we could see busy barges unloading supplies.
We have spent one hundred and eighty seven hours and thirty minutes at sea. We averaged five point one seven eight knots per hour. We used eighty litres of diesel at a cost of around sixty pounds. We pulled in and anchored in Wreck Bay, officially called Chatham at seven thirty in the morning. Spanish name Puerto Baquerizo Moreno, San Cristobal, one of the islands in the GALAPAGOS mega YeeHaaa's.
Wonderful to see the first island in the archipelago I only dreamed about and never thought I would actually arrive in. Cannot wait to explore and see the magic of the islands.
Certainly way up there on the top ten Bucket List.
ALL IN ALL WHAT A FEELING
WONDERFUL FULFILLMENT OF A LONG STANDING DREAM
---