To Bardia

Beez Neez now Chy Whella
Big Bear and Pepe Millard
Fri 13 Apr 2018 22:47
To Bardia
We were up and breakfasted by the time John and Santosh came to collect us at seven for the hundred and fifty mile journey from Lumbini to Bardia. Thankfully, the boys took a westerly route out of town which meant we didn't have to suffer the awful, unmade dual carriageway.
The usual suspects.
Every river, no matter how little water, had people doing their laundry, collecting mud to daub on their wattle, fishing or filling up their jerry jugs.
At ten thirty the boys were hungry, they had travelled through the night to get to us this morning and we stopped in a typical village at a typical, small eatery.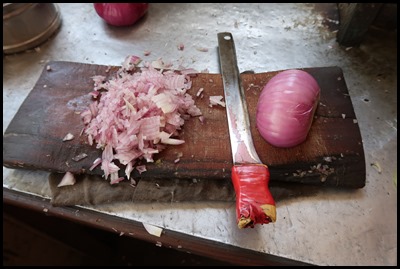 The boys all ate dal bhat (rice served with a lentil soup and dangerous tasting chutney). I watched a young lady as she tended her pots, laughed at the onion cutting knife (but the speed it was wielded was impressive) and some happy yellow spices.
We had a laugh at a motorbike atop a bus, watched a big griffon saw overhead and set off once more.
Another small town, all dust and potholes.
A completely dry river bed. Two hours after our lunch stop we reached the edge of Bardia National Park and saw our first sign for tigers.
Many more dry rivers and a few with a little water.
A nice bit of smooth road made a lovely change. Many speed along this stretch. (a short while later we saw a tractor and trailer loaded with rocks laying in the ditch – thankfully no-one was injured).

A sad looking market.
Dry paddy fields with rubbish along the roadside.
A fancy hotel looked so out of place, it services the airport nearby.
The things they load on their tuk-tuks – a new doorframe..........
Traditional hay piles on top of a wooden frame that keeps the sun off the livestock.
The boys asked if we would like to stop on the Babai Bridge to see our first chaps (own blog).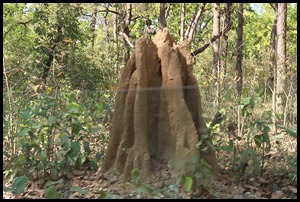 Another village, small farms and a termite mound........
Not far to go, a river to cross (not possible in the monsoon season).
We passed a broken down tractor mid-crossing and saw our first 'proper' white cow on the other side.
Arriving at Wild Trak in the late afternoon, we were shown through the garden to our digs.
Beds settled on our squeaky but comfy bed, complete with mossie net under a traditional ceiling. Our shower room. The mirror on the wall sounded as if someone was pinging elastic bands at the back of it (we would learn the noise was from the termites.
After unpacking necessities, we headed to the communal dining area and Bear had pizza straight from the garden oven.
ALL IN ALL NOT A BAD JOURNEY AND WE DID SEE CHAPS FROM THE BRIDGE
A LONG AND WINDING ROAD
---