Vava'u by Car 1

Beez Neez now Chy Whella
Big Bear and Pepe Millard
Tue 12 Nov 2013 22:57
Exploring Vava'u in a Tiny Hire Car - Part One
We got up this morning to a very dreary, overcast day, great excitement - a cruise ship came in. The passengers have from eight am until half past twelve, back on board for lunch and off at one thirty, talk about whistle stop........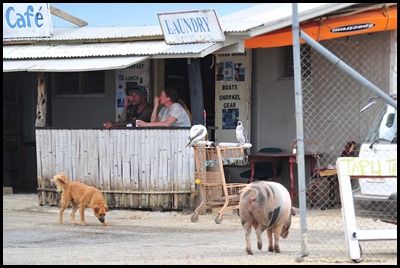 Bear left me on the quayside and went off to collect the hire car. We can never, ever be accused of traveling light. When I look at the French on holiday, towel and book, I feel unnecessarily over prepared. This morning it was two sets of snorkeling stuff, both in lozenge shaped, purpose built bags and Bear's is much heavier than mine. The foldy-up beach blanket, that acts as a back sack, fur–lined poncho, complete with insect stuff in the pocket. Big back sack full of cameras, IPad and bits. I'm sitting here looking like I'm going away for a week. Anyway, settled and waiting, I look up and see a pig trotting into a bar, complete with two baby frigate birds on a converted shopping trolley and a couple of people sitting as if this is a normal day.
Pig and dog now set about the task of licking up the fallen bird food. Then it's time for the porker to have a jolly good scratch.
For twenty four pounds I didn't expect much. The captain appeared in quite a smart little Toyota – Oh, but such a dodgy colour. Now starting to rain, I feel the snorkel / beach arrangement may not be required. Oh well at least we have it. Yes dear. Jumping into the car I'm given the large, plasticised map. Totally useless as there are no road signs, we'll do what we usually do and go around the edge and zig zag. Oh, I've been asked to stay on the main roads, is there much of a difference. No. Rightee oh then.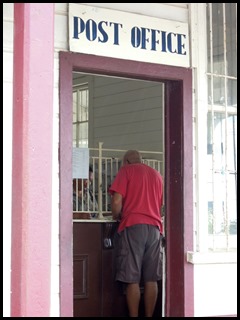 First stop is the Post Office to get Lady Mac a pair of stamps. This is next to the Sub Treasury. The whole ensemble would like quite in keeping on the set of a western and I fully expected a cowboy in spurs to exit at any moment.
Opposite was Vava'u Library and to my left the Office for Pensions.
Up the hill we pass a couple of supermarkets, yes, both of these........
We usually feature 'One Careful Owners' that are not lived in, but here they all were functioning as housing.
Tonga's economy is characterised by a large nonmonetary sector and a heavy dependence on remittances from the half of the country's population that lives abroad, chiefly in Australia, New Zealand, and the United States. Much of the monetary sector of the economy is dominated, if not owned, by the royal family and nobles. This is particularly true of the telecommunications and satellite services. Much of small business, particularly retailing on Tongatapu, is now dominated by recent Chinese immigrants who arrived under a cash-for-passports scheme that ended in 1998.
This was the smartest house we saw all morning.
The shabbiest, but beautiful church music was blaring out from the upper floor. Needless to say 'One Careful Owners' came at us thick and fast (own blog of course), but here we felt a deep sense of oh dear about it all.
Nearing the airport we saw a cow. Nothing special per se, but he was standing outside what back in the day would have been a rather smart hotel.
The International Airport and runway. We know things look more drab in the rain but this really was.
This weeks cutey is a foal.
We saw quite a few horses out and about working, a bit of a surprise.
Rural Tongans rely on plantation and subsistence agriculture. Coconuts, vanilla beans, and bananas are the major cash crops. The processing of coconuts into copra and desiccated coconut is the only significant industry. Pigs and poultry are the major types of livestock. Horses are kept for draft purposes, primarily by farmers working their api. More cattle are being raised, and beef imports are declining.
According to the CIA World Factbook, "The Tongan economy's base is agriculture, which contributes 30% to GDP. Squash, coconuts, bananas, and vanilla beans are the main crops, and agricultural exports make up two-thirds of total exports. The country must import a high proportion of its food, mainly from New Zealand. The industrial sector accounts for only 10% of GDP. Tourism is the primary source of hard currency earnings. The country remains dependent on sizable external aid and remittances to offset its trade deficit. The government is emphasising the development of the private sector, especially the encouragement of investment." The GDP per capita in 2011 was $7,500.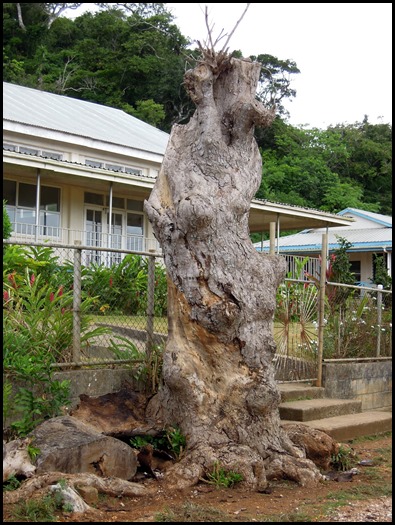 Bear liked this tree, don't ask, I didn't, but it did stand outside the smartest house we found all day.
Schools were all very smart, this is the high school just outside town.
School uniform is also very neat.
Lunch was a crowded affair. It has to be said we are now in low season, very few visiting yachts are still here, but, of course, Beez Neez does like to be at the back. The businesses here in Vava'u change hands all the time and many are up for sale, closed for the season or simply boarded up. One bar, announced on the eight thirty radio net, that they were pleased to announce they had been open for three months, we wish them well and will see if they are still trading when we visit next year.....watch this space.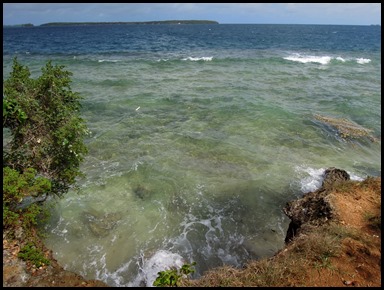 It is said that Vei, a beautiful woman, would sit at the entrance to the cave and brush her long locks. A tevolo (mischievous spirit) named Muni lived on the peninsula near the village of Makave and every afternoon as Vei brushed her hair, Muni would gaze longingly across the water at her, but he knew that if he attempted to reach her, she would vanish as soon as he started on the long journey in her direction. So one day, in order to trick Vei, Muni - who was weeding his garden with a huo-epu (hoe), took off his white hat, put it on the hoe and balanced it in the middle of his garden. When Vei looked up, she would think that the tevolo was still busy. As she sat at the entrance to the cave, teasingly brushing her gorgeous hair, Muni snuck up on her from behind a futu tree and grabbed her by the hair. Vei begged for her life and invited him down to her dwelling place. When they entered the water, she took a deep breath, dived in and filled her mouth with water.
During her escape she was questioned by two tevolo, Sisi and Fainga'a and some of the water in her mouth spouted out. The underground wells of Toula resulted, they are renowned for the purity of water and the ease with which the water can be assessed, by digging just six feet down. Vei was also tickled at this place and now it is called called Vai'ine after her.
Vei continued her escape through the Neiafutahi sea-wall, she rested here and the result was the fresh water spring called 'Tufu. On she went to Falaleu village to the western side of the Port of Refuge Harbour, she slipped and her half open mouth spilt a little more water – the spring Vei-ngangana (Vei's dropped water) was the result.
Vei continued along the sea wall to Mount Talau, Vaipu inlet and Maitaika. Here she rested for a while The brackish water of 'Tufutele was where many locals bathed and did their washing. Not pure water as she didn't spill any from her mouth here.
Finally, Vei found a new and final resting place toward Taoa and Tefisi villages, now called 'Vei Siale (final destiny). It may be a sweet little story but we didn't fancy her original cave or the bay across which she made her escape, so, back in the car and onward.
We went over a bridge paid for by the Chinese and drove through a couple of villages who had new water pipes, the money donated by the people of Japan.
ALL IN ALL A MIXED BAG
A GOOD DAY OUT
---