Airlie Bimble

Beez Neez
Skipper and First Mate Millard (Big Bear and Pepe)
Sat 4 Jun 2016 22:57
Airlie Bimble to the Market
Beez in the sunshine. Unbelievably hot after the torrential rain we had most of the night. Beez new friend is called Len Hooper – a big police launch.
In the empty slot next to Beez was a herd of fish, and the in the next one along was this chap who was about eighteen inches long.
We stopped at a loud horn and turned to see a crowded ferry discharge loads of passengers, then pull out. We walked to the office to book the courtesy car for Monday to do a Coles run for heavy shopping. At the end of the north end of the marina, we turned right to join the Bicentennial Boardwalk.
The reason for the crowded ferry and many more during the day was due to there being a cruise ship in. Anchored a very long way off – strict rules about where they are allowed to park.
Zoomed in she is clearer to see.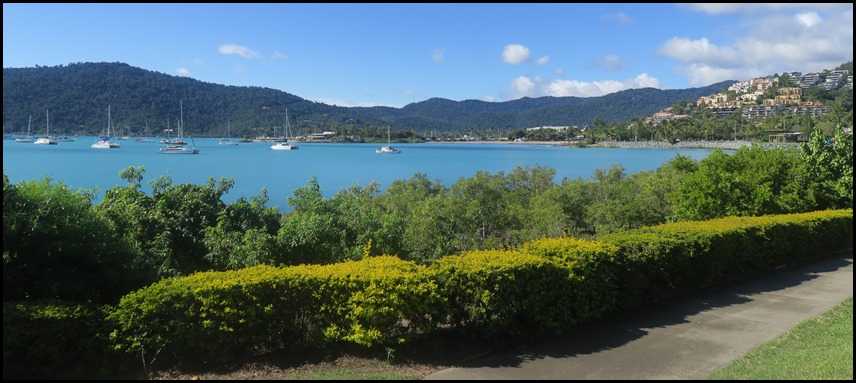 We followed the boardwalk which became a path. So many cruisers have told us about the Saturday Market, on the other side of the bay.
We bimbled by a sandy little beach not a soul in sight, we couldn't understand on such a beautiful day........Until we saw the information board........ Mmmm. We had passed a shop in the marina with hideous mannequins wearing leopard print jelly suits, now we read they are only 75% effective, that means 25% risk and your face, hands and feet are out on their own.
We came to a park with a shallow lido, this must be why the beach was empty.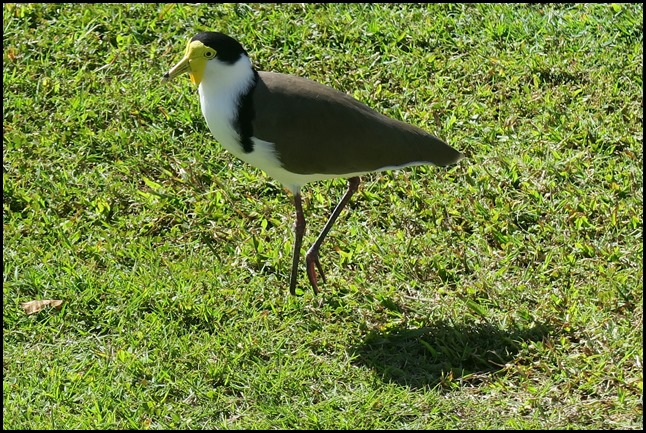 A Thora strutted her stuff.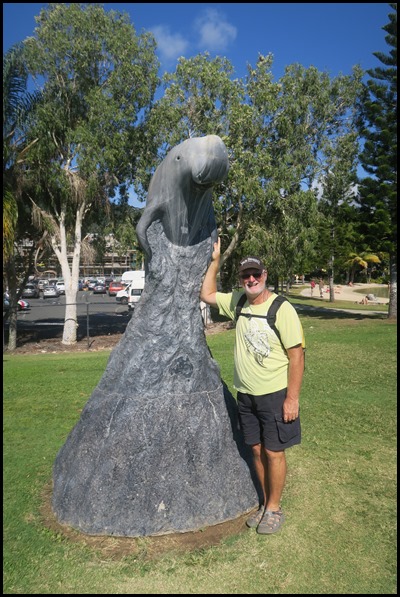 A dugong and plaque dedicated in 2001.
From the far end of the lido we could see it was really big.
Down the High Street a little way and then back to the beach path to see the War Memorial.
Not exactly donkeys on Weston-super-Mare beach.........
The huge market had a great turtle sandcastle.
We bimbled through the variety of stalls, past Australia's youngest juggler – a talented little girl and we loved the kangaroo rocker. We bought two ginormous pineapples for five dollars. A cucumber so fat it could used as a missile for a dollar and some limes for Bear's rum and then bimbled toward Woolworths for bread and stuff for the weekend. That done we headed back.
This time from the boardwalk we could see the cruise ship had swung round and a bus that floats.
Whatever next......... A number plate that we can't argue with.
ALL IN ALL A HAPPY TOWN
BEAUTIFULLY LAID OUT BOARDWALK
---