Bevy of Beauties

Beez Neez now Chy Whella
Big Bear and Pepe Millard
Sun 24 Aug 2014 22:07
A Bevy of Beauties in Warbirds and Wheels
Warbirds and Wheels is situated at the airport in Wanaka, after a warm welcome we entered a massive hangar, first stop was Sophie the Austin Seven, then we saw this rare 1910 Metz Roadster – one of just seven left in the world.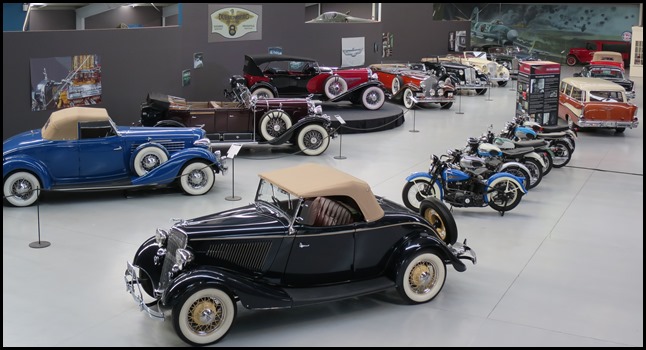 Oh Wow.
1907, Model K, inline-six-cylinder. Planetary two –speed manual. Wheelbase one hundred and fourteen inch.This car was the first six-cylinder model built by Henry Ford and replaced the Model B Ford. The company produced a tourer, like this one and the roadster version. There were only eight hundred and ninety two Model K Ford's ever built and it is believed that only twenty remain in the world today, most of those are in the United States and this car is the only one of her kind in New Zealand.
The Model K was aimed at the top end of the market and carried a price tag of between two thousand five hundred and three thousand dollars. Until this time Ford had been known as a producer of affordable cars and the high price tag was touted as one of the reasons production ceased in 1908. Ford did not produced another six-cylinder car until 1941.
1926 Special Delivery Truck. Four cylinder Waukesha Model XA, hundred and seventy three cubic inch. Wheelbase one hundred and sixteen inches.The special delivery is designed and built from the ground up as a light delivery truck. The engine, clutch, three speed transmission, propeller shaft, rear axle, springs, frame – all are especially built for truck service at high speeds. This truck was bought brand new and used in and around Christchurch City.
1929 Sports Phaeton – Fisher Body 1183, with a price tag of just shy of four thousand dollars. Ninety horsepower V8 engine at three hundred and forty one cubic inch. This was the first year that Cadillac had a three speed manual synchro-mesh gearbox. Wheelbase one hundred and forty inches.
This lady was sold new to Argentina as an US Embassy car – hence the right hand drive. This car also features the speedometer in kilometres and the fuel gauge in litres. She went to the USA in the late 1990's, and came to New Zealand in 2003. Repainted and reupholstered in 2009.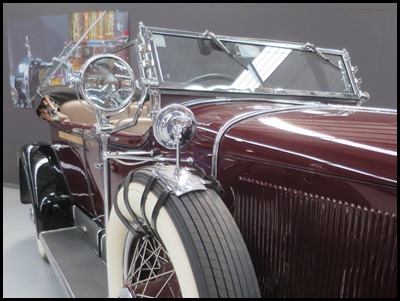 In 1926 the series 314 V8 engine was announced, and although it had the same bore and stroke of previous models, it was an entirely fresh design which itself remained in production until 1936. The series 341 cars of 1928 were the first Cadillacs designed by Harley J. Earl, and they bore a distinct resemblance to the famous styling found on the LaSalle, Cadillac's companion car introduced the year before. Prior to 1928 sales were running generally in the twenty thousands annually, a figure that would nearly double in 1928. Also by 1928 General Motors owned one hundred per cent of Fisher, and their custom line was in much demand on the longer one hundred and forty inch wheelbase with underslung springs, which allowed Harley Earl to design his first Cadillac as a long low car.
1934 Ford Model 40B, V8 producing eighty five horsepower. Wheelbase one hundred and twelve inches. This car was built by Ford Australia Production, she is thought to have been owned by the legendary Errol Flynn. She also features a very rare factory body and was one of only five such bodies to be produced. Worldwide 1934 was to be the last year of production for the Model B V8 engine and also the Victoria body model. There were a small number of changes from the 1933 model namely a flattened grille and a wider surround, fewer bars, smaller headlights and a reworked logo.
1928 Model A Roadster, four-cylinder, two hundred cubic inch, forty horsepower. Wheelbase one hundred and three inches. Purchase price when new four hundred and fifty dollars. By 1928 Ford had dropped the Model T after a twenty year run and some fifteen million produced.
The Model A was a more complex vehicle than the 'T', improvements were a water pump on the motor, coil ignition replaced the old magneto ignition, twice as much power as the 'T' and a three speed gearbox. The Model A came in a variety of over twenty models. She was the first Ford to use the standard set of driver controls with conventional clutch and brake pedals, throttle and gearshift. Other improvements included four wheel mechanical brakes. This new New Zealand Model A came from the Ashburton area, purchased by her late owner in 1988. She was restored in Wanaka where she remains with the same family today.
1935 Auburn 851 SC. Purchased new for one thousand six hundred and seventy five dollars. Straight 8 Lycoming Supercharged one hundred and fifty horsepower. Three speed, plus two speed Colombia Diff. Wheelbase one hundred and twenty seven inches. Auburn made cars from 1900 to 1936, based in Auburn Indiana, started by the Eckhart family. In 1919 it was sold to a group of Chicago-based investors and in 1929 Auburn, Cord & Duesenberg combined to become Cord Corporation or more commonly known as the A.C.D. Group.
Being new in the United Kingdom, it was right hand drive, but was returned to the USA after WWII. The car was bought in 1994 by her present owner who brought her here to New Zealand, where she was repainted and reupholstered.
1948 Lincoln Continental. Purchased when new at four thousand six hundred and sixty two dollars. 1949 three hundred and thirty three cubic inch, OHV Cadillac V8. Three speed manual with overdrive. Wheelbase one hundred and twenty five inches.
The 1948 Lincoln Continental was the last of the classic V12 Continentals as there was a complete design and power change in 1949. It was also the last car to be produced with a V12 to be sold by US automakers. However by 1948, the car's weight had increased significantly over the original continental, while the power of the flathead V12 engine had remained at one hundred and twenty five horsepower, which made for a rather anaemic performance. To rectify this, a company in the USA called Trans Dapt – abbreviated from Transmission Adaptors, made a kit to install in the then new Cadillac 331c.i. OHV V8, which produced one hundred and sixty five horsepower with a 2V carb with a one hundred and eighty five horsepower with a 4V, into the later Continentals. This improved performance markedly and was widely used. In addition, some received the Chrysler Hemi V8, also 331c.i. and also using the Trans Dapt kit. The car above received a 331 Cadillac V8. Apart from the engine change, which has been retained, the rest of the car has been restored as originally produced.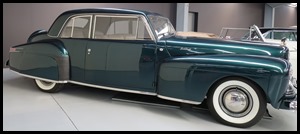 1942 Continental Coupe V12, one hundred and thirty horsepower, three speed. Wheelbase one hundred and twenty five inches. Purchase price when new three thousand one hundred and seventy four dollars. One of two hundred built before America entered the war. This car was especially ordered in this colour by Richard Kughn of Monel Toy Trains USA, to be the same colour as his model trains. The interior brightwork – normally chrome, was especially ordered in eighteen carat gold.
The first Continental was a specially customised Lincoln Zephyr built for Edsel Ford to use on his winter vacation in Palm Beach, Florida in 1939. So popular was the car among his friends that he used his influence as President of the Ford Motor Company to have a production version built. The design remained unchanged until 1942, at which time a larger V12 engine was fitted and the grille and front trim were redesigned for a sleeker appearance.
The 1942 Lincoln Continental was in production for only a few months due to the outbreak of WWII, which resulted in a shutdown of the US auto industry. After the war, most makers restarted production based on their pre-war lines, and Lincoln was no exception.
1938 Lincoln Zephyr V12 Coupe. This lady was imported in to New Zealand in 1938, she is the only right hand drive coupe brought in. The engine is an original Lincoln V12 however she has been fitted with Hogan high compression cylinder heads and triple carb manifold. This was done by the late Ron Hogan who owned the car from 1961 until his passing in 2008.
1933 Chrysler Royal Eight Coupe, Model CT. Straight 8. Two hundred and seventy four cubic inches. Ninety eight horsepower. Three speed. Wheelbase one hundred and twenty inches. Purchase price when new nine hundred and fifteen dollars. The company was started in 1924 when Walter Chrysler took over the Maxwell Motor Corp, and was one of the first to have hydraulic brakes. Chrysler have continued to make some of the finest cars in the world, the brand is still available today and made my beloved Bug – the PT Cruiser.
This car is one of one thousand and thirty three produced in 1933. She was sent new to England in a "running chassis form", the aluminium body was then put on for a car show in 1933. Dunedin businessman John Ross of Ross & Glendinning, purchased the car and brought her to New Zealand where she has stayed locally since. From the Ross family she was sold to Brown & Cope Spring Manufacturers of Dunedin. Then several owners before being purchased by a Wanaka owner in 1992, who carried out a full restoration.
1940 Ford V Pickup. In the same year Ford produced its twenty eight millionth vehicle. Ford trucks were updated in 1940 as half ton trucks took on car styling for the first time in almost ten years, adopting the look of that years Standard-series, this included the vee's grille, pointed hood and headlights mounted into the fenders, giving these haulers a modern, classy look. Power continued to come from a choice of two flathead v engines, a one hundred and thirty six cubic inch, sixty horsepower unit or a eighty five horsepower version.
This vehicle was bought new in New Zealand by Bob Forest of Oamaru and ended up on his farm. After almost forty years she was sold to Jim Ledgerwood whose wife Daphne still owns her. Restoration began with Bob and was completed by Jim.
1956 Lincoln Continental Mark II. Purchase price new was ten thousand dollars. The engine is a three hundred and sixty eight cubic inches, V, two hundred and eighty five horsepower. Wheelbase of one hundred and twenty six inches. Transmission, turbo-drive automatic. This car is an icon of the 1950's rush for luxury and is considered one of the most beautiful designs in automotive history. The memories from the timeless 1940-1941 Lincoln Continental design prompted the Ford Motor Company to produce a successor, the result was the unforgettable Lincoln Continental 1956-1957 Mark II.
The new car cost more than twice as much as a contemporary Lincoln and more than a Rolls Royce. Unfortunately sales never reached expectation and production of the car was cancelled less than two years after the first one was made. Less than five hundred were built in 1957.
There was no shortage of famous names on the Lincoln Continental Mark II owners list. The future New York Governor Nelson Rockefeller, Milton Eisenhower – brother of the US President, Barry Goldwater and the Shah of Iran. Hollywood owners included Frank Sinatra, Walter Brennan, Jack Warner and Darryl F. Zanuck.
1957 Bel Air Sports Coupe. V8 two hundred and eighty three cubic inches, one hundred and eighty five horsepower, automatic. Wheelbase one hundred and fifteen inches. Chevrolet was established in Detroit and Flint Michigan in 1911, when William Durant teamed up with Louis Chevrolet, a successful Swiss race car driver to create a new auto manufacturer. The Bel Air's were produced from 1953 to 1975, but the 1957 is now one of the biggest collector cars. This model featured new and rather large tail fins and a carburetted V8 engine. She is fully equipped with power steering, power brakes, heater, radio and clock. This car was formerly owned by a Puerto Rican professional boxing champion called Hector – Macho, Comancho, based in New York. She came to New Zealand in 2007. .
1957 Townsman 210. Price new two thousand one hundred dollars. One hundred and eighty five horsepower, manual three speed gearbox. Wheelbase one hundred and fifteen inches. The Townsman name was first used in 1953 on the 210 series four-door station wagon. For 1954, the name was shifted to the luxury Bel Air series station wagon, which featured Di-Noc woodgrain panelling. In both years, all Townsmans were eight-passenger models models. In 1955 and 1956, the Townsman was once again a 210, but in 1957 it was available as both a 210 and a Bel Air. All 1955-1957 Townsmans were six-passenger models. A two hundred and thirty five cubic inch inline six-cylinder engine was standard power in all five years, with V8s available beginning in 1955.
This car was purchased by her present owner in 2001 at an auction in Santa Barbara, California. She had a frame-off restoration done by the renowned man from Wyoming who just restores '55 to '57 Chevys and Coke machines........ She won a Platinum Award for Restoration in 1995 at the 21st International Classic Chevy International Club. In order to receive a Platinum Award the car must get nine hundred and seventy points out of a possible thousand.
1965 Mustang Standard Coupe. Purchase price new was three thousand and sixty eight dollars and ninety five cents. Wheelbase one hundred and eight inches. The first-generation Ford Mustang was the original pony car, manufactured from 1964 until 1973. It was initially introduced as a hardtop and convertible with the fastback version put on sale the following year. At the time of its introduction the Mustang,sharing its underpinnings with the Falcon, was slotted into a compact car segment. Mustang was by far the most successful development by Ford for the 1965 model year. March 1964 marked the millionth Mustang. Although the first few years were definitely good for Ford and its sporty Mustang, 1966 was the year all that hard work truly began to pay off. This car is extremely original, there has been no modifications made to her over the years and has won many trophies.
The De Dion Bouton, our last lady before a quick look in the shop and lunch in the retro café.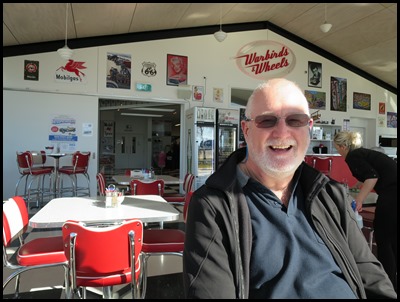 ALL IN ALL SO VERY SHINY AND LOVED
LADIES IN BEAUTIFUL CONDITION
---