Cavern

Beez Neez now Chy Whella
Big Bear and Pepe Millard
Fri 12 Feb 2010 23:18
The Cavern
After the Arecibo Observatory was a drive along Route 129 toward the River Camuy Cave Park. The park is two hundred and sixty eight acres and we wanted to see the subterranean caverns carved out by the River Camuy one million years ago. Camuy is known as "La Ciudad Romantica" (romantic city) and "La Ciudad del Sol Taino" (city of the Taino Sun). The town was founded in 1807, when it was disassociated from Arecibo by Petrolina Matos. We bought our numbered tickets and waited to be called forward to get our hard hats, get on the train and descend on the wiggly route some two hundred feet. We were told the caves are home to a unique species of fish that is totally blind and a rare shrimp that feeds on bat guar.
We followed map quite well - must be getting used to it - found the entrance and Bear looked very fetching in his hard hat.
The Rio Camuy Caverns are the third largest cave system in the world. Sixteen entrances have been found so far with some seven miles of passages. The special attraction is the Cuerva Clara, which measures six hundred and ninety five feet in length.
The entrance looked like any other we had visited
Right in the centre of the main cavern (caves have one entrance - caverns more than one) was a huge stalagmite
We saw some wonderful shapes and colours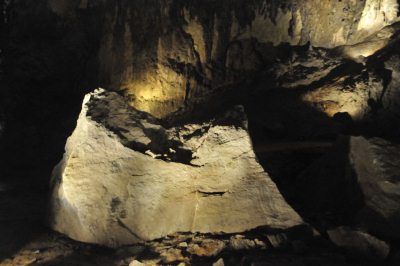 Alberto - in the yellow hat - our guide, told us the Disney film set people had visited recently seeking scenery for Pirates of the Caribbean 4. Catching Bear the photographer
The vastness of this cavern was only apparent when we saw other people on a tour - top right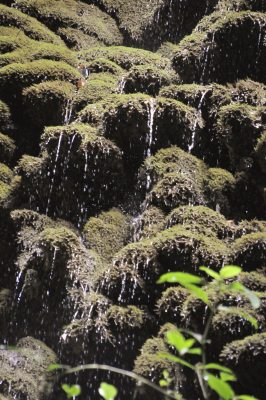 We washed in the "Fountain of Youth"
and made our way back to the surface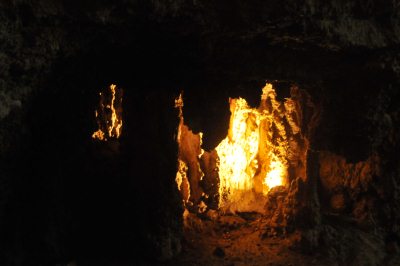 ALL IN ALL GLAD TO SAY WE VISITED THE THIRD BIGGEST IN THE WORLD
NOT AS BEAUTIFUL AS THE CAVES ON LANZAROTE
---