Arriving in St Lucia

Beez Neez
Skipper and First Mate Millard (Big Bear and Pepe)
Thu 5 Feb 2009 09:30
Arriving in St Lucia, the Caribbean
We left Six Men's Bay, Barbados at 15:30 on Wednesday 4th February for the 96 mile sail to Rodney Bay, St Lucia.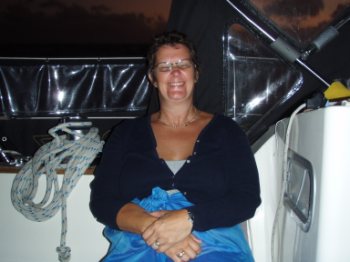 I love this picture of skipper, me with a particularly cheesy grin, flag prep in the dark. Within ten minutes of leaving, we had settled to 6 knots with just the Genoa (front one) on a starboard tack in a straight line. Sadly, no fish caught. We saw several cruise ships - one was called Celebrity Summit, another Thompson Destiny and others.
Our first sights of St Lucia.
Entering Rodney Bay, anchoring yachts outside the entrance to the marina, we saw many of these hillocks covered in trees. The people who live in these houses perched high must have stunning views.
We entered Rodney Bay at 08:30, when we put the engine on, furled the sail and motored into the marina on Thursday 5th of February, skipper chuffed. A three masted classic. Engine off at 9:05.
The local fruit and veg shop that calls on the yachts in the marina.
We will be delighted to welcome our first guests - Miffy and Catherine, arriving Sunday the 8th for a week. Leaving behind snowy Devon for 28 degrees.
ALL IN ALL a delightful sail. Great to get to the Caribbean for real.
---