To the UK

Beez Neez now Chy Whella
Big Bear and Pepe Millard
Fri 14 Mar 2014 23:14
How Bear, Me and the Computers Are Confused by Time and Date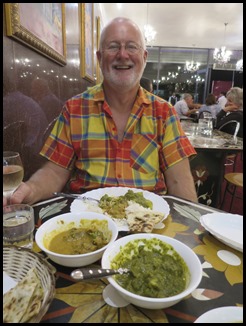 Our final night after yet another good soak in the spa bath, saw us bimble down the road to an Indian restaurant. A first time for us was that the menu was half Indian and half Chinese food, this made for a tough time choosing. We finally went with Indian and what a good choice. Excellent.
After a lazy day we boarded the transfer mini bus at five and found ourselves in front of a computer terminal to do our check in. The machine couldn't cope with the onward bit from San Francisco, so we waited patiently for a lady to help us. We saw that on our San Fran / Heathrow leg we were sitting nowhere near each other, but the lady said that she had only issued those boarding cards to make sure our big cases didn't have to be scanned again, although we would have to claim them and take them around a corner............That done it was time for the laptops out and x-ray business. Bear was chosen for a extra swab down, as I bimbled over I found him getting a tour talk from the very nice wand-waving man. After a long chat we went in search of duty free and our gate. Time for a drink, boarding and waiting. We had to sit for an hour on shore power to keep the aircraft cool. A couple of men with tool boxes said all was well and off we went. What a wonderful group of stewards. We were given double of everything, drink wise and for the first time, ice cream for pudding. Comfy seats, we were soon settled to watching the latest films. We took off at eight thirty in the evening and landed at twelve mid day the same day.
It took about half an hour to clear in to the USA, six months stamped into our Passports. Our two cases collected, delivered around the corner and off to Security. "You need to have Virgin boarding cards to come through". Back to find the check in counter. Closed until half past two. Bear took some zeds and I watched fascinated as a very careful man lined up all his poles, then pulled the elastic bands out and connected them all together to make a wonderful zig-zag. New boarding cards (ours were Air New Zealand), the lady took pity on Bears face as I asked gingerly if we could sit together, that successfully accomplished it was time to do the laptops out, shoes off and go through the puffy machine that tastes the air for bad stuff on your clothing. San Francisco was not the most exciting airport for retail therapy, so we found a pizza place and watched the world go by. It was deja vu as we took off at six thirty, had exactly the same meal and settled once again to the latest films. Sadly, I had no monitor, so a lovely stewardess gave me a DVD player and disc by disc on I went. All we can say is "Oh my knees". We landed an hour ahead of schedule due to a massive tail wind and it was great to be able to text the family and get calls and texts of welcome in return. Mark came to pick us up and off we went down the M4 to Swindon. Very excited indeed. Mark went back to work after we had a sloppy welcome from Seth and emotional hugs with Kate. After a cup of tea we all went off to surprise Jack at home time. What a hug. Milkshake, swimming lesson, early supper in KFC and home again. Bear managed to nod at six and I only managed another hour. Funny to go to bed before your grandchildren. Zzzzzzz's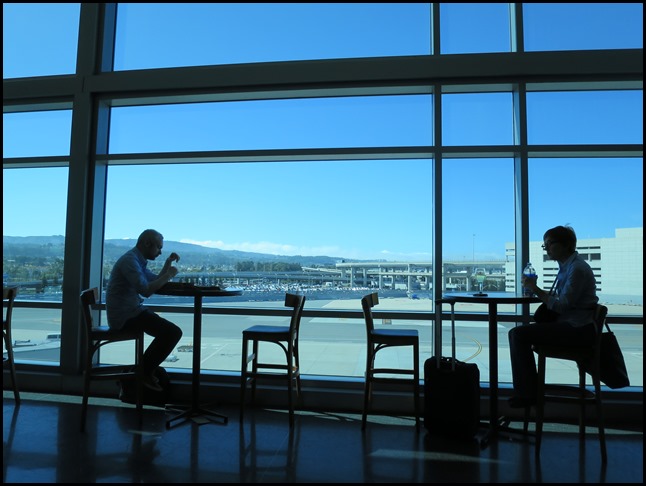 .
ALL IN ALL DON'T DO BACK TO BACK LONG HAULS
A VERY LONG JOURNEY
---