Vava'u by Car 2

Beez Neez now Chy Whella
Big Bear and Pepe Millard
Tue 12 Nov 2013 23:17
Exploring Vava'u in a Tiny Hire Car – Part Two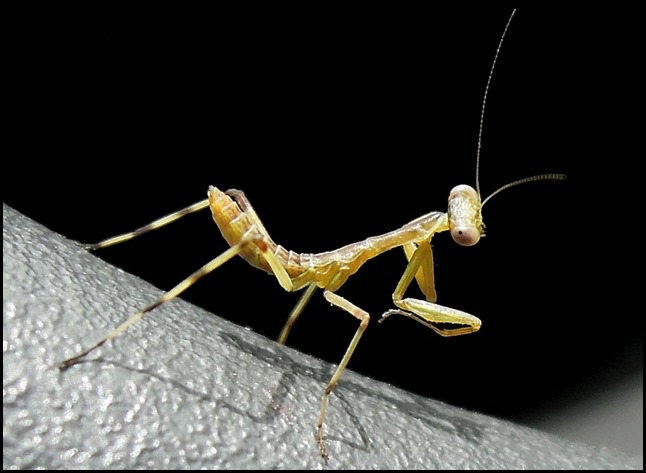 We had a tiny visitor. Only half an inch in size, we have only ever seen adult prayerful ones, he was very cute, posed nicely, and when I said I wanted a close-up, promptly hopped on my finger. Remonstrating, that this was indeed too close, he hopped out of the window. Well there we are then.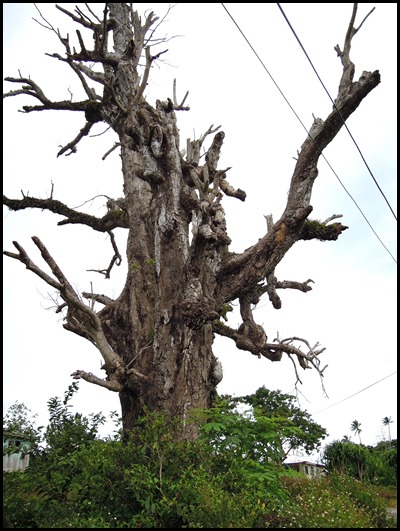 An interesting tree with many dangling burls.
We stopped to see what we could see, but the only thing was the Chinese bridge in the distance and a house on the hill.
The 'house' turned out to be yet another casualty of the struggling tourist industry, now used as a home to one family. Bayview Apartments, complete with young 'one careful owner' in the front. The tourist industry is relatively undeveloped; however, the government recognises that tourism can play a major role in economic development, and efforts are being made to increase this source of revenue. Cruise ships often stop in Nukuʻalofa and Vava'u. A make over is indeed very necessary, though.
We saw grasses and coconut leaves hanging out to be sun bleached and dried. Women sitting in groups weaving baskets and mats in fairly grim surroundings. The copra industry is plagued by world prices that have been depressed for years. The manufacturing sector consists of handicrafts and a few other very small scale industries, all of which contribute only about 3% of GDP. Commercial business activities also are inconspicuous and, to a large extent, are dominated by the same large trading companies found throughout the South Pacific. In September 1974, the country's first commercial trading bank, the Bank of Tonga, opened. Unemployment is 8% and 16% of the population live under the poverty line.
Tonga's development plans emphasise a growing private sector, upgrading agricultural productivity, revitalising the squash and vanilla bean industries, developing tourism, and improving the island's communications and transportation systems. Substantial progress has been made, but much work remains to be done. A small but growing construction sector is developing in response to the inflow of aid monies and remittances from Tongans abroad, but we saw many 'started but stopped' ventures. Efforts are being made to discover ways to diversify. One hope is seen in fisheries; tests have shown that sufficient skipjack tuna pass through Tongan waters to support a fishing industry. Another potential development activity is exploitation of forests, which cover 35% of the kingdom's land area but are decreasing as land is cleared. Coconut trees past their prime bearing years also provide a potential source of lumber.
An amazing tree, showing how creepers creep.
Nothing cute here, these are food.
The pigs and chickens do make an awful mess about the place. Vava'u is seeking donations to bring a vet in to neuter the many dogs and cats roaming about, some in quite big packs. Some in a terrible condition.
We liked Stanley's Bar and Restaurant – pity about the container.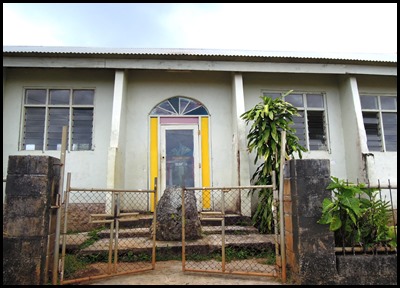 Loved this church bell, none other than an old, rusty gas cylinder, we can just imagine the noise this makes when struck, rousing the faithful to church. The church (like so many we saw) looked no smarter than the bell.
Used to burials in front gardens on previous islands, here graves tend to be grouped in haphazard groups.
A home-made grave stone.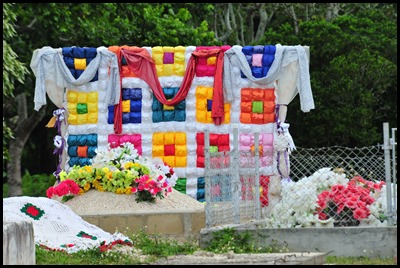 Traditional to cover the loved ones with a crochet blanket, no guesses to what himself said – to keep them warm...................................Grrrr.
Funerals are of enormous cultural significance in Tonga, in contrast to the taboos regarding death and dying in Western society, death is met with matter-of-fact acceptance and a highly ritualised grieving process. Mourners can easily be spotted with custom requiring that Tongans dress in black and wear a ta'ovala (a mat wrapped around the waist and tied with rope) some of which almost reach the neck and face. These signify the death of an immediate family member, and are also worn in the case of a royal funeral. Certain female relatives also cut off their hair while men grow their beards.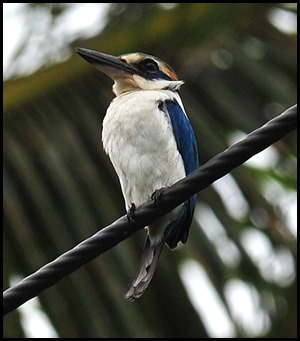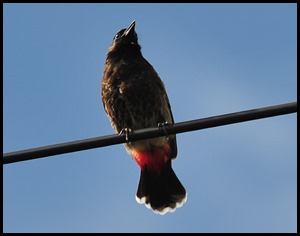 We saw a total of ten kingfishers during the day, neither of us have ever had that tally. Sadly, they only seemed happy to pose on the electric wires. We saw a few red-rumps. These birds are a recent introduction that got the local ladies very excited, red feathers for decorations – until they realised just how many feathers they would have to collect to be useful.
We stopped for a drink in the bar opposite Beez. Not for you Moth – relatives on the Titanic – just a little ice then. Bear gave one look at the menu and chose. A waft of garlic and a pile of beans, wish me luck, it could be a very rough night ahead.............Marvelous.
ALL IN ALL A GOOD MIX OF THINGS
GREAT POTENTIAL......
---