Silver 'Jewelly'

Beez Neez now Chy Whella
Big Bear and Pepe Millard
Tue 5 Dec 2017 23:27
Our Stop at a Silversmiths
We pulled up beside the dock of a silversmith, the sign read jewelly, novel.......
A keen young lady scooped us from the dock and had us on stools, listening attentively, before we could blink. She showed us an ore producing rock and a grinder. The chemical solution used to separate out the silver and the little bits they gather from sieving the solution.
To her side a chap had been using the bellows to raise the heat below a tiny little pot, happy with the fluid-state, he poured it into a stone mould.
He dunked the silver ingot in cold water and handed it to our guide.
The machine and measuring gauge used in silver wire making.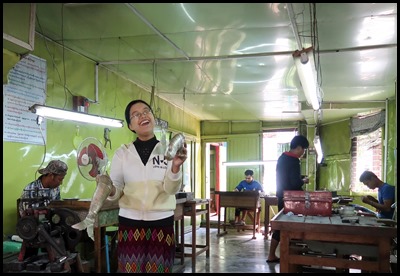 Our guide showed us silver fish "designed by my grandfather and unique to this works, this is a family business", the segmented fish waggle – up and down for the boys, side to side for the girls. Funnily enough, we had seen the very fish on several of the market stalls such a short time ago........
A cousin was making bracelets. Concertina design and a traditional classic.
Another cousin was making baskets for earrings and we were shown a gong necklace.
Another cousin was just finishing putting a junk link on a tiny fish, cute but not robust enough for me to wear.
Our guide showed us how to rub metal on a stone, silver for silver, a golden colour for plate and a tiny set of basket earrings happen to be in shot........
A final cousin was working with gems.
Politely we looked around the shop and returned to our boat having thanked our guide.
ALL IN ALL ANOTHER INTERESTING LITTLE STOP
OLD FASHIONED PROCESSES STILL WORK PERFECTLY
---