Arriving in Portsmouth

Beez Neez
Skipper and First Mate Millard (Big Bear and Pepe)
Sun 15 Mar 2009 23:45
Arriving in Portsmouth, Dominica.
We left Roseau on Saturday the 14th March and could not get over the shape of the cruise liner in this morning, The Emerald Princess, definitely one for the "does my bottom look big in this".
The wind was fluky up to 34 knots, the sea was flat with a lot of chop for the 18 miles journey to Portsmouth. Bear instantly was in his Alamo, so I enjoyed the sun. A little friend passing us fighting against the current.
A cheesy looking Skipper having fun at the helm. First look at Portsmouth and stunning blue water.
The girl and looking from the girl to the shore.
One of the more amusing welcomes was from the fruit and veg man delivering on a surf board with one paddle. Not so welcoming was this 'proper' sized jellyfish. Phillip came over for a chat from Delphinus of Dartmouth. We met boat boys Albert, Providence and Eddison who all told us to go to Big Papa's that night for a BBQ and rum punch evening with music. All inclusive for £12.50. The profits going to support P.A.Y.S. the 24 hour security patrols in the bay.
Big Papa's that was damaged in a freak storm in 1995. Bear with his first beer of the night and the bar with sandy beach for the flooring, which at the back has internet, a few touristy bits to buy and a book swop.
Bear in amongst the locals gathering the very strong rum punches. Cobra and me 'skanking it slow'. The evening was well attended, we met some Brits, Austrians, Americans and most of the boat boys. Then we had our biggest surprise ..............................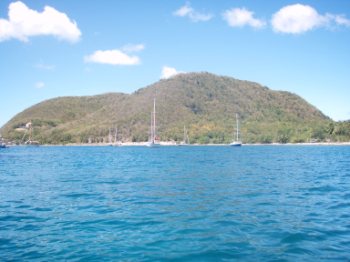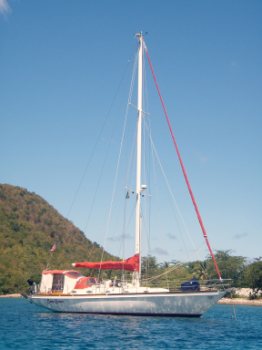 We met Jim and Ann from Bees Knees.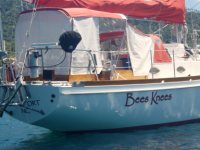 Monday morning off we went to take pictures of Bees Knees, I have to type that carefully as I naturally want to put zeds in and no K. Jim and Ann and Phillip and Joanna came over Monday evening for sundowners. Joanna was celebrating two months as a sailor, we wish her luck, safe winds and following seas.
ALL IN ALL an AMAZING couple of days.
---