Beez to 23/05/2019

Beez Neez now Chy Whella
Big Bear and Pepe Millard
Thu 23 May 2019 22:57
Beez to the 23rd of May 2019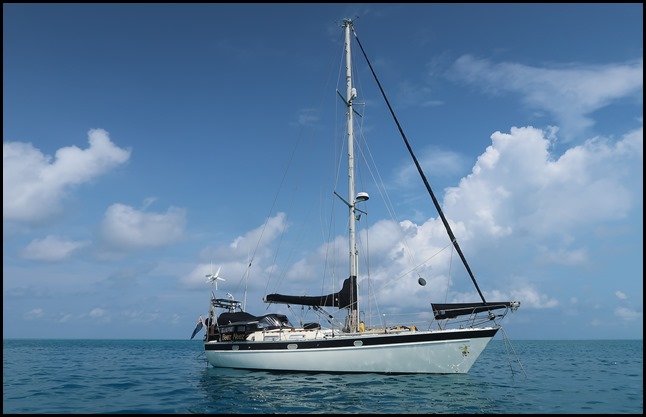 Friday the 17th of May. After a restful night in our new anchorage, we pottered for the day, OK so I hobbled. Bear did a post-journey swim around the girl, to wash off the salt spray, check the prop and enjoy the warm, blue water, looking pretty fine. I paddled one-footed for a little while and showered. We played games, seems so long since we had the time to simply enjoy life in the cockpit, watching the world go by and just being liveaboards.
Saturday the 18th of May. Bear launched Baby Beez and we were soon passing the little harbour filled with tuna fishing girls. In The Maldives the richest locals are the tuna boat owners, a reasonable catch is around fourteen tons whilst a big catch is around thirty. Ashore for an exploratory bimble. One chap stopped his scooter and waited for us to tie Baby Beez to a tree on the beach and me to hobble over to the track, he wanted to know if I "need hospital", how sweet.
A couple of youngsters pointed the direction to the SIM card shop. Well swept alleys between the beach and houses.
Most people were so very welcoming but a few were reserved but polite. We popped into a shop that sold nearly everything in small amounts, the young lady serving had fairly good English and gave good directions. Bear felt he ought to buy something - a medium sized Coke bottle ($3). We had been warned that the comms shop only opened in the late evening. Nothing wrong with seeing where it was and wonderful for us, a pair of flip flops outside. Nasru was amazing. He loaded a SIM card for us, rang around to find a diesel supplier and was instantly our friend. We started talking about films and on Bear's next trip in took our Children's Film hard drive with a small folder of our latest films included. Must trust him as this is a first. He walked us to a slightly bigger supermarket, very reminiscent of a typical corner shop and then we bade him farewell for now.
On our way back to Baby Beez we passed the play park. The population here is between nine hundred and a thousand – four hundred of which are children. Schools here take them to GCE's and university courses can be taken on line unless the student wants to go further afield.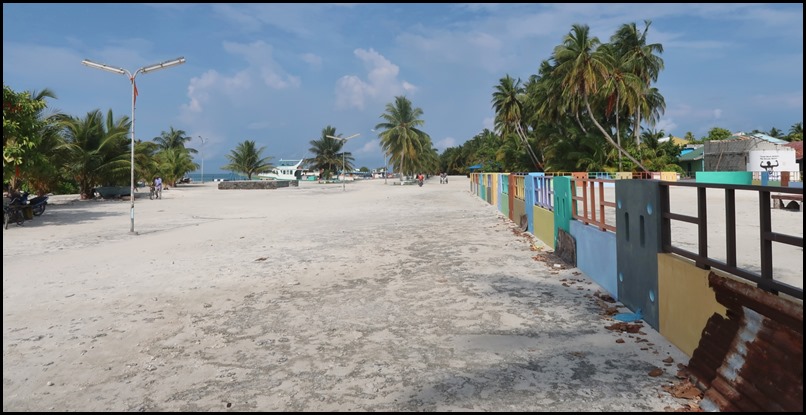 The wide area en route back to Baby Beez.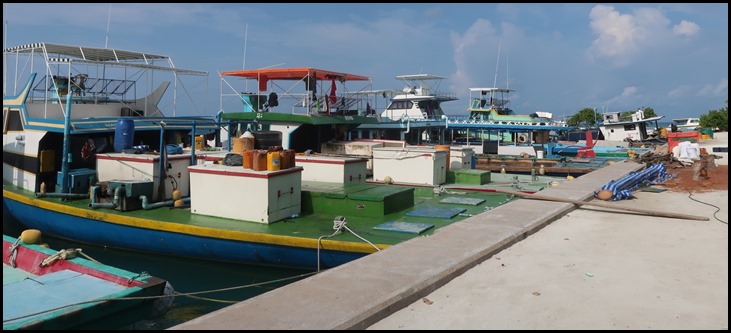 Bimbling behind the fishing ladies happily at rest.
Back on the beach I enjoyed this superfast chap and we watched all sizes of stingray skitter about in the shallows.
The tide had gone out a bit beaching Baby Beez but a lovely local helped Bear push her off. Back to Beez and late lunch as we heard the Call to Prayer. After games and showers Bear turned the ignition – nadda. Needing to charge up under engine he simply paralleled in the house batteries and bingo, but, new engine battery needed.
Sunday the 19th of May. Bear began the day rummaging about with the engine battery, deceased, Mmmm and only two years old. He rang Nasru who told him to pop over to the shop at one. Off Bear went, hard drive in hand and within minutes Nasru had found a battery and paid with an on-line transfer, Bear paid him in dollars. Our new friend was disappointed not to have the new battery in hand that afternoon but the ferry was on this side already.
Nasru invited both of us to join his family for the evening break fast (Ramadam just now). Polite refusal as we were bouncing about in an afternoon storm and my ankle would not tolerate a slip in the dark. Hope I can make it soon.
Nasru had also been hard at work on our behalf sourcing a hundred litres of diesel. First chap offered at one dollar a litre but now he thinks he has found another chap offering at eighty-four cents a litre.
Monday the 20th of May. Throbbing ankle dictated a chill day, Bear was happy to join in for a long session of games and a couple of household chores. So nice to be able to grab a ready meal from the freezer. Showers were a bit bouncy due to sea being chopped up after an afternoon squall.

Tuesday the 21st of May. Our twenty-second Wedding Anniversary. I leapt up and did the first batch of laundry, Bear as usual, did the hanging. He does make a wonderful Mr Woo. Washing in a bit quick due to earlier than usual squall with really heavy rain. Games and chilling until Bear nipped in to meet Nasru to collect the new battery. While he was gone I rinsed the final bits of washing – sheet and duvet cover. That went in and out like a a till drawer between heavy squalls.
We enjoy watching ferries, fishermen, and transport craft come and go every day, waving heartily each way of course, such friendly, warm people.
Wednesday the 22nd of May. Battery fitting. I wrote blogs, so many to catch up on..........
Thursday the 23rd of May. Bear went ashore at one with five empty jerry cans to collect diesel from a fisherman. Dropped our broken battery in with Nasru who took him around the island on his motorbike. Back he came with a few bits of shopping and after stowing all the cans we settled to an afternoon of games. I did a Fowey Comeback at backgammon – four nil down to win five four. Growling very loudly.
ALL IN ALL GOOD PRACTISE FOR CHAGOS
FRIENDLY PEOPLE AND A RESTFUL WEEK
---