Girls Passing By

Beez Neez
Skipper and First Mate Millard (Big Bear and Pepe)
Tue 5 Feb 2013 23:57
Chums, Girls and Friends Keep Me (and Us) Happy and Entertained - Crossing Gatun Lake
Our first chum of the day flying the Panamanian flag appeared just as rain clouds threatened, they blew by just as Nord Flex did. At 06:30 this lady was en route to Cartegena, her length six hundred and twenty three feet and a little bit and nearly one hundred and five feet wide. This bulk carrier has a gross tonnage of thirty two thousand, three hundred and nine with a deadweight of fifty eight thousand, three hundred and nine tons. She was built last year and can trot along in a rush at thirteen point six knots but is happiest to bimble along at eleven knots.
Next was this Chinese lady called Xin Su Zhou
The views as she passed by
She dwarfed the yacht who had chosen to be Billy No-mates through the canal. When Allen our Admeasurer came aboard Beez he asked how we wanted to transit. Against a tug, side wall, in a nest or centre chamber which means a longer waiting list to go through alone holding all four ropes. We ticked almost everything, but not side wall. Many Billy No-mates have read too many crank stories about disasters – considering the number of boats that go through the odds of anything terrible happening is as rare as Bear not snoring after a messy session.

Back to this 2004 built lady – she measures in at nearly eight hundred and sixty three feet long and nearly one hundred and five feet wide. Her gross tonnage comes in at forty one thousand, four hundred and eighty two tons and her deadweight is fifty thousand, one hundred and thirty seven. We watched as her Pilot took her round the corner and out of sight.
Mackerel was busy giving the navigation buoys a wash and brush up.
Ever Dainty's Full SP
Location: Panama Canal
IMO number: 9134232
1st name: Ever Dainty
Flag / Nationality: Singapore
Owner: Evergreen Marine Corporation
Operator: Evergreen
Completion year: 1997
Shipyard: Mitsubishi Heavy Industries Ltd Kobe, Japan
Yard / Hull Number: 1221
Engine Design: SUL
Engine Type: 12RTA84C
Power Output (KW): 48630
Maximum Speed (Kn): 25,0
Overall Length (m): 291,10
Overall Beam (m): 32,20
Maximum Draught (m): 12,60
Maximum TEU capacity: 4211
Container Capacity at 14t (TEU): 3368
Reefer Containers (TEU): 476
Deadweight (ton): 55.604
Gross Tonnage (ton): 50.290
Handling Gear: None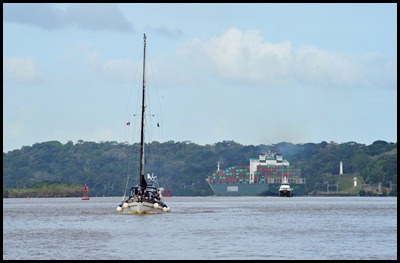 TEU or twenty-foot equivalent unit is an inexact unit (it cannot be converted precisely into other units), often used to describe the capacity of container ships and container terminals. It is based on the volume of a 20-foot-long (6.1 m) intermodal container, a standard-sized metal box which can be easily transferred between different modes of transportation, such as ships, trains and trucks.
| Length | Width | Height | Volume | TEU |
| --- | --- | --- | --- | --- |
| 20 ft (6.1 m) | 8 ft (2.44 m) | 8 ft 6 in (2.59 m) | 1,360 cu ft (38.5 m3) | 1 |
| 40 ft (12.2 m) | 8 ft (2.44 m) | 8 ft 6 in (2.59 m) | 2,720 cu ft (77 m3) | 2 |
| 45 ft (13.7 m) | 8 ft (2.44 m) | 8 ft 6 in (2.59 m) | 3,060 cu ft (86.6 m3) | 2 or 2.25 |
| 48 ft (14.6 m) | 8 ft (2.44 m) | 8 ft 6 in (2.59 m) | 3,264 cu ft (92.4 m3) | 2.4 |
| 53 ft (16.2 m) | 8 ft (2.44 m) | 8 ft 6 in (2.59 m) | 3,604 cu ft (102.1 m3) | 2.65 |
We couldn't see this working girls name but she was particularly interesting
Digger, wash and brush up, new friend..................
....................... a real mixed bag picture
A little launcha with tourists aboard, terracing behind.
Caroline was built in 2010 as a bulk carrier she measures in at nearly five hundred and eighty four feet and just over ninety one feet wide. She trots along at ten point nine knots but can change gear to just over twelve. Her gross tonnage is 19,972 and deadweight 30,420 tons.
A new type of friend and fast at that
I had to put a friend in – the tug Chirqui III
Chirqui III is exactly the same width as Beez Neez is long, twelve meters or thirty nine feet and nearly four inches. The similarity ends there, her length is eighty eight and a half feet. She bimbles along at nearly eight knots but can manage nearly twelve. She answers to TUGCI and spends her busy life helping chums.
Our final treat was as we exited the Miraflores Lock at the end of our journey, to see the gargantuan sixty eight and a half thousand ton Andes wash her dirty anchor.
ALL IN ALL SUCH JOY
IMPRESSIVE TO BE SO CLOSE
---