Walkin' the Dawgs

Beez Neez
Skipper and First Mate Millard (Big Bear and Pepe)
Thu 5 Apr 2012 22:36
Out With the Laws, Walkers and a Couple of Brace of Dawgs
Moth appeared with a coffee cake that smelt divine
After a hearty pub lunch (Chris choosing, Bird happy) it was off to explore Mount Edgcumbe, Alasdair gathering 'prizes' as we went
The 'dawgs' began a really good romp. Sadly, Inka had just come into season, so had to stay on the lead.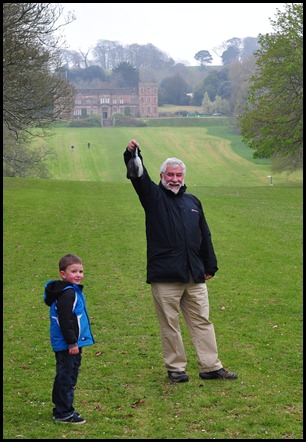 Final collecting, Alasdair now with a 'trio of prizes', the gaggle moving on
Off to the bin, a quick pose and a turn left ahead to the woods
Diesel and Small Person made a great team
We don't see too many scenes like these
Grandpa and Ben watch Inka track an important 'sniff' – say cheese
Time for a drink, a run on the beach and Inka gets a hug from Josh
Time to head back for hot chocolates
Gunney recruits the next generation.
The new Mr and Mrs P came over for a brief farewell. Brother and sister with Ben. Moth contemplates our farewell. Uncle Miff and Josh have a final cuddle
.
ALL IN ALL A VERY DIFFERENT SORT OF BIMBLE
---