Out to No. 23

Beez Neez
Skipper and First Mate Millard (Big Bear and Pepe)
Tue 9 Dec 2014 04:21
Beez Neez Out on Buoy Number 23
Wiggled out OK
A slow start this morning. Sadness lays over the yard as the fine rain falls. Mo's Tangi, formally Tangihanga - Māori funeral is today, the boatyard is silent, closed. Rest in peace big man. Bear wandered up to get some milk, popped into see the ladies in the main office. On his return the skipper tells me that our buoy is free. Better get myself ready for my first backward movement on the girl in a very long time. Tanks filled, ropes undone, off we go. Safely wiggle out.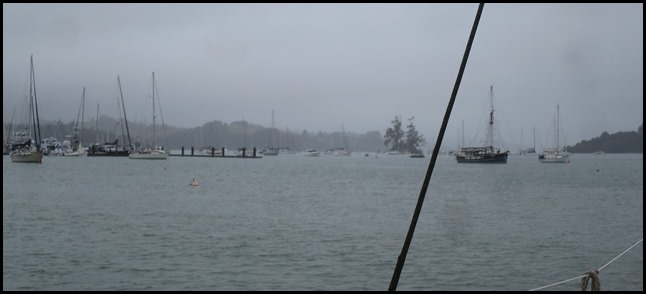 Off we go in the wet greyness.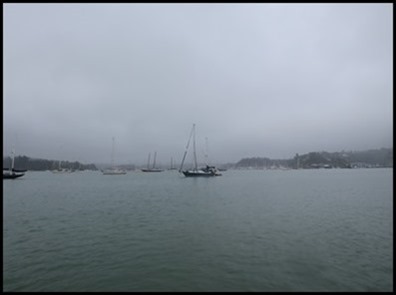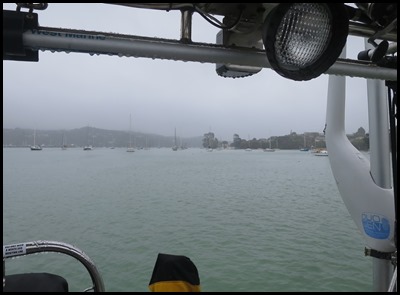 Looking back the way we came. Looking out behind us.
The captain tethering us.
Up on our left the heat rises as mist.
Out to our right.
All well on buoy 23, engine off a full half a mile done. Whether it's because Bear coughed all night, the change in barometric pressure, the greyness, the sadness for Mo, we eat a small lunch and lay down in our nest. Bear sleeping, me blogging.
ALL IN ALL PLEASED TO HAVE LANDED
WONDERFUL TO BE BACK
---