Beez to Kathmandu

Beez Neez now Chy Whella
Big Bear and Pepe Millard
Fri 30 Mar 2018 22:57
Beez Neez to Kathmandu, Nepal
Beez began the week being sanded and wrapped up (third time lucky). Jimmy wanted to begin her respray on Wednesday but Bear said that as we were off on Thursday could Jimmy wait a day. Happily, he agreed – yay – we won't have to be cocooned in plastic. Bear finished the electrickery on the new alternator and I carried on rummaging in cupboards and building a satisfying pile for the charity shop.
Monday afternoon Bear had to nip out to the engineers who were going to modify the bracket for the alternator, we stopped at the carpet shop to order eight feet, then we popped in to Aeon. I settled in a chair to try out the now half price back massager, a thing that looks like a solid cushion with meaty massage balls that in green mode rotate one way and in red mode in reverse. Heavenly. The lady insisted Bear test drive her new beast, feet included.
Bear's face not too impressed, first it grabbed my arms, then my feet and things began to whirr and pummelled – it began odd and moved to all very disturbing. Not on your Christmas list then...... I was very happy with my cushion and off we bimbled box in hand after having to pose for a FB selfie with said shop lady. A few bits and bobs in the supermarket and then it was back to the carpet man to pick up our sky blue sausage.
On Tuesday Bear had to nip back to the engineers to collect his 'piece' in the worst downpour we have seen in months and months. Not long after he left Beez there was the loudest crack of thunder ever, I felt Beez shudder, then the rain came even harder. Not a bird to be heard for hours after. I stayed behind to clean the fridge and begin the process of shutting the girl down as we leave for KL airport on Thursday. Bear came back non the wiser to the storm as he had been on the other side of the valley, roads were suspiciously empty, but that explains why.
Wednesday we pottered about, tidying, Bear packed and we went through our electrickery needs, blue job to be in charge of. Mr Razali came for our three piece suite cushions promising delight on our return "as they will be finished and beautiful", very excited about that prospect. Then came the biggest laugh. I had completely packed my case last week but Bear wanted to add a couple of things. Not a problem but as I didn't want him ferretting I asked him to put said case on bed and call me. In I went to find 'his' UK packed case. Why would I want to take fourteen bullet train sharpeners and fourteen hand painted rulers bought for the grandchildren to Nepal with me along with other stuff for the children. All I can say is thank all my lucky stars that it happened. Fancy getting to Kathmandu to find the wrong case and no clean knickers. You could always have......stop there, desist the urge to move your lips further or else...... By the way, my case was parked in the sea berth, has four blocks of black felt tip to be different from Bear's AND a crab name holder at the top. A simple mistake one could say. No, it simply proves you have to be more closely supervised.
Thursday. Claudia and Craig took us to the bus stop, sadly it was 'farewell' as they will have left Pangkor before our return to Beez. On the bus we settled in our usual back seats 10b and 10c, less noise from phones and You Tube watchers, also less risk of being sneezed on. Chirpy boy happy with his cheese and bacon sarnies, we had a pleasant journey to KLIA. (Kuala Lumpur International Airport).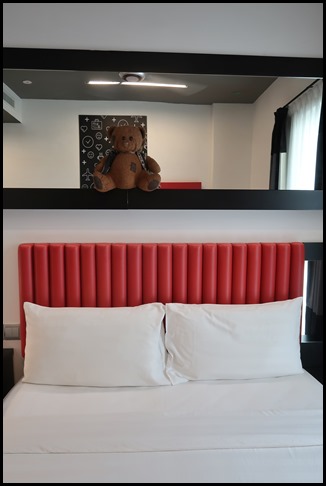 Across the road, we were soon en route to our room in Tune. I simply had to spend a penny and came out to find a very disgruntled Beds up on the shelf. Bear was battered and Beds was put to his usual 'digs pose'. Half past four and too early to veg in front of the TV we went for an airport bimble. We have been here many times but never had the time to really look around the shops. We needed a new camera download cable, a new internet dongle and I suddenly remembered what I had forgotten. Always pleased when that happens, but this time a real annoyance. I wanted to bring my She-Pee as not to have to leave our camp bed to run the gauntlet of a possible mosquito attack, well anyhoo............We went to to two biggest chemists with no joy. Then I had to put up with several 'helpful' suggestions from you-know-who. Why don't you cut the end off a babies teat and jam it down a water bottle. I'm not paying six quid for that idea. Why don't you........stop being an oxygen thief. We bought ten surgeons gloves for a pound and I will devise something that involves the thumb and a water bottle.......I look forward to watching that in action. Stop being a saddo and let's pick up our Air Asia luggage labels.
Friday and chirpy boy minding our bags. Pleased to say Mickey the drone is on Bear's back.
We have never been to the Q gates before, massive lounge area as we headed along the passage to the xray machines and a quick pat down. My Fitbit told me we did just shy of four thousand steps from Tune to Q10.
As our stewardess went to close our overhead bin she was very dismayed to see Beds poking out of a carrier bag. "Your Bear must sit on your lap, he'll get very unhappy up here as it will get very stuffy". With that he was firmly placed in my lap and no more was to be said on the matter. Soon in the air, Bear settled to watching an old favourite – Butch Cassidy and the Sundance Kid.
We soon left the palm oil plantations of Malaysia and enjoyed a bit of cloud watching. I listened to a good book which blotted out the chap behind Bear who could double as a foghorn and his fidget-arse girlfriend behind me. So pleased it's only a four hour ten minute flight, even more thrilled when said duo went to sleep. Bear's biryani needed a fire extinguisher but my Uncle Chin's chicken was very nice.
Toward Kathmandu the mountains and valleys took shape.
The captain came on to warn of expected turbulence as we went through the clouds, but it wouldn't have spilt anyone's tea.
The haze was white, when I came over twenty five years ago Kathmandu was the world's third most polluted city and was recognizable at a distance because of the nicotine coloured haze, perhaps it has cleaned up........
A city badly damaged three years ago by a terrible earthquake, it will interesting to see how it has recovered.
Once on the ground 335 passengers – the usual mix of returning homers, trekkers/climbers and tourists like us poured in to waiting buses.
All of three minutes on the bus, we filed through to use the machines provided for Visa applications. Ticket in hand, we paid the Collections Man and headed to Immigration.
The lovely Passport Controller with perfect English asked all about our plans as he wrote out our Visas. He wished us a wonderful time, we asked how to say thank you
धन्यवाद –
Dhan'yavāda or in our pigeon for pronunciation Dan-ya-bar
and after we had mastered and written it down, we were off to baggage reclaim downstairs.
Bags collected we didn't fancy fighting the hordes for a taxi so we chose the pre-pay option. Next, a free SIM card for the telephone and a data card for the new dongle, all set we settled in our cab for the twenty minute ride to our digs. We snuck this picture above us as a 'welcome' sign and it made us all the more excited – fingers crossed for weather and visibility – that we take the tour flight over Sagarmatha in a couple of days. Yeeha.
Out of the airport with a taxi driver who must go through a set of brake shoes every fortnight, and, every time I lifted the camera, into a city I didn't recognise at all. No tuk-tuks at all. No said the driver not for years. Later, in the hotel Bear would find out that they were banned due to the amount of diesel pollution they produced and gone are the snake charmer from the Square. Nepal has no cobras, those in the past were all from India and have long back to their homeland for bigger tourist numbers.
Mad electrickery and tall, tall buildings.
Traffic thinned and we took a dodgy looking turn off the main road. This alley-like street then became a proper entrance and long driveway to our digs.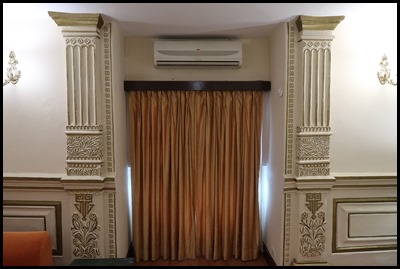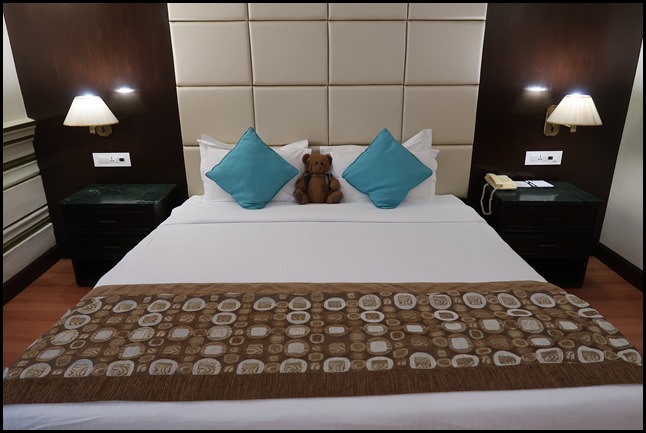 I usually just do Beds in bed but this time Bear chose our digs. A treat for all his hard work on Beez, four nights in an ex-palace........so it will have it's own blog.
ALL IN ALL A SHORT WEEK OF LAUGHS TO THE ROOF OF THE WORLD
MODERATE WORK PROGRESS ENDING IN A REAL HIGHLIGHT
---