National Orchid Garden

Beez Neez now Chy Whella
Big Bear and Pepe Millard
Sat 5 Nov 2016 23:47
The National Orchid Garden within Singapore Botanic Garden
We headed for the Orchid Garden and despite the drizzle happily paid two pounds fifty for me and fifty pence for Bear. There are benefits to being an OAP.........Growl. That's the only reason I put the entry fee in – I get to have a sneaky giggle. Growling some more. Just think when we get back to the UK the fun you can have with your bus pass. Let's just enjoy the orchids, can we.......
We entered the Orchid Garden and already the beauty was apparent.
SBG Says: Since 1859, orchids have been closely associated with the Singapore Botanic Gardens. The products of the Gardens' orchid breeding programme, which began in 1928, deserve a place where they can be displayed in their full splendour. The very design of these orchids is, one could say, 'hand-crafted' by the Gardens' horticultural staff, dedicated to bringing out the finest in any hybrid cross.
With over 1000 species and 2000 hybrids on display, the splendour of these gorgeous blooms is absolutely a sight to behold at the National Orchid Garden. We bimbled about and simply marvelled at the thousands of blooms.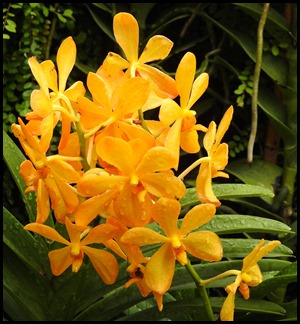 ALL IN ALL AN AMAZING AMOUNT OF BLOOMS OF EVERY COLOUR
STUNNING
---