Akamaru Spuddle

Beez Neez
Skipper and First Mate Millard (Big Bear and Pepe)
Fri 28 Jun 2013 22:27
Exploring Akamaru

I jumped up this morning to a rather stumpy rainbow, nonetheless nice to see and a good omen for the day.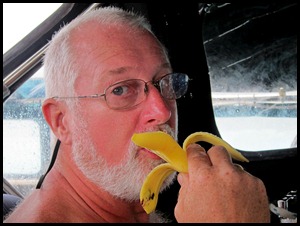 Still getting used to looking out from Beez at the 'lumpy stuff' being so close. Was the captain bothered, not one bit.
After breakfast of boiled eggs as only the skipper can do, we got down to some serious games – sadly I was beaten badly at backgammon. How could he do that to the birthday girl. Easy. Watch it. Then we went off in Baby Beez, first to see Bertrand (own blog) then ashore to explore. The water is so clear and I can spy coconut trees – it just couldn't be South Pacific without them.
Not so certain about the evergreens though.
We had the place to ourselves.
Loads of sea cucumbers wherever we paddled.
Volcanic rock. Shells washed into a gathering place by the tide, silence and the water.
We saw Lucy, Crystal and Susan fishing and went over to see 'the catch' – very good so far. Being the lovely Polynesians that they are, they immediately offered us their best fish, I politely declined as we are still wading through the tuna we caught on the way to the islands. We bade them farewell and carried on enjoying the colour of the water and looking at the coral so near to the surface.
Just beautiful. Makes you want to dive in. Methinks not brave man. It's twenty seven degrees, you wuss. Well my body is thirty six and a bit degrees, so the water is definitely colder than me, so therefore I feel justified in my wussness. Huh.
On our way back to Beez we saw a sentry guarding the reef marker.
For my birthday tea I fancied chicken nuggets dipped in ketchup with a tomato on the side. For afters, a couple of lady fingers – very conveniently ripening in an orderly fashion. Oh and Bear had tempura prawns, followed by him beating me at backgammon, not good.
ALL IN ALL LOVING THE WATER COLOUR
ALMOST A DESERT ISLAND
---