To Koyasan

Beez Neez now Chy Whella
Big Bear and Pepe Millard
Mon 30 Oct 2017 23:37
To Koyasan, the Mountain Town
Eighty two miles today.
We left our digs and caught the bus to the train station. Soon on the 10:29 from Shirahama arriving in Wakayama at 11:48. The next train took us to Hashimoto where we had to board a bus Typhoon Lan had done for the train track.
The bus took us to where we should have got off the cable car (shame it wasn't running as the books say half the fun is the journey getting to Koyasan), a short ascent, but we had an hour and a quarter of hair-pin bends soon after we had left the town. Once at the top we took the town bus to its terminus and walked up the hill for ten minutes to our unique digs. Meantime, a few things happened along the way..............
We stood neatly at the right place. A funny looking coot came in and then our local express.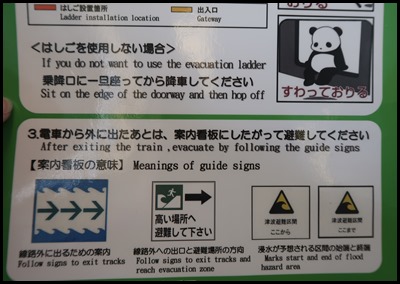 I don't think Bear should have had a good laugh at the tsunami warnings on the train. Well, it's the fact that if you don't want to use the ladder you can sit down and hop off. Sad, but true.
Reassuring that the sea looks very benign today.
A happy bridge and a normal bridge.
Terraces to our right and allotments to our left covered in satsuma trees.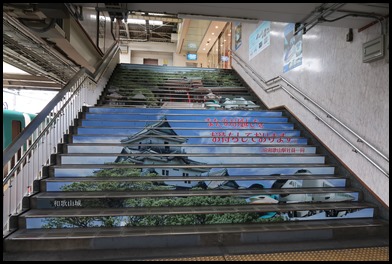 We change rains at the very welcoming Hashimoto.
We leave Hashimoto Station behind and board a bus to take us to Koyasan.
Waiting for the bus to leave we watch fireman going through their rescue paces.
An interesting sky over fertile plains.
We see a fun Santa Clause advertising a hotel.
Now, I should have left it at looking up pictures of the hotel and rooms, but no, inquisitive me looked further.........
From the hotel website: The rooms are decorated with, of course, more Christmas wreaths, baubles, bells and so on, and the decor is a festive red and green.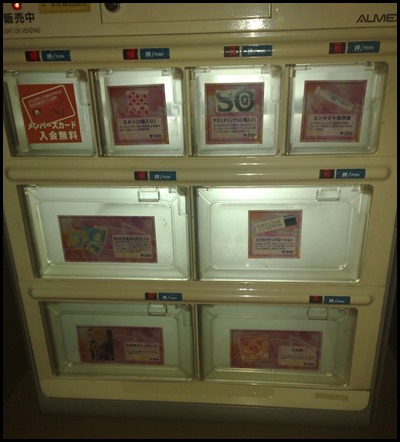 I should have left it there but no, on I went: Open the cabinet under the TV to discover Hotel Chapel Christmas mugs, which you can purchase as a souvenir of your stay. (You can also purchase Hotel Chapel Christmas-themed watches and jewellery, and get a loyalty card which stores up points and discounts.) You'll also find karaoke microphones for that post-sex singing session so popular in Japan.Forgotten the sex toys? A cabinet is supplied for purchasing lubricant, vibrators and the like. Open the door, remove an item and the cost will be automatically added to your room tab. WHAT...............
OK, I'm for the first time in Japan, officially shocked, words fail me. Maybe that was why that lady had a wry grin when you were singing in the lift the other morning. SHOCK, HORROR. I'm supposed to be getting in the mood for my spiritual enlightenment, heading up the mountain to learn to meditate and chant. So long as you don't sing about it.................. Watch Pepe's face turn puce and her lip curl to form a growl. Just saying, is all, just saying. Growling low and menacingly.
I'm now trying to bleach my eyes and clear my mind of what I am picturing, conjuring up, stop it at once. But the one thought keeps bothering me, suppose you open the said 'cabinet' door and the charge rushes on to your bill and you find the wrong size, stay with me on this, as an English speaking woman I keep picturing how I would go to an unsuspecting night porter and ask to a) put the item back, b) get said object cleared off my bill and c) find a cooling towel to place on my now throbbing head. That may not be all that's......... STOP..... STOP RIGHT THERE, BEAR. I'LL NOT CONTINUE with this..............
The roof tiles are gorgeous, that's a complete change of subject, moving right along, they are made in the same way as in the UK, so why can't we have something as distinctive.
Just one of the many hair-pins, all well assisted by big mirrors, one was so sharp though, we had to continue on to a strategically placed car park and double back on ourselves. The odd tunnel and up and up we went.
Eventually we reached the Daimon Gate which literally means "Large Gate" in Japanese, is a two-storey gate on the northern edge of the Koyasan Mountain. During the ancient times this gate was used as an official entrance into the Koyasan precincts. It is a large red gate and pretty impressive with the guardian kings each side.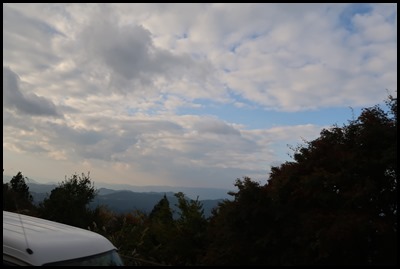 900 metres up and we reach Koyasan Station.
We get off the local bus at its terminus, bimble past the furthest entrance to the biggest cemetery in Japan (a must see) and head up the hill to our digs as dusk falls.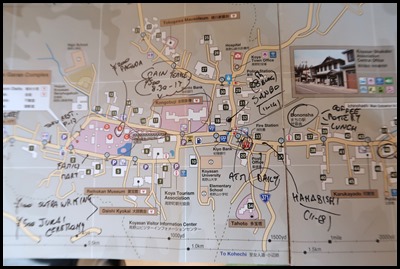 We are welcomed to our unique digs (own blog) by Ryochi, the manager who has very kindly marked things of interest in the information booklet of the town. He tells us if we go for supper in one of the two eateries he recommends, we will have time to get back on the bus and do the evening tour of the cemetery (own blog). Plan made, wash and freshen up and off we go.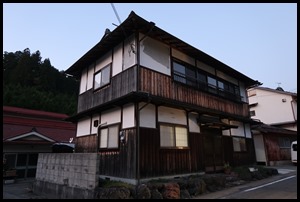 Up a little slope we passed a variety of house design.
I like this modern house with its funky windows.
The down side to the impact of tourism on a small town, just three kilometres by two.
Soon settled in a husband and wife eatery, it's fried again but very delicious.
ALL IN ALL WOULD NOT WANT TO DRIVE THAT ROAD EVERY DAY BUT LOVED THE TOWN AS SOON AS I ARRIVED
DISAPPOINTING NOT TO HAVE ARRIVED ON THE CABLE CAR BUT FUN ALONG THE WAY
DON'T REMIND ME
---