The Guggenheim

Beez Neez now Chy Whella
Big Bear and Pepe Millard
Sat 16 Jul 2011 17:38
The Guggenheim Museum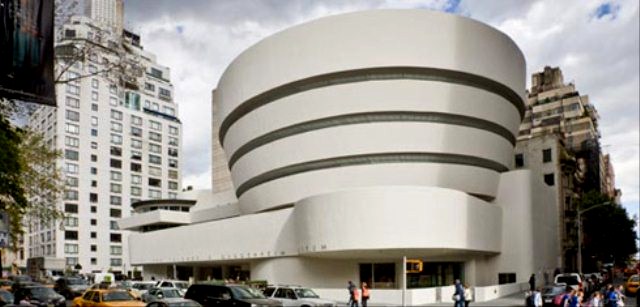 Multistory parking garage or upturned beehive?
Whatever you may think of the collection, it's the Guggenheim Museum building that steals the show. The structure, designed by Frank Lloyd Wright specifically for the museum, caused a storm of controversy when it was unveiled in 1959, bearing, as it did, little relation to the statuesque apartment buildings of this most genteel part of Fifth Avenue. Reactions ranged from disgusted disbelief to critical acclaim, but ornery Wright missed much of the criticism, since he died six months before construction was completed.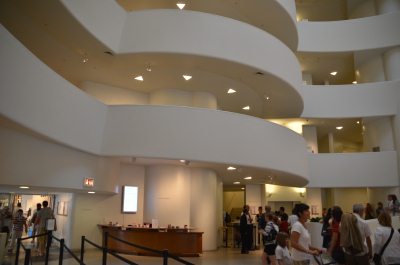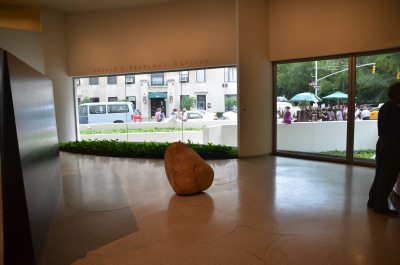 Time has been kinder than his contemporaries were – nearly half a century later, the museum is now a beloved New York landmark and seen as among the 20th century's most important architectural landmarks. The museum's great rotunda has been the site of many celebrated special exhibitions, while its smaller galleries are devoted to the Guggenheim's renowned collection, which ranges from Impressionism through contemporary art. We liked the shape, layout and architecture, but Bear did get told off for leaning on the stone.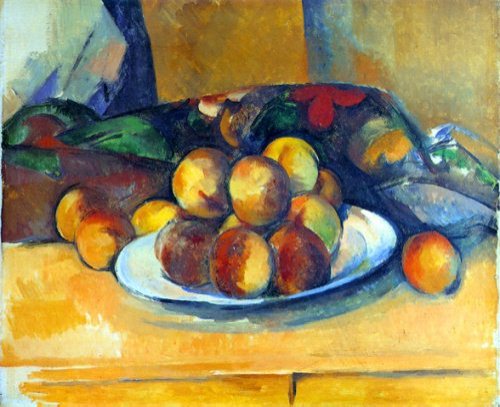 The museum's permanent holdings have been bolstered via acquisitions and donations – the collection has broadened in scope to span the late 1800's through most of the twentieth century. A significant gift came in 1976 when collector Justin K. Thannhauser handed over works by Cézanne, Degas, Gauguin, Manet, Toulouse-Lautrec, Van Gogh, and Picasso, among others, greatly enhancing the museum's Impressionist and Post-Impressionist holdings. It's almost overwhelming to walk into the Thannhauser Collection and immediately see Cézanne's Still Life: Plate of Peaches, Bend in the Road Through the Forest, and Bibémus. Next in line are a Degas, Dancers in Green and Yellow; two works by Van Gogh, Landscape with Snow and Mountains at Saint Remy; Monet, with The Palazzo Ducale Seen from San Giorgio; and several notable pieces by Picasso, including Le Moulin de la Galatte, the bizarre Accordionist, and the recognisable Woman with Yellow Hair.
Born in Haman-gun, Gyeongsang Nam-do, a remote village of South Korea, in 1936, Lee Ufan was raised by his parents and Confucianist grandfather. Lee studied painting at the College of Fine Arts at Seoul National University for just two months and, in 1956, moved to Japan, where he earned a degree in philosophy in 1961. Whilst studying philosophy Ufan painted in a restrained, traditional Japanese style, eschewing the expressive abstraction of the contemporary Japanese Gutai movement.
Lee spent his early working years pursuing careers as an art critic, philosopher, and artist. In Japan he became an active participant in the countercultural upheavals surrounding the Anpo Movement of the 1960's. He came to prominence in the late 1960's as one of the founders and theoretical leaders of the avant garde Mono-ha (Object School) group. Monoha was inspired by the Arte Povera movement of the 1960's and Japan's first contemporary art movement to gain international recognition. The Monoha school of thought rejected Western notions of representation, choosing to focus on the relationships of materials and perceptions rather than on _expression_ or intervention. The movement's goal was to embrace the world at large and encourage the fluid coexistence of numerous beings, concepts, and experiences. Lee U-fan's position in the philosophy department a Nihon University in Tokyo earned him a distinguished role as the movement's spokesman. In the early 1970's he was appointed Professor of Tama Art University in Tokyo until 2007. Yoshio Itagaki was one of his students in 1989-1991. He is Professor emeritus at Tama Art University.
Lee was also a pivotal figure in the Korean tansaekhwa (monochrome painting) school, which offered a fresh approach to minimalist abstraction by presenting repetitive gestural marks as bodily records of time's perpetual passage. In his early painting series, From Point and From Line (1972–84), Lee combines ground mineral pigment with animal-skin glue, traditional to East Asian painting on silk. Each brushstroke is applied slowly and is composed of several layers. Where the brush first makes contact with the canvas, the paint is thick, forming a 'ridge' that gradually becomes lighter. Rarely does his brush touch the surface more than three times. The artist refers to this as yohaku or the art of emptiness. In the From Point works he adopted a similar method in order to produce a fading series of small, discrete, rectangular brushstokes. In 1991 Lee began his series of Correspondance paintings, which consist of just one or two grey-blue brushstrokes, made of a mixture of oil and crushed stone pigment, applied onto a large white surface. On average it takes Lee about a month to finish a painting, on canvases that typically measure about 60 by 90 inches, although they can vary in size from a few inches to ten feet per side. He completes no more than 25 works a year
From his first solo exhibition in Japan in 1967, Lee Ufan was invited by Manfred Schneckenburger to participate in Documenta VI (1977) in Kassel, and in 1969 and 1973 he represented Korea in the Bienal de São Paulo. His work was included in the 1992 Tate Liverpool exhibition, "Working With Nature: Traditional Thought in Contemporary Art from Korea", the first major survey of Korean art shown in Britain. In 1997 he had a solo exhibition at the Jeu de Paume, Paris and in 2001 the Kunstmuseum Bonn held a major retrospective of his work. Major exhibitions of Lee's painting and sculpture were later held at the Yokohama Museum of Art in 2005 and the Musée d'art Moderne Saint-Etienne in France in December 2005. The Kunst Situation, a museum associated with Ruhr University Bochum in Germany, opened in 2006 with a gallery devoted to a permanent installation of Lee Ufan's paintings and a garden of his sculpture. However, it was Lee's "Resonance" exhibition at Palazzo Palumbo Fossati during the 2007 Venice Biennale that won him critical acclaim and a wider audience. In 2011, the Guggenheim Museum in New York opened Lee's largest retrospective in the US. Lee's primary dealers are Pace Gallery, in New York; Kukje, in Seoul; Scai the Bathhouse, in Tokyo; and Lisson Gallery, London. We really tried to grasp this artist by listening to the audio presentations. The three sheets of paper Ufan released into the air and photographed were 'lovingly' no 'orgasmically' described at length. OK. The pile of cotton wool with straws sticking out of it. No. The pile of cotton wool with a stone sticking out of it. No. The sheet off glass with the rock chucked on it. No. Bear thought his art therapy had been a success after his nervous breakdown. I'm not convinced at all.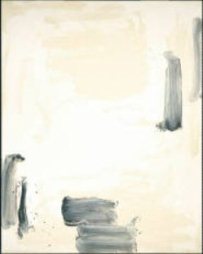 Collections: Lee is represented in major museum collections including: MoMA, New York; Guggenheim Museum, New York; Centre Georges Pompidou, Paris; Tate Gallery, London; Kröller-Müller Museum, Otterlo Holland; the National Museums of Modern Art in Tokyo, Kyoto and Osaka. His work is also held in the permanent collection of the Hiroshima City Museum of Contemporary Art.
Recognition: In 1997 Lee was invited to serve as visiting professor at the Ecole Nationale Supérieure des Beaux-Arts in Paris. He received the UNESCO Prize at the Shanghai Biennale in 2000; the Ho-Am Prize of the Samsung Foundation in Korea in 2001; and the 13th Praemium Imperiale for painting in 2001. In 2010, the Lee Ufan Museum, a building designed by Tadao Ando and operated by Benesse, opened on the island of Naoshima, Japan.

At auction: Lee's paintings regularly fetch six-figure dollar sums at auction. A 1980 canvas with a series of vertical blue lines, for example, went for $410,000 at Sotheby's in New York in 2010. I have to admit if I had to choose one of his paintings, it would be this one, but hold off on the rocks.
We went back to Picasso and at least fully understood 'Woman Ironing'.
This was our second attempt at modern art.......... but we did love the building; getting out of the elevator on the sixth floor and walking down the gentle, sweeping spiral. We both felt this was a major, joint step forward. Bear was not heard to say any words that rhymed with row-locks but did say to his back sack returner. Lovely building shame about the wallpaper. Clearly we have a long way to go then............
ALL IN ALL WE ARE STILL TRYING WITH THE MODERN ART 'THING'
NEVER THOUGHT I WOULD EVER SAY, PICASSO WAS A NORMAL BLOKE
---