Josh & Ben to Eva

Beez Neez
Skipper and First Mate Millard (Big Bear and Pepe)
Sat 25 Aug 2018 22:57
Josh and Ben to Eva
We left Eva on time, on schedule to pick Josh and Ben up at Bird's grooming parlour (now in business for fifteen months). Fifteen minutes after leaving, we notice the temperature gauge going up and down like a fiddlers elbow. After half an hour it reaches the top (130 degrees) Ooooooooo. We stop and Bear goes to sniff, the expansion tank had water in it, a quick call to Adam who referred to a techy, "don't go too far at 130 degrees, get it in for a check over asap". Right then. We carry on for a while and two miles from Handforth we stop again. For the first time since my late teens, I knock on the nearest door and a terrified, tiny Asian lady furnished me with three bottles of water. We fill the radiator and wait a while. We park behind the shop an hour late finding Bird mid-groom of customer Rufus. Ben and Josh refill the three bottles three times so we must have sprung a leak. Oooooo time for a growl.
Bird and her two assistants - Jessica and Melissa busy with customers.
Josh posing with Bird's pooch, Lilo.
The car played nice on the way back to Clitheroe and had an impromptu break when we stopped to feed the very hungry boys at KFC. Next stop, Tesco to load up with two sets of supper, treats and bits, once unloaded on Eva we made the most of the sunshine and headed with the football down to the grass next to the park. The first time we have had extended sun since the day we arrived nearly three weeks ago. A good kick-about.
The serious business of pebble skimming selection.
Ben's choice. If you can't find one on the shore – go in for one.
One or two ducks came over for a nosy.
Then several ducks came and they called some friends.
Meet Pepe, he was inherited into a family when the lady of the houses mum died. He moved in where his own sister and a poodle live. His habit is to strip the coloured layer off any ball of any size........
He barked at me to kick his ball so Pepe kicked for Pepe.
Pepe may be small but he has a giant character. Meanwhile, we were in fits watching his sister dry herself, her owners put her towel down and she got to it propelling herself along by her back feet as her shoulders and head got a good rub. Millie was non too impressed.
The boys played with Millie and Penny as Pepe swung from his ball...........Yay.
A friendly wrestle, that not once strayed beyond fun.
We introduced the boys to our brand of pitch and putt, kick the ball from one green to the next and the final shot has to touch the flagpole.
We enjoyed the recently mowed grass, still wet from all the rain we have had.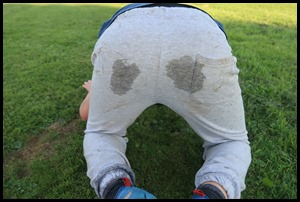 Josh's two wet patches look like a panda, I thought. Final run before we head to the play park for a while.
After showers the boys settle with grandpa for supper while I finish putting Ben's bits on the top bunk indoors. Josh chose the pup tent for his nest in the awning. All jobs done, time to settle in our nest for a film before bedtime.
ALL IN ALL GREAT TO HAVE THE BOYS
FUN, SUNSHINE AND A VEHICULAR CHALLENGE
---