To Mandalay

Beez Neez
Skipper and First Mate Millard (Big Bear and Pepe)
Fri 24 Nov 2017 23:57
To Mandalay
Waiting for the lift this morning, we looked down and thought dolls house, Bear tucked in to a hearty breakfast, that done it was back to our room, along the very long corridor to collect our joint case – never tried before but we'll see how it goes. I'm completely segregated, zipped into one half so I shouldn't interfere, it's the shared smellies bag on my side that I'm not sure about.....all too personal.....
Approach to Bangkok.
Nine o'clock and we walked the short distance from our digs to KLIA2. Check in, Immigration and Security were painless and for the first time we decided to be disciplined and didn't head into Duty Free..... Our first flight to Bangkok was uneventful save for my left frontal sinus giving me a hydrochloric acid sensation of pain as we landed. Mmmm.
A happy, snooty looking chap with a lovely beak parked beside us.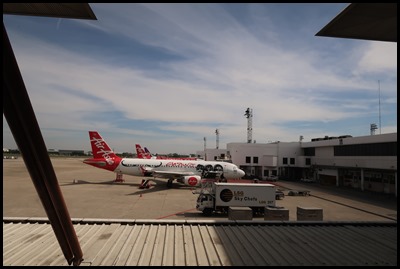 Instant mayhem as we walked through Bangkok arrivals. The queues to get through Immigration were thousands deep, but because we were transfers we could by-pass the masses and turning left found ourselves alone as we showed our Passports, had our hand luggage x-rayed and made our way to Departures. Along the way we saw a unique Air Asia plane, on closer inspection three faces of we-know-not-who but it makes plane spotting so much more fun.
Back into madness with a Thai flavour and more Duty Free shops.
We found a quiet corner in a Japanese eatery called Fuji. Had to really, missing all that gorgeous food, yes, your waistline can attest to that fact. OK, skinny bint. Point taken......the food was indeed delicious. By the time we had put our clocks back, found our departure gate and read for a little while, we were soon sitting in the exact seats, different plane, air-con 'smoking' nicely.
Fuelled up and off once more above Bangkok.
A bit of cloud watching, before we bumped our way through to see Myanmar below us. My left sinus created merry hell as we descended and I felt as if I needed to blow my nose. A bit of an explosion of blood to which my shock-proof travel mate informed me that I had had a bit of an extrusion and it was all over your chin.........Well, thank you for that. Extrusion my a - - -, it feels as if ...........let's just say it hurts.
Throbbing left eyebrow or not, pictures to be taken. An amazing amount of stupas as we approached Mandalay Airport.
Incredible patterns on a river bed.
Fairly unique scenery.
One final big Stupa before we landed, just on sunset.
After a long pootle, the airport came into view.
Off the plane, I got Bear to pose by the sign, no hope with learning this language..... Still mastering Thank You – Jay-zu-ding-ba-de (said Je-su-bar-de, response ya-ba-dee). Please – Duh-say'-lau'. Hello – Ming-guh-la-ba. OK, let's stick to thank you.
Very few people before us as we approached a very kindly looking lady at Immigration. She not only wanted to help me with my overcrowded Passport, she even found a smaller path than I had to tuck her stamp. Case, ooo that sounds and feels weird to type was soon being trundled to our final x-ray of the day. A nice man wearing the traditional skirt (longyi) was waving a placard with our name, slightly more expensive than bartering for a taxi but eight quid for an hour and ten minute ride didn't seem too steep at the time of booking.
Our driver led the way to the Bureau de Change where we became millionaires to pay for all our hotels and food as credit card machines (we believe) are few and far between. We were instructed to bring in 'perfect' US dollars, ours were indeed brand new but still, each of them was closely scrutinised and some of our 'new' money had seen better days, the smaller the note the 'softer' to the touch. Our 'wingnuts' were cast aside for our 'kayaks'. Actually the Kyat is pronounced 'chat', once again reinforcing the difficulty with this language. Myanmar in the modern name but Burmese as a language..... (The ten thousand Kyat is worth five pounds forty nine and a bit).
Next, to the SIM card lady who effectively dealt with Bear and off we went.
Dark soon after we left the airport, we passed many lit Stupas until we went round the main roundabout at the edge of the city of Mandalay. Thirty minutes later we pulled up at our digs and soon learned that bravery when crossing the road, that is, walk and assume everyone will miss you, is the local way. Good practise for Vietnam...... Opposite a Thai restaurant and many fruit and veg stalls.
A welcome juice on arrival, formalities done and we bought our ferry tickets for Tuesday and soon in our room. Creased brows from the skipper who had our room rearranged before I could say there we are then.
No heated toilets here but a more than adequate bathroom with separate shower (next to the bath but not in a cubicle).
Thoughtfully placed hot spicy Pringles and a pot noodle didn't tick the box as I fancied Chinese. Off we went to the night market but I didn't feel the need to try chickens foot anything or pork bits anything else, it was back to the Thai, en route though we saw a Chinese restaurant under the hotel next door. A very happy welcome.
We settled as the only customers, well by now it was nine o'clock, we began with the complimentary, eye-watering soup. Bear had crispy beef and rice. I had a chefs rustled sweet and sour chicken, special fried rice, which I shared, Bear had a beer, me a Coke all for the princely sum of eight pounds. Although this was probably double the chickens foot whatever, we felt we should splash out on our first night on The Road to Mandalay. "Time for bed" said Zebedee.
.
ALL IN ALL A GOOD TRAVEL DAY TO AN INTERESTING DESTINATION
STRAIGHTFORWARD JOURNEY, GREAT TO BE HERE
---