Fort Timeline and Bits

Beez Neez now Chy Whella
Big Bear and Pepe Millard
Fri 3 Feb 2012 23:37
Castillo de San Marcos Timeline and Bits
The fort from the bay
The fort from the city gates
Dropping the boys off for their cannon school at nine thirty, the place was tourist free
We left them in the robing room filling out their consent forms and went off to bimble
Timeline of the fort:
1513 Sailing from Puerto Rico, Spanish claim Florida.
1565 Spanish found St Augustine and destroy French at Fort Caroline and Matanzas Inlet.
1672 Ground is broken on the 2nd of October for Castillo de San Marcos.
1695 The curtains walls, bastions, ravelin and sea wall are finished in August.
1702 War of the Spanish Succession pits Spain and France against England, Austria and others.
1738 Spanish governor at St Augustine grants freedom to runaway British slaves. Black families settle in the new town of Fort Mose.
1740 St Augustine successfully endures siege by British, Georgian and South Carolinian forces. Spanish attack and defeat British Highland troops camped at Fort Mose.
1742 Fort Matanzas is built to block southern approach to St Augustine.
1756 Fort Mose rebuilt in masonry. Earthworks at Mose extended to complete northernmost defense
1763 Peace of Paris gives Florida to Great Britain in exchange for La Habana. Fort becomes known as Fort St Mark.
1783 Peace of Paris reorganises independence of the U.S. and returns Florida to Spain
1821 Spain cedes Florida to the U.S.
1825 Castillo de San Marcos renamed Fort Marion
1924 Fort Marion and Fort Matanzas are proclaimed national monuments.
1933 Fort Marion and Fort Matanzas are transferred from the War Department to the National Park Service.
1935 The National Park Service begins exclusive administration of both national monuments.
1942 Original name of Castillo de San Marcos restored.
2012 Bear fires the cannon at 15:30
In my eyes now known as Fort Bear
While Bear was busy with 'his men' and the tourists...........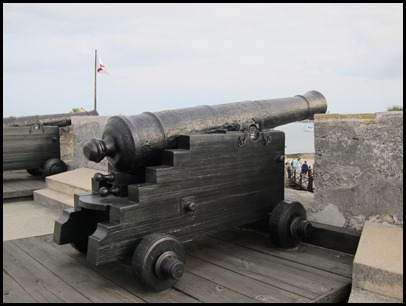 ................I went for a turn around his place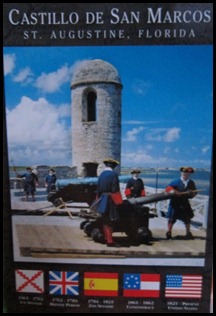 When the boys were finished for the day we went to look around the gift shop. Had to get fridge magnets as mementos and something special for Bear as a keepsake.
Walking back with the boys, they went over the day events, Bear present in hand
Steve said to mark such a momentous day, there was only one thing to do – a pint and a cigar in The Plaza. I think post-cannon firing Bear has taken on a new air.
No complaints from me, especially with a pint of Guinness and Woodchuck Cider to hand. My cigar skin was Bailey's flavoured. Marvelous.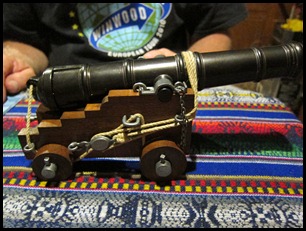 Bear with his special reminder of his unique day. I thought it would come in handy when his trigger finger (cannot get used to the thumb bit) plays up mid Pacific
ALL IN ALL A JOY TO LOOK AT HIS FACE
WHAT A FANTASTIC EXPERIENCE
---