Cairns Bird Walk

Beez Neez
Skipper and First Mate Millard (Big Bear and Pepe)
Tue 28 Jun 2016 22:47
Cairns Botanic Garden Bird Walk
Bear hustled me out of bed this morning, very unusual..........., in my place at the table was a huge parcel. It was Wayne – big brother to Russ the Bulldozer of the Bush. How thrilled I was and what a wonderful surprise. No chance to introduce him to all the gang as I was once more hustled, this time to our trusty little hire car as Bear wanted to get me to Cairns Botanic Gardens for the bird walk at half past eight.
We joined a like-minded group led by John, the very knowledgeable volunteer guide. Bear rang 'Rent-a-Bomb' telling the chap what we were doing and that it was my birthday, fully expecting to be charged an extra half a day "you can keep the car until eleven". Smashing, what a lovely chap.
First we saw a black butcher bird very high up in a tree.
A rainbow lorikeet enjoys breakfast.
Without John we would never have seen a family of Papuan frogmouths.
Willy wagtail chirruped until I took his picture, posing like a model.
This little chap may be passed over as fairly insignificant but the orange-footed scrubfowl has a remarkable 'nest'. I left a lady in the picture to show just how big a mound a pair of these megapodes can scruff up. This mound has been here for thirteen years.
Two species of megapodes or mound-building birds live in the area – the orange-footed scrubfowl and our old friend the brush turkey. Both birds build large mounds of leaf litter and soil in which eggs are laid and incubated by heat generated by decomposition. The temperature is controlled by the male bird who will add to the mound to heat it up or open it to let heat out. When the chicks hatch, they dig their way out and are quite independent of their parents, being fully fledged and capable of flight. The average size of the mound of the orange-footed scrubfowl is about seven metres in diameter and 1.5 metres high. The brush turkey's mound is smaller, being about 5 metres in diameter and a similar height – groundsmen have to keep a sharp lookout for a mound beginning in the wrong place, moving them off paths and flowerbeds.
Both species of bird scratch the ground fossicking for insects, worms, seeds and fruit. The scrubfowl is very vocal, making a wide range of chuckles to screams that can be heard day or night. The brush turkey, however, is rather silent, uttering only the odd quiet grunt or cluck.
A little female curlew sits quietly on her nest, more-or-less out in the open, her husband bimbles nearby in the trees.
No day would be complete without a Thora and others scruffing about.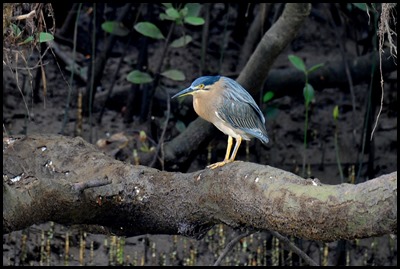 This heron keeps a beady eye out for lunch.
A heron high-kicks over the lily pads.
A handsome goose poses as if owns the gardens.
Our bimble ended with some snooty ducks.
In the evening Bruce and Deb (Matilda) and Gin and Michael (Wishful Thinking) came over for supper. Deb had made me a lovely crochet flannel, beautifully presented in a crystal dish with a bar of soap and some sweeties. Out came a huge box, Gin and Michael had bought me a pink ukulele.
This was the best attempt at a serious picture – Bear, Michael, Bruce, Deb and Gin then fell about laughing.
Gin made me a smashing walnut cake, lined up the candles and of course I made a wish as everyone sang 'Happy Birthday'. I had loads of messages and videos from the grandbabies and had a really great day.
Things ended very messily for the boys, thick heads on the morrow wethinks........
ALL IN ALL A FABULOUS DAY
SMASHING TO BE ABLE TO SURPRISE THE FIRST MATE ON HER BIRTHDAY
.
.
.
---