Jolly 2nd Week

Beez Neez now Chy Whella
Big Bear and Pepe Millard
Fri 15 Jun 2018 22:57
Our Second Week at Jolly Harbour, Antigua
Sunday 10th June. Woke at 1 am. We enjoyed a slow start this morning then went about the villa taking measurements of everything domestic. Early lunch and off to the beach. After a long bib-bobble in the water we attempted to sit on the beach but the stiff breeze too much of a sand-blasting, back to the patio then.
Monday the 11th. Awake at three – improvement ??? We attended our bank appointment with Mrs. Joseph to find out about opening an account, long-and-short of it.....not possible until we return. Then we popped in to the amazingly efficient Ronda to update our insurance needs. Hired a car and went to our amazing solicitor's office where her Associate, Amina dealt effectively with our Power of Attorney and the firms secretary, Angel witnessed our Antiguan Wills. That done, we had a drive around St John's before parking and taking a bimble.
It was lovely to remember 'bits', the little clothes shop where Kate and I tried on a few sun dresses, Bee's Bar where Team Tinson and the two of us enjoyed a swift 'sherbet' and the cafe that Jack ate a bowl of chips. We bimbled past the shop where Adam bought Jenny's engagement ring and so on.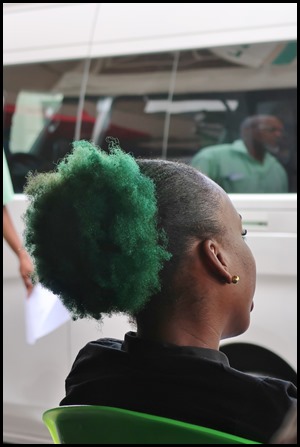 We sat and watched the world go buy with an ice cream apiece, Bear revelling in his rum and raisin. Behind him sat a lady with a green pom-pom bun.
A chap who has seen several tail changes and thrilled to see the old tree we remember has weathered many a storm since we were last here in 2010.
On our way back toward Jolly Harbour, we were pleased to see the ancient sugar mill tower was still standing, Antigua has many of these towers dotted about the island. Sugar became the way for landowners to become very rich, sugar was grown from the mid-1600s until the end of slavery in 1834 (on Antigua).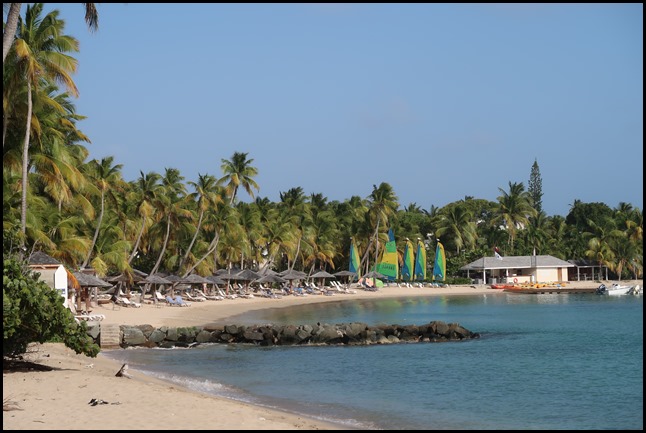 We drove past Jolly and stopped to enjoy a few minutes at Coco Beach.
Morris Bay to take a picture of our tiny hire car and we still love the fact that the number plates on the island all have Land of Sea and Sun at the bottom. A very fitting description. We turned round at Carlisle to head back.
We stopped to reminisce, looking down on Darkwood Beach......
.....now sporting a water feature. Bear stopped for me to take a picture of his favourite street name. Sorry to admit that even if it had the prettiest houses on the island, I would not choose to live there. I would love it, you would.
Back to Sleeping Indian to enjoy sundown before supper and an all-evening Criminal Minds fest on the television.
Tuesday 12th. Relapse as fell asleep at 20:15 to be wide awake at 22:15. Bear maintains that all will be well in the UK as my body clock will fit in there....... Car not due back until lunchtime, we headed over to explore North Finger. Quick detour to the middle island where we had expected many more houses to have been built, we found a few and a couple of low rise multi-units. At the far end we stopped to look across the fairway to Sleeping Indian. The 'about to be finished' renovation on the far left is going on the market of six hundred and fifty thousand, ouch.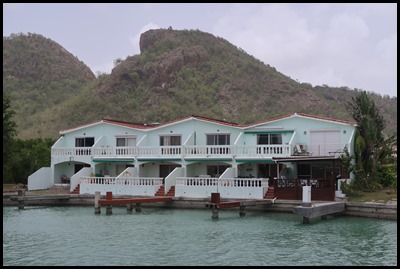 Bear found a position that we could see the villa we hired for a month (Beez Neez parked in front) back in April 2010 for some of the family to visit. It looked very sad with no front patio wall, in fact we felt the whole of North Finger looked pretty shabby indeed.
On our way 'home', so much part of a long-held dream, we stopped to watch a tiny hummingbird at rest.
So wrong on so many levels, Bear posed with one of nature's dongles. Thankfully the really big ones were higher in the tree......
Wednesday 13th. Yep, awake at 02:00. We spent the morning on the patio and the afternoon with Cathleen from the management company and Iain, the builder/maintenance man going through the snagging list. Via email, Roger and Margaret (current owners) have so very kindly approved and agreed to. So looking forward to the day when Beez Neez is parked out the front, us on board and the family rotating through visits indoors.
Thursday 14th. No guesses, awake at three. We pottered around for the morning, tape measure and planning until lunch. After eating we decided that as we only have tomorrow left, we ought to make the most of the beach. Bear adopted his usual pose and I spotted over his right shoulder a small yacht passing Montserrat.
The dream will be complete if this boat became Beez Neez in the early months of 2021.......... Wow.
We chatted all afternoon about plans and thoroughly enjoyed our setting.
Friday 15th of June. Sadly, our final day and awake at two thirty to enjoy all of it.....growl..... We spent the morning measuring the kitchen cupboards, popped out to see Ronda to finalise and sign first payment of Sleeping Indian's insurance, nipped in to the supermarket and went back for an early lunch. This afternoon's beach visit saw us bimble to the far end of the beach. We remembered some of the sea facing properties, a few new ones and a few nearing the end of build stage.
Bear turning a lovely colour, despite the lack of actual sunbathing time.
SO going to miss this view but...........Beez is calling to 'Close the Circle'.
ALL IN ALL COULD DO WITH A WEEK HERE FOR A HOLIDAY..........
THE BUSY-NESS CONTINUETH
---