Howard Timeline

Beez Neez now Chy Whella
Big Bear and Pepe Millard
Fri 9 May 2014 22:47
The Howard Family Timeline
The Exhibition Wing was a fascinating look at the History of the Howard Family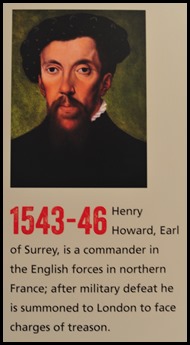 Duty comes in many forms, and aristocratic man and women have responded to this call in various ways: military, political, religious and social. Members of these families have recognised that with their wealth and status come responsibilities of public service.
The Howard family, whose numerous branches are descended from the Tudor Dukes of Norfolk, is no exception, frequently serving country, monarch, parliament, church, or local community. In some instances their actions were disastrous or misguided, in others they behaved with courage, wisdom and conviction and at personal cost.
In 1485 Henry VII claims the English throne and founds the Tudor dynasty.
The 1st Earl's election to parliament in 1653 marked the beginning of a tradition of family involvement in political life at national and local level for the next eight generations.

1715: The north of England is gripped by fear at the insurrection in support of James II's son, the claimant to the throne known as the 'Old Pretender'. The 3rd Earl of Carlisle, as Lord Lieutenant of Cumberland, is instructed by George I to hold a local militia in readiness.
1798: In the face of invasion threats the 5th Earl of Carlisle founds the Castle Howard Rifleman. Wearing green uniforms, the sixty-strong infantry corps is paid for by Carlisle personally. In 1801 his eldest son Lord Morpeth is appointed lieutenant in the company.
When Henry Howard, youngest son of the 5th Earl, became ordained he marked another tradition of family service. The 8th Earl also took Holy Orders, and in the 20th century Christian Howard, eldest daughter of Geoffrey Howard, devoted herself to Church of England matters, especially the ordination of women.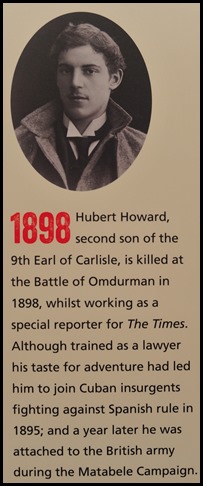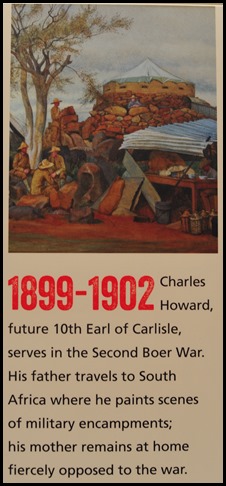 1914-18: Rosalind Howard, 9th Countess of Carlisle, refuses to allow the military to take over Castle Howard but houses dozens of Belgian refugees on the estates in Cumbria and Yorkshire.
Geoffrey Howard, fourth son of the 9th Earl, takes a commission in the Royal Naval Division and is stationed at Dunkirk where he is in charge of transporting troops to the front.
Mary Howard, Rosalind's eldest daughter, is involved with Belgian relief in London. She and her husband, Gilbert Murray, house refugees and wounded soldiers at their home in Oxford. Their son Dennis Murray, a pilot, is shot down and interned in neutral Holland.
From an early age Michael Howard, youngest son of the 9th Earl, exhibited a restless streak, and was something of an adventurer. Like so many younger sons in aristocratic families he took a commission in the army, and first saw action in the Boer War. On his return he could not settle into civilian life, he was sent down from university twice, and wandered the world, travelling to Australia, Argentina and Nicaragua before turning his hand to farming in Canada. In 1914 he returned to England and joined his old regiment, the 13th Hussars.
Michael by all accounts was a brave and popular officer but his drinking caused problems; in 1915 he was facing disciplinary action but his brother Geoffrey managed to get him a transfer to a different unit. He continued to serve in France throughout the war until he was killed in 1917 at Passchendaele while serving with the Honourable Artillery Company. There are conflicting accounts of his death. His widow and family understood that he had been asked to remove a German sniper; he crawled into position and shot the sniper but was then shot by a second enemy sniper. This death was tragic enough but earlier on that day he had been demoted to the rank of a private on account of another drinking episode; consequently his wife Nora was only entitled to a private's pension.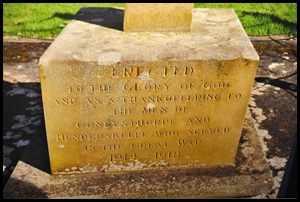 However in the official War Office communication to his sister Cecelia Roberts, Michael was reported as missing in action. But among her papers there is also a transcript of an account by an unknown fellow soldier. This describes how on the morning of his death Michael volunteered to crawl into no-man's land in order to cut some barbed wire despite some heavy artillery fire. Later when the advance began he went forward with his platoon but was not seen again, and was presumed to have been killed in action. Like thousands of families during the war his loved ones would never know Michael's exact fate on the battlefield.
.
ALL IN ALL A LONG AND RICH FAMILY HISTORY
---