Magens Bay

Beez Neez
Skipper and First Mate Millard (Big Bear and Pepe)
Fri 5 Mar 2010 23:21
Magens Bay, St Thomas, US Virgin Islands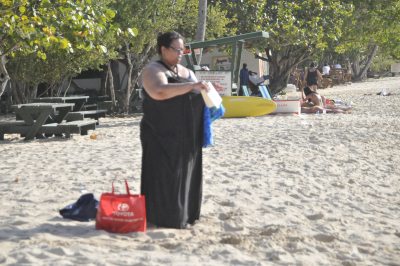 I took the classic view of the bay and one of a local beauty
Located on the North (Atlantic) side of the island, Magens Bay features a well-protected white sand beach stretching for nearly a mile. It is one of the most popular tourist destinations on the island. With its clear water, soft sand and palm trees, it is commonly considered to be one of the most beautiful beaches in the world - the National Geographic has recognised it as such - I just don't see it. We have seen enough beaches to put in a qualified opinion. The sand was not the finest and.....
.....the incredible force of not only the waves but the back rip, so in the shallows, you got waves over your head coming in AND out
Magens Bay was previously owned by Arthur Fairchild, who gave most of it as a gift to the Municipality of St. Thomas and St. John in 1943 for use as a public park. The far Western portion was donated by Fairchild's nephew's widow, Christine Wheaton, in 2002. The Bay is currently administered by the semi-autonomous Magens Bay Authority. The services provided by the Authority include lifeguards, parking, showers and bathrooms, and there are snack counter, bar, souvenir shop, and beach chair/float, windsurfer and small sailboat rental concessions. The Authority is a self-sustaining entity which funds its operations by charging a per-person entrance fee (currently $4.00 for visitors and $2.00 for locals), parking fees, as well as payments received from the park's restaurant and rental concessions.
In 2006, the territorial government purchased nearby Lindquist Beach from private owners and in 2008 opened it up as a public park and gave it to the Magens Bay Authority to manage.
Guess who managed to clear a space with his snoring. Back to the hire car with forced air-con.
Legend has it that Sir Francis Drake used Magens Bay as an anchorage while waiting for ships to plunder.
En route back to Beez, we stopped to take a shot of the harbour from a different side
ALL IN ALL NOT A FAVOURITE OF MINE BUT ANOTHER TICK IN THE 1000 PLACES BOOK...........
A PRETTIER BAY WHEN THE CRUISE SHIP HAMSTERS HAD LEFT
---