Last Prov

Beez Neez now Chy Whella
Big Bear and Pepe Millard
Fri 25 Jan 2013 23:07
Our Final Night in Providencia
Eric up the mast this morning as Dee and Bear await instructions
Chores done, we were all invited to a local restaurant for supper and entertainment, first we needed to pop up the High Street, pass the Old Providence Hotel to get our Passports back from Bush who had been dealing with our logging out. Not ready, he promised to deliver them to us.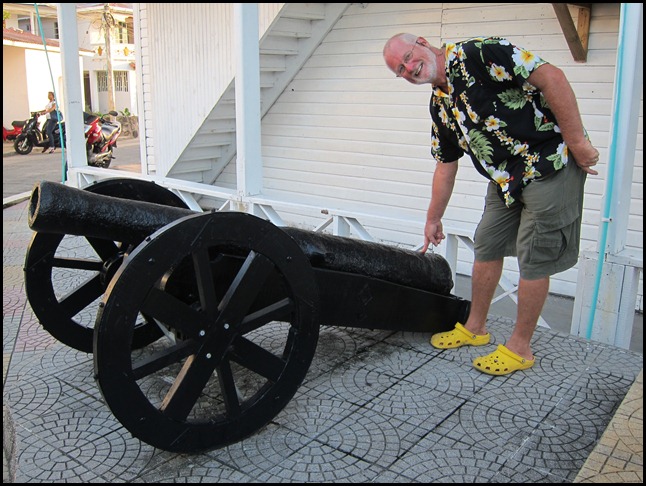 I got Bear to do his now famous pose by the cannon in the Main Square
Founder of the Republic, Francisco Santander looked on as Bear tried the other one in the brace as Eric was puzzled. It's a long story Eric.
We were all seventeen of us transported to the Restaurant, drinks ordered, when Bush and the Immigration chap turned up with our Passports, but Mr. Bush had forgotten our Zarpe – the all important piece of paper needed for our next Port of Entry – he said we could drop by his house on our way home. It's a Caribbean thing...........
The band was made up of local youngsters playing Colombian tunes on very traditional instruments. The bass drum and the ass jaw were our favourites.
When the boys had finished their first set, Eric tried the jaw bone, making the teeth chatter quite well but it he had to return it when his crab soup starter arrived.
Bear had fish, plantain and rice Calypso. I had Mahi-mahi curry, Queenie and Tristan did a bit of swopping.
The wonderful chef, Orville was delighted to see all the empty plates – delicious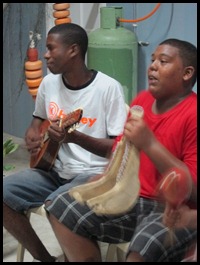 After their own supper the lads got back to work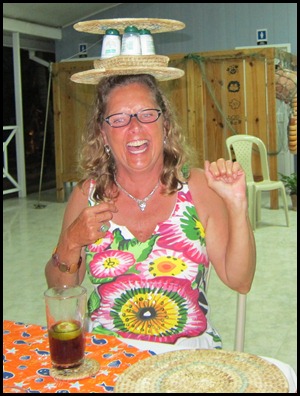 Somehow Queenie and I got into a head balancing competition...............
Tricia showed us her moves as did Gayle and Peter (On Delay) whilst Allen got in for a close up.
The kitchen lady gave up her hat which took on a new life – demonstrated by Bear and Eric
Eric and Dee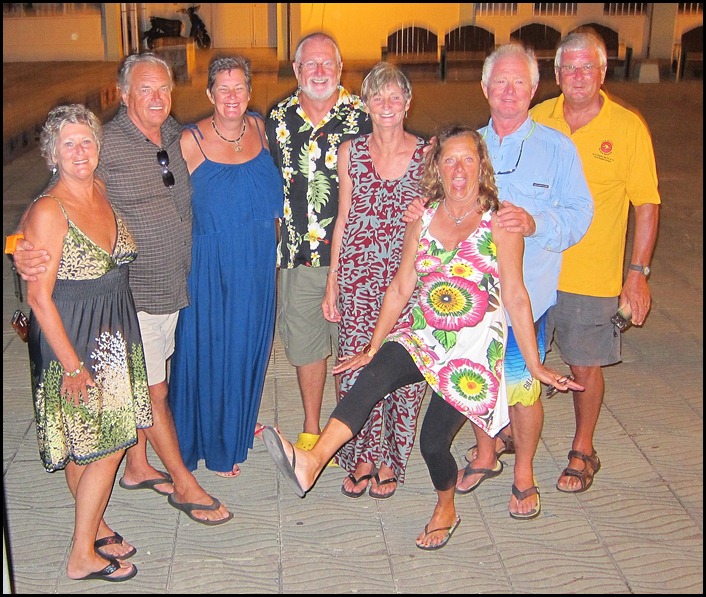 Too soon it was time to break up The Great Eight
.
ALL IN ALL A VERY HAPPY ISLAND
---